Wood baseball bats were the original and only types of bats when baseball was first invented. And today,wood bats still hold a special place in most baseball players' hearts. Today of course, the vast majority of leagues use metal bats. The MLB is the only league that still requires wooden bats.
While the idea of having a traditional wood baseball bat sounds nice, it can be hard to find the right one. Obviously you don't want a baseball bat that will splinter in its first use. And you clearly want a bat that will send the ball flying past the outfield.
We'll explain everything about wood baseball bats in this quick guide.
| IMAGE | PRODUCT | Material | Price | |
| --- | --- | --- | --- | --- |
| Editors Pick | Marucci CU26 Maple Wood Baseball Bat | Maple | $ | Check Price |
| Best Seller | Louisville Slugger Authentic Cut Birch | Birch | $ | Check Price |
| | Rawlings Youth Velo Ash Bat | Ash | $ | Check Price |
| | Louisville Slugger MLB Prime Baseball Bat | Maple | $$ | Check Price |
| | Mizuno Bamboo Elite | Bamboo | $$ | Check Price |
Metal Baseball Bats vs Wood Baseball Bats
There are many reasons that can convince you to choose a wooden bat. First of all wooden bats bring the real essence of the game. When baseball was invented, it was played with wooden baseball bats and that tradition has continued up until recently.
As materials have developed further, metal bats have become popular as they have fewer chances of mishits and improved durability when compared to wood bats.
Metal bats also introduced the trampoline effect to baseball. The trampoline effect is when an aluminium bat strikes the ball, the walls of the bat flex slightly. As the ball leaves the baseball bat, this flex pushes more energy into the baseball allowing it to fly further.
Due to this, metal bats will hit baseballs further than wooden baseball bats.
The NCAA approved the use of aluminum bats in 1974. The result: home run production nearly doubled the following season.
One disadvantage of wooden baseball bats is that they don't have this trampoline effect. In addition, wooden baseball bats don't have sweet spots which make it a big deal to play with one.
One bad hit can ruin your entire game.This can also be a great motivation for you to improve your hitting and swing technique though.
It is due to this difference between wooden and metal baseball bats, metal bats have been stopped in the pro leagues.
Simply put, metal baseball bats made it too easy for the pros in Major League Baseball.
Every baseball bat used in MLB today is wooden.
Using a Wooden Bat: Advantages/Disadvantages
Before you jump to using a wooden bat straightaway, there are some pros and cons you need to consider:
| Pros: | Cons: |
| --- | --- |
| Bat Responsiveness: A bat made of aluminum is designed to have lower weight and minimum vibration to the player's hand. A wooden baseball bat allows the player to feel the feedback and develop better mechanics in the process. | Not suitable for everybody: Wood bats weigh more and some have even smaller sweet spots. This can make it tough for a novice or a young player get used to it. |
| Improves strength: Wood bats are crafted with the intention of making them properly weighted. A properly weighted bat gives the wood bats the required balance that enables hitters to drive the ball far. | Lack of attributes: Wood bats are made from different types of wood which can have a massive impact on the player's performance. Some bats may lack stiffness and rigidity, while others may require high swing capacity. |
| Player Advancement: Wood bats make better hitters, which further gives the player the chance of qualifying to the next level. The transition from metal to wood can be tough as wood bat have a smaller sweet spot and more power while swinging. | League compliance: There are particular wood materials that are prohibited in different leagues due to their build and resistance. |
Are Wood Baseball Bats Safe?
Yes and no. Yes, wood bats can fracture upon hitting a hard ball but this rarely injures players. When wood bats shatter, there tend to not be a lot of splinters thrown off because it's a clean break.
Many people say that wood baseball bats are safer than metal baseball bats in fact.
The NCAA (National Collegiate Athletics Association) and many other prominent news organizations have actually said publicly that metal baseball bats can be more dangerous than wood baseball bats. This is because of how fast you can hit the ball with these bats.
With the increased ball velocity, pitchers, infielders, and fans are vulnerable to injury with very little reaction time.
Top 5 wooden baseball bats
Crafted beautifully from maple, this is one of the best wood bats in the market. The bat comes in both youth and pro variants. In addition, the bat comes in different sizes, so you can get the perfect size for you.

Due to the amazing qualities, it is also one of the best-reviewed bats consistently.
Named after Chase Utley (CU26), the bat offers great power and durability. The bat has an amazing balance and can withstand an entire second season of hitting without showing signs of wear and tear.
The bat may be heavy for some hitters and may require a great amount of power for swing. However, once you get familiar with the bat, you will find it a great game companion.
As far as genuine birch bats are concerned, the MLB Authentic Cut from Louisville Slugger appears on the top. This amazing bat is the result of a rich baseball brand and quality craftsmanship.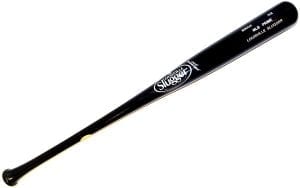 The Louisville Slugger is an excellent choice if you want to try the middle-ground and birch wood bats. Along with the incredible black and burgundy finish, the bat has a great 'Pop' which will send the ball flying.
The bat's light-weight gives you great speed and control but does not generate a lot of power. Due to these characteristics, this bat is a perfect choice for youth leagues.
If you have been looking for an ash bat or want to try one the Velo is a perfect choice. It is perfect for players who will be qualifying for the bigger leagues. It is handmade and has a cool, eye-catching look which makes it perfect for youth players.
The bat comes with an ultra-thin tac-grip for better grip. It also has a large hitting surface and increased sweet spot which is perfect for batters just starting to swing.

When buying this bat you need to keep in mind, that ash is a softwood and may not offer the durability you are looking for. However, it can compensate for this with speed and amazing balance during the game.
If you are ready to spend more on a wooden bat, then the hardy maple bat from Louisville Slugger should be top of the line for you. The Louisville Slugger brand is known for producing big hitters and this wood baseball bat is no exception.

The different finishes and sizes, make the Prime Maple Wood series baseball bats (Model C271) a dream come true. Seamless decals and MLB-grade wood from the top 3% of harvest makes it the best wood bats that you can buy.
The Exoarmor Finish, a Louisville's proprietary, guarantees hardness and exhibits their engineering prowess. It also features a Craftsman-Style Cup that maintains hardness and curbs breakage on contact.
Mizuno is the most trusted name in baseball and they have taken a step towards the unconventional with the Mizuno Bamboo Elite. Since bamboo lathes are tied together and laminated to form one bat, this bat is not allowed in the pro leagues but the youth and adult league permit it.

The bat's light-weight design gives great control and also renders amazing pop like maple. The Mizuno Bamboo Elite is created with bamboo and glass fibers being combined which adds to its durability.
The handle of the bat is sanded for better grip whereas the cupped end facilitates improved weight distribution and swing speeds.
Types of wood bats:
Wood bats have been a part of baseball since the game's inception. Even though metal bats have been improved to a great extent with the use of technology, only wood bats are allowed in the pro leagues.
There are three main types of wood baseball bats namely Ash, Maple, and Birch. Each type of wood has definite properties that make it suitable among players. The flexibility, hardness, sound and durability all play in important role choosing the perfect bat.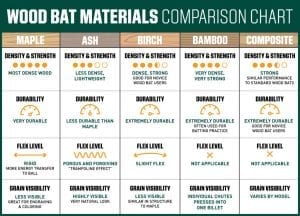 Image Credit: dickssportinggoods
Here is a breakdown of the different types of wood bats and their pros and cons to consider when making a purchase:
Ash:
Ash bats were the most popular wooden bats in baseball history but today only 25% of Major League Baseball players use ash bats. The decline in the demand for ash bats was a result of a baseball match played by Barry Bonds in 2001. Bonds broke the record of home run scored using a single maple bat(albeit with the help of steroids).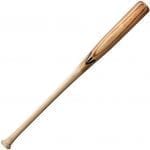 Ash is the most flexible wood among the three types of wood used for making bats.  It also provides the hitter with more forgiving lumber, as opposed to stiffer bats that break easily on mishits.
Moreover, when an ash bat breaks it stays together, which means you don't have to worry about the flying barrels. The ash bat features the traditional wood bat appearance with its large open-grain and is more affordable than other wooden baseball bats.
The open grain of ash causes the bat to dry out constantly making it less durable than its counterparts.
Pros:
High Flexibility (forgiving on mishits)
Remains intact when it breaks (safer)
Affordable cost
Traditional Look
Cons:
Less Durability
Softer Wood (less pop)
Maple:
Maple bats are the most popular wooden bats in baseball. Approximately 70% of the big league players use or prefer maple wood bats. Unlike ash that has open-grain wood, maple bats have close-grain which makes it hard and dense.
The hardness of the maple wood gives the bat more pop than other bats. The close-grain also contributes to the durability of the bat. Maple doesn't splinter and flake as ash does during tough pitches.
When maple bat breaks it shatters into two pieces which can be dangerous for both players and spectators. The breaking of maple bats has become so bad and common that some have expressed a desire to ban them for the safety of the players and fans.
In 2009, it was discovered that hitting the balls on the face grain of a maple bat reduced the chances of breaking. As a result, companies put a label on the end grain to encourage the players to hit the ball on the face.
This has caused a significant decrease in maple wood bats breaking since then. Maple bats have a higher price than the ash and birch bats.
Pros:
Toughest wood on the market (most pop)
Durable (doesn't flake)
Stiffer Feel
Cons:
High cost
Shatters when it breaks making it dangerous
Birch:
Birch bat is like a hybrid of the two previous wood types. It is used by only 5% of Major League players but its popularity is growing. Birch bats are known to offer the best of both maple and ash bats.
Birch is a closed-grain wood like maple, this provides the bat with durability and hardness. It does not flake or splinter and does not break easily.
Birch bats do need some time to break-in but after that they reach the same stiffness as maple.
While birch bats are as hard as maple they are flexible too. Even though it may not have the flex capacity of the ash bats, they are more forgiving than a maple bat.
Pros:
Low flexibility
As hard as maple
Highly Durable
Cons:
Requires a break-in period
Bamboo:
Bamboo bats are known for their impressive strength and flexibility. The composition of the bat involves sticks of strong bamboos that are pressed together in rectangular billets from a bat. Since it is not a single piece of construction, bamboo bats are not allowed in the major leagues. However, they are allowed in youth and adult leagues.

When compared with maple bats bamboo are more durable but lack the strong performance.
Pros:
Cons:
Not approved for play in all leagues
Frequently Asked Questions about Wood Bats
With so many things to consider while purchasing a wood baseball bat, it is quite evident you may have some questions too.
What wood bats do MLB players use?
Today, over 95% of MLB players use maple wood bats. As mentioned earlier, MLB players used to use ash wood bats during the game but after the phenomenal performance by Barry Bonds in 2001, the majority of players shifted over to maple.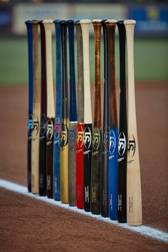 Image credit: Amazon.com
When narrowing it down to brand popularity Marucci (28.83%) is the most common bat brand in the MLB. Followed by Victus (18.36%), Louisville Slugger (13.67%), and Old Hickory (11.33%). Sam Bat, Chandler and Rawlings are all between 5% and 10% market share.
What wood bat hits the farthest?
The distance of the farthest driven ball from a wood bat depends on the quality and the composition of the bat. However, according to a study a maple wood bat hits the ball the farthest.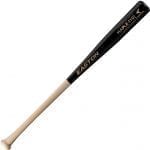 Which wood bat breaks the easiest?
Ashwood bats tend to break the fastest.
All wood bats break at some point. There are times when a baseball bat has broken during the first game. This happens when your swing power does not match the flexibility of the bat. A broken-bat is also called a 'dead bat.'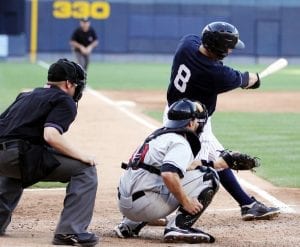 When considering the normal usage of the bat that depends on factors like right power application, hitting from the sweet spot, and most importantly the brand of the bat.
The open-grain face and constant flaking of ashwood baseball bats contribute majorly to them being the most likely wooden baseball bat to break.
How to choose a wood bat?
There are certainly no restrictions when you are choosing a bat for your personal practice or a friendly game. However, there are some rules and guidelines that you need to consider when purchasing a bat for leagues and tournaments.
Tired or reading? Watch instead!
Rules & Regulations for Wood Baseball Bats
The bat rules for wooden bats keep changing as the age of the players increase and they qualify for the next level leagues. Here is a gist of the basic wood bat rules of the different leagues:
Major/Minor Divisions:
The permissible size of the wood bat in this league is 33 inches in length and 15-16 inches in diameter at its smallest part. Wood bats taped or fitted with a sleeve must not exceed 16 inches from the small end. Wood bats made of solid one-piece wood do not require a USA Baseball logo.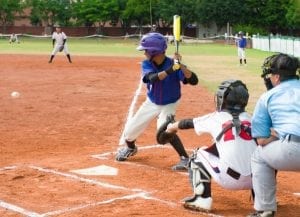 Image credit: Deposit Photos
Intermediate (50-70) Division and Junior League:
The wood bats in this division should not exceed the length of 34 inches and the diameter of the bat should not be less than 15-16 inches in diameter.  Taped or fitted sleeve bats should not exceed more than 18 inches from the small end.
Wood bats made of solid one-piece wood do not require a USA Baseball logo.
The size of the wooden bat in this category should not exceed the length of 36 inches and a diameter less than 15-16 inches at the smallest part.
Taped or fitted sleeve bats must not exceed 18 inches from the small end. The bat should not weigh more than three ounces less than the length of the bat.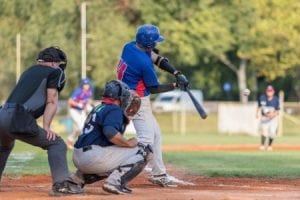 Image Credit: Deposit Photos
Little League Challenger Division:
The length of a wooden bat should not be more than 33 inches and the diameter should not be less than 15-16 inches at the smallest part. Wood bats with taped or fitted sleeves may not exceed 16 inches from the small end. Wood bats made of solid one-piece wood do not require a USA Baseball logo.
Senior League Challenger Division
The size of the ball must not exceed 36 inches in length and the diameter of the bat from the smallest end should not be less than 15-16 inches. Wooden bats with taped or fitted sleeves must not exceed 18 inches from the small end.
The weight of the bat should not be more than three ounces less than the length of the bat. Wood bats that are not solid single-piece of wood must meet the BBCOR standards or the USA bat standard.
To read more about the wooden bat rules you can visit this link: https://www.littleleague.org/playing-rules/bat-rules/
Certification:
The bats that are permitted for use in the different leagues require certification. It ensures that the bat is made as per the guidelines and parameters according to the standards. The major certification standard for wood bats is the BBCOR.
BBCOR is currently the standard that overlooks adult baseball bats that can be used in High School and Collegiate play.  BBCOR stands for Batted Ball Coefficient of Restitution. This standard measures the "trampoline effect" of the barrel and how it plays into the exit speed of the ball.
Material:
There are numerous types of woods that are used to make baseball bats. As mentioned earlier every wood bat enhances your performance in a different way, here are some key points that will help you choose the bat for better performance.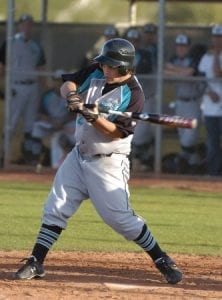 Image Credit: Deposit Photos
Ash:
Flexible
Lightweight
Can flake or delaminate when mishit
Maple:
The most common type of wood bat
Heavier than ash
Can generate more power
Breaks into two pieces which can be dangerous for players and fans.
Birch
A combination of Maple and Ash
Harder than Ash but not as hard as maple
Not as hard as Ash
Bamboo
Different than other wood bats
Made by joining billets that are shaped like a bat.
Not permitted the big leagues and requires BBCOR certification mark for small leagues.
Experience/Age:
When should you start playing with a wooden bat? The best answer to this would be, as soon as possible. Kids who learn to play with wood bat from a young age have better swinging technique and motor skills.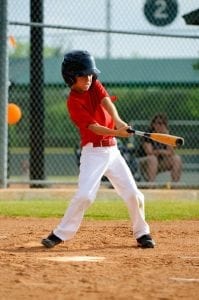 Image credit: Deposit Photos
Conclusion:
Wood baseball bats will always remain a part of baseball. They're part of it's history and they'll be part of it's future. While different metal baseball bats may rule the little leagues, as long as the MLB plays with wood bats, every child will watch a baseball game and say "I want a wooden bat".
Got any questions about wood baseball bats? Want to debate which material is best? Hit the comments below!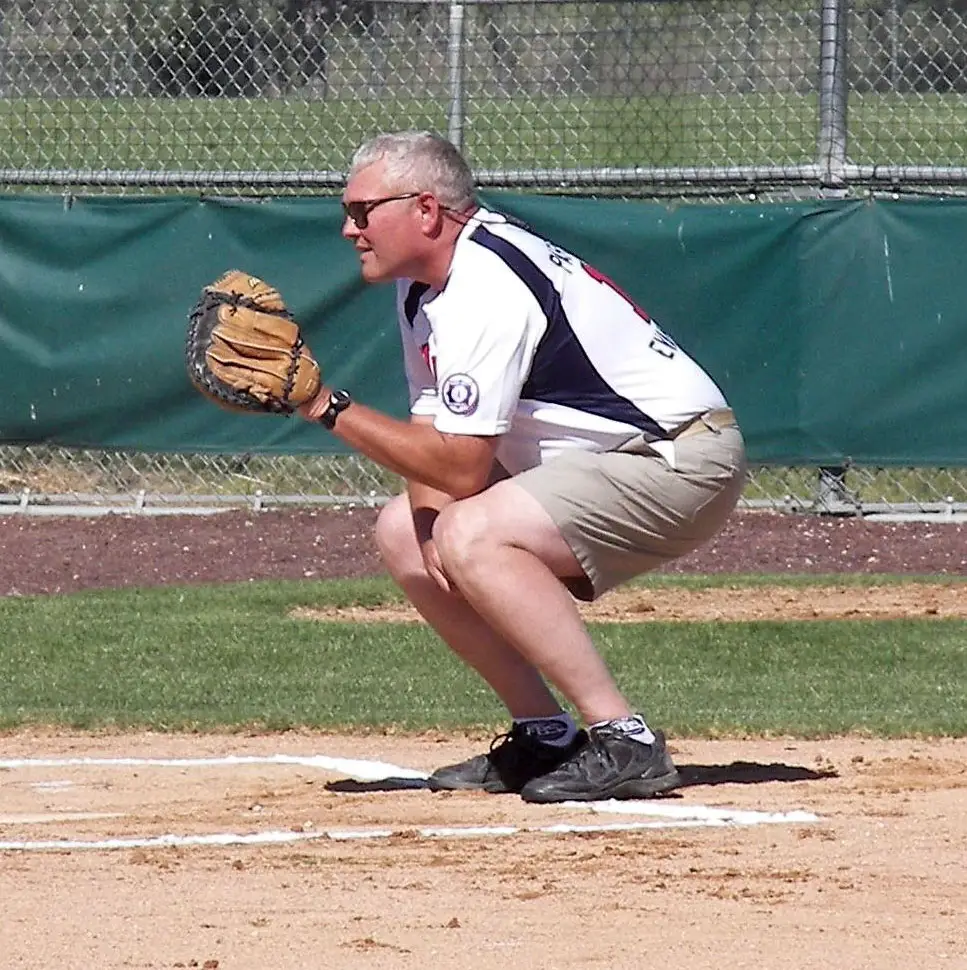 My name is David Farnum and I've been a Little League Coach in my community for the past 7 years. With 2 boys playing baseball and 1 girl playing softball, most weekends I can be found near a baseball diamond.