Best Baseball Glove Brands
A glove is perhaps the accessory fans associate most with baseball. It stands as a symbol – or lasting memory, even – for every Christmas morning, session of catch in the yard, and little-league game ever since we were youngsters.
Functionally, the mitt helps us catch fly balls with absolute consistency and precision, while protecting our hands, too.
But as with any retail product, not all baseball mitts are created equal. Some brands are embedded in the history of baseball while others are seen as only passing fads.
What Baseball Gloves Do MLB Players Use?
Major League Baseball is the longest-running professional sports organization in America – and with good reason, too. It's the pinnacle of success in modern day baseball.
One of the first companies that come to mind is Rawlings. According to several reports, approximately 59% of MLB starters wore Rawlings gloves during games in 2018 (link)
The majority of MLB players wear Rawlings gloves.
That number dropped slightly by 5% a year later, though they still have a considerable lead over the closest competitor, Wilson.
Bryce Harper, Roberto Clemente, Kris Bryant, Mickey Mantle, and Giancarlo Stanton are just some who are using Rawlings baseball gloves.
Rawlings was selected as the league's official baseball glove beginning the 2021 season.
Wilson is another name that rings a bell, especially since it's been a consistent runner-up to our industry leader. They garnered 28% of the market share in 2017 and 2018, increasing this number to 31% in 2019.
In particular, their A2000 and A2K models are worn by Clayton Kershaw, the league's top pitcher in 2018, as well as Jose Altuve, Dustin Pedroia, and Miguel Cabrera.
As for defenders, the Mizuno Pro Series is the preferred choice for fielders like Corey Kluber, Ian Desmond, Androlton Simmons, and Nick Ahmed.
All-Star Sporting Goods, on the other hand, specialize in catching mitts and other equipment like its CM3000 variant. Their list of endorsers includes Martin Maldonado, Jonathan Lucroy, and Omar Narvaez.
Best Baseball Glove Brands
Wilson Sporting Goods
Believe it or not, Wilson began as a subsidiary for a Chicago meat company, way back in 1913. They manufactured tennis rackets made from animal by-products like hair and skin.
After a few years, they saw how potentially lucrative the sporting goods industry was, and expanded their operations to include basketballs, footballs, camping gear, and of course, baseball equipment.
Eventually, they were acquired by PepsiCo, which later on sold the brand to their current owners, AmerGroup Ltd. At present, Wilson Sporting Goods is one of the top corporations of its kind in the world. And what makes them so unique is their high-quality, reliable, and technologically-advanced products.
Best Wilson Baseball Glove:
As we touched on earlier, the Wilson A2000 Baseball Glove is incredibly popular among professional players. It measures approximately 11.5-inches in wide, which is perfect for an average male adult's hand. It's also made from pro-stock leather to remain comfortable and maintain the natural movements of your hand.
As such, the Wilson A2000 Baseball Glove uses double-laced stitching and a dual-welting design. Wear-and-tear is hardly an issue, even after countless games. This mitt will still exhibit the same stylishness as when you first bought it. Oh, and as an added treat, it comes in thirty different colors to match your style, uniform, or personality.
The Wilson A2000 Baseball glove is the most popular baseball glove of all time for a reason – it's perfect.
Rawlings
Considered widely among sportsmen as the top baseball equipment manufacturer in the world, Rawlings' claim to fame did not come easily. Founded by brothers George and Alfred in 1887, they immediately entered the market as a retailer of sporting goods. Soon after, tragedy struck when their general store burned down.
As we know now though, this was the turning point for their imminent ascent. Since then, Rawlings conceptualized the first modern baseball glove in 1919, introducing thirty more new designs within as many years.
At present, they are owned through a partnership between Major League Baseball and private-equity firm, Seidler Equity Partners. The deal was finalized in June of 2018, which led to even greater things for the company.
Best Rawlings Baseball Glove:
The Rawlings Renegade Glove Series is a prime example of what they are capable of accomplishing. This conventional creation is a utility glove suitable for any position. It measures 13-inches, too, which helps you grab the ball more consistently, whether in softball or baseball.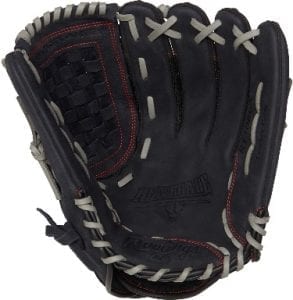 Another handy feature about the Rawlings Renegade Glove Series is its durability. Each mitt is covered in a flexible shell and soft lining to ensure maximum elasticity without tearing. Once worn, simply adjust the Velcro wrist strap for an almost customized fit, no matter the hand size. It requires minimal breaking-in, too, so you can hit the ground running – literally and figuratively.
These functions are, really, only the beginning. You'll only truly make sense of what we're saying when you've experienced it firsthand. That's why right now, there's very little doubt in our minds that the Rawlings Renegade Glove Series is one of the best baseball gloves in the Rawlings lineup.
Mizuno
Very few countries outside of America are as crazy about baseball as the Japanese. And one standing proof of this near obsession is a company established 114 years ago by a Japanese citizen named Rihachi Mizuno.
Even from an early age, Rihachi and his younger brother, Rizo, lived and breathed this sport. They took a trip to the United States in 1906, which became a stepping-stone to launching their baseball brand.
The siblings started out selling mostly baseball gear, to build interest amongst people in their home country. That was how Mizuno was born.
What – we could only assume – started out as a passion project, eventually evolved into a lucrative million-dollar business. In 1961, Mizuno even opened a factory in Los Angeles, their first one outside Asia. Fast forward to today, and they now one of the most well-known names in all of baseball.
Best Mizuno Baseball Glove:
Arguably their most notable creation is the Mizuno GMVP1154SE4 MVP Prime SE collection. This baseball mitt not only looks captivating but is also extremely practical.
It's made from bio-soft leather, a synthetic material, that provides a perfect balance of firmness and comfort. This makes this baseball glove one of the most comfortable to wear during long hours of practice and games.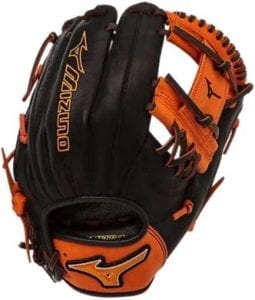 To ensure you don't feel constricted while wearing the Mizuno GMVP1154SE4 baseball glove, Mizuno utilizes heel-flex technology for better maneuverability. An ultra-soft palm liner provides excellent feel and additional comfort. Both these features help heighten your senses to react quicker on the field.
From humble beginnings, Mizuno is one of the top foreign-owned sports equipment manufacturers in the world.
Nokona
A family-run business founded in 1926 by Robert E. Storey, Nokona started off producing leather products like belts, wallets, and purses. They penetrated the sports equipment market about 10 years later when Storey, a former collegiate baseball player, decided to manufacture baseball gloves. This not only saved his company from bankruptcy but also began their upward trend towards success.
Currently, the Nokona Athletic Goods Company is among the last remaining strictly American-owned organizations of its kind left. Even though virtually all their competitors have expanded abroad, they chose to stay in Texas and prioritize quality over quantity. Storey's decision to preserve the brand's core values, in our option, is what ultimately led them to greater heights.
Of course, their products played a significant role, too. The overall quality and ruggedness of each one both appealed to customers and helped create a trademark look.
Best Nokona Baseball Glove:
A classic example of a Nokona glove is their X2-1200 Elite Series baseball gloves.
Launched way back in 2016, to this day, this remains one of Nokona's hottest commodities ever. A combination of Stampede Steerhide, Kangaroo Leather, and Nolera Composite Padding – all world-class materials – allows players to grab the ball more consistently, even upon impact. The 12-inch width is perfect for the growing demands of pitching and fielding.
But what truly sets the Nokona X2-1200 Elite Series Baseball Glove apart from other brands is its game-readiness. Use this accessory immediately upon delivery, since it requires very minimal breaking-in. This glove will almost feel like an extension of your hand. No option on the market offers a more natural fit.
Akadema
Developed by the players, for the players. 
This was the philosophy brothers Joseph and Lawrence Gilligan started with when forming Akadema twenty-two years ago in New Jersey. They knew that staying relevant meant introducing something people never saw before. And what better way to move forward than by playing to one's strengths.
Lawrence, who played minor-league ball not too long ago, realized that baseball gloves didn't change much through the years. Their design and ergonomics in 1945, were still the same 40 years later. So he and Joseph decided to make a change.
The duo hired several former baseball legends Gary Carter, Kris Totten, Ozzie Smith, and Carl Yastrzemski, to help out in terms of sales, marketing, and product development. This gamble paid off – a million times over – as they regularly introduced innovative sports equipment that both look and feel amazing.
Best Akadema Baseball Glove:
Out of all their creations, perhaps none impacted the market quite like Akadema's Reptilian Series, particularly their APX221-LT model
Measuring just below 13-inches, on the surface, it looks like a glove more suited for baking than baseball. However, the near fingerless design, which many wrote off as an eccentricity, actually helped outfielders control the mitt better. It also allows players to transfer the ball more smoothly. As a result, their performance was elevated to a new level.
For years, everyone struggled fitting five fingers into three pockets. We played through the pain, only to realize later on there was a different way. Akadema has taught us that balancing comfort, style, and performance is possible, even if it means changing the norm.
Louisville Slugger
As the story goes, John A. "Bud" Hillerich, son of woodworker J. F. Hillerich, slipped out of work one sunny afternoon. The young boy went to the local baseball stadium where he eventually befriended, then Louisville superstar, Peter Browning. This meeting would change both their lives forever.
Since Browning broke his bat, Bud offered to custom-make him a new one. He agreed, and in the very next game, collected a trio of hits, which would break his slump completely.
The man known as the Louisville Slugger would go on to have an illustrious career highlighted by a 0.341 batting average, while Hillerich forever altered the game of baseball as we know it.
Only a few years later, in 1894, Bud Hillerich took over his father's business, going full-time into the production of bats. Not long after, Frank Bradsby, a salesman by profession, joined and the company we know today as Hillerich&Bradsby was born.
Best Louisville Baseball Glove:
Currently, Louisville Slugger has practically monopolized the market of both wooden and aluminum bats. Nevertheless, they're also a reputable manufacturer of world-class baseball gloves, as evidenced by the 2018 TPX Infield Baseball Glove.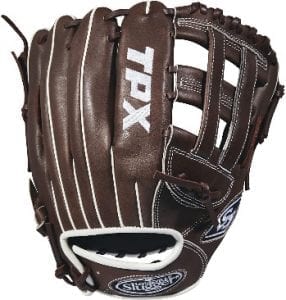 These baseball mitts are carefully crafted from premium-quality cowhide leather. The Louisville Slugger 2018 TPX Infield Baseball Glove provides an excellent fit, despite the smaller size. Proper finger welting likewise assures that its seams will remain intact, even after getting exposed to constant wear-and-tear.
All in all, very few baseball gloves are as stylish and well-made as this. It truly is a testament to the long-standing reputation Louisville Sluggers has gifted us throughout these years.
Easton
Way back in 1922, Doug Easton began manufacturing arrows. This came as a complete accident, of course. He only learned the basics through a friend, after getting shot and seriously injured.
However, what started out as a seemingly fortuitous event quickly turned into a passion. Easton persevered and began by using wood, before moving on to aluminum, when it later became available. These developments ultimately set the stage for the sports conglomerate we know today.
It was only in 1969 that Easton Sports Inc. produced its first bat. But by that time, they had already mastered the art of shaping aluminum. The company used this skill to create hockey sticks, camping gear, rollerblades, and yes, baseball bats. A little while after, they took a full plunge into baseball by designing gloves, too.
Best Easton Baseball Glove:
The Easton Flagship Baseball Glove, which many consider as their crown jewel, is actually a real classic. It has a pro-steer leather shell and rawhide laces for added toughness. Several other parts are made from leatherette materials, too, to maintain the fullness of its shape.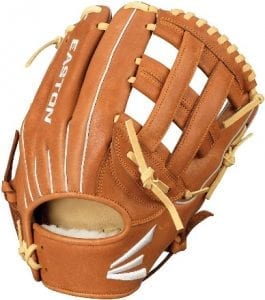 Still, you might think that such a well-built product would be too rigid; but it's actually the opposite. This model remains soft and comfortable when worn – a reassuring sign of its caliber.
Additionally, the Easton Flagship Baseball Glove is as elegant as they come. Its luxurious sheep-wool shearling puts it in a class above the rest.
Without a doubt, whether you're a seasoned professional or budding amateur, Easton Sports Inc. is really one of the best baseball glove brands money can buy.
Conclusion
Each baseball brand has a deep history behind it. While the top brands like Rawlings and Wilson dominate the professional leagues, at lower levels it's a free for all. When you buy a new glove, take a moment and look up the history of the brand. You may be surprised by what you find out.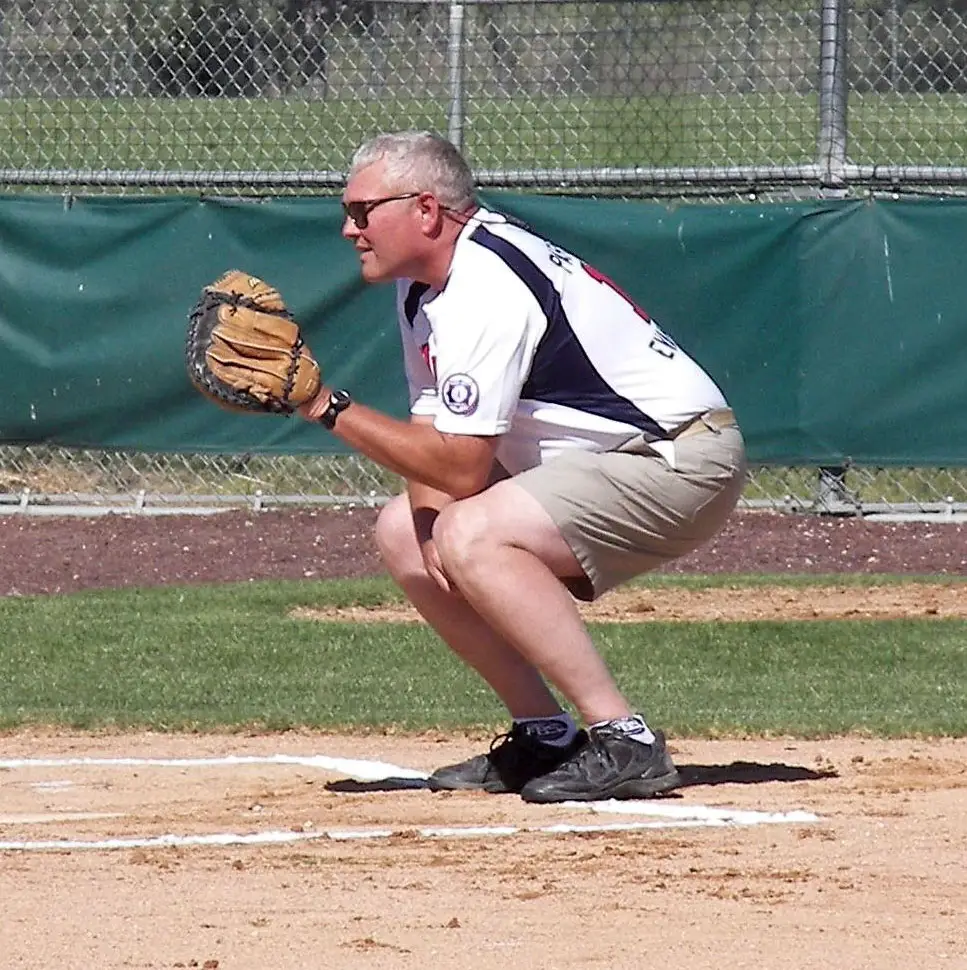 My name is David Farnum and I've been a Little League Coach in my community for the past 7 years. With 2 boys playing baseball and 1 girl playing softball, most weekends I can be found near a baseball diamond.