Best Teeball Bats for 6 Year Olds
A higher end bat for teeball, the Easton ADC is like the Ferrari of kids teeball bat. If you want to start your child off right, you better give him the best equipment. It's definitely one of the best teeball bats that money can buy. With a great balance in weight, it's easy to tell kids where they need to hit the ball to get a great hit.
Key Features
One of the lightest bats on this list
Built for power with easy to see sweet spot
Comfortable grip
More expensive than other bats
Why do we love the Easton ADV?
If you're looking for one of the best bats for teeball or best youth teeball bats, this should be your top choice. The Easton ADV is a high performance bat designed to help your child hit the ball out of the park throughout his teeball seasons. One warning though – try to only use this bat for teeballs! For use with baseballs,
look here.
Similar to the Rawlings Raptor, the Franklin Sports Venom is another excellent teeball bat for kids. In comparison to the Raptor, the Venom is available in 2 different barrel sizes: 2 ¼ and 2 5/8.
For bigger kids still in that 4 – 7 years old range, I would choose the bigger barrel size. If they're capable of swinging it, the bigger barrel will give them a larger sweet spot and help them make contact with the ball. This is another USA approved teeball bat making it perfect and approved for all teeball leagues in the United States.
Despite a big barrel, the Franklin Venom sports a small grip making it perfect for small hands. Children can wrap their hands around the handle and swing this bat easily. The bat has a drop of -11.
Key Features:
USA Bat approved
Kid friendly design
Well balanced and easy to swing
Affordable
Why do we recommend the Franklin Venom teeball bat for kids?
After seeing the Franklin Venom online or in another kid's hands, boys go absolutely bonkers and it's easy to see why. Parents, if you look past the design, you'll see a very kid friendly teeball bat that's perfect for getting him swinging and hitting the ball. And in teeball, what more do you want?
As a bonus, this bat is VERY affordable.
A perfect choice for 6 year olds starting to play baseball, the Easton Typhoon is a great starter bat. This youth baseball bat is lightweight enough to allow children to easily swing fast and follow through after hitting the ball.
This bat is USA approved. What does that mean for you? Some little leagues have rules requiring USA approved bats to play. If yours is one of them – the Easton Typhoon is a great choice. Overall, this is a one-piece baseball bat with a 2 ¼ barrel diameter. The one-piece construction makes it lightweight yet durable enough for multiple seasons. The smaller barrel also helps keep down the weight – allowing children to easily swing this bat over the plate. At the end of the barrel is an unique concave end cap. This end cap helps reduce vibration traveling through the bat. As a result, the bat feels comfortable while striking the ball.
Constructed out of the popular ALX100 aluminum alloy, this youth baseball bat is lightweight yet durable enough to last you for multiple seasons. Its drop weight is  -12 making it perfect for your child to swing and make the perfect hit. 
Key Points:
Great balance
Easy swing and enhanced performance
Durable alloy
For the younger players looking for a way to get your game to a whole new level, this is just about the perfect t-ball bat.  It guarantees players incredible control and handling, enough speed behind every shot and a comfortable grip.
Made of a performance aluminum alloy, this Louisville Slugger is lightweight allowing for an easy swing with a drop weight of -12.5. The barrel is a one-piece aluminum construction with a 2 ¼" diameter. 
Key Features:
Ensured durability
Great weight for a perfect swing
Comfortable grip and handling
USA Bat approved
Why do we love the Louisville Slugger?
Louisville Sluggers are a name to be reckoned with in the baseball industry known for home runs and power hitters throughout the baseball world.
Bring the power of the Louisville Slugger name to teeball with this exceptional teeball bat for kids. Of course, it is USA approved and perfect for getting a great start into the wonderful sport of baseball.
Best Softball Bats for 6 Year Olds
The EASTON Pink Sapphire softball bat is our top pick for youth softball bats for 6 year olds. Besides, the eye-catching pink that your daughters will love, this bat is comfortable and delivers a satisfying ping upon striking the ball.
The EASTON Pink Sapphire is made out of ALX50 military grade aluminum which makes it strong and reliable. The one-piece alloy barrel gives you solid performance. Its 29/32″ handle with an all-sports grip give you nice balance for your swing and the endcap at the end of the barrel gives you the needed power at the sweet spot. 
Key Features:
Durable and Long-lasting construction
Comfortable grip
Pocket-friendly price
Why do we love this softball bat?
The Easton Pink Sapphire bat is designed specifically for kids to help them gain better experience in the game. Of course, this bat is also approved for all softball league use. Still – be sure to check your local league rules.
Mizuno has always been a major player in the baseball/softball equipment scene. For this softball bat, Mizuno manufactured this product in partnership with the USA legendary softball player, Jennie Finch. The goal: to make the perfect youth softball bats for 6 year olds.
The Mizuno Finch Jennie softball bat comes with a cushioned grip and superb vibration dampening throughout the bat. This helps reduce the impact to the hand upon striking the ball. Constructed out of MZ-1300 aluminum alloy and a 2 ¼ inch diameter barrel, this youth softball bat is perfect for any young girls about to play softball. It has a drop weight of -13 and a light swing weight allowing girls to easily swing this bat over the plate. 
Key point:
Cushioned and comfortable grip
Lightweight and easy swing
Durable and long-lasting use
League and association approved
Why do we love this softball bat for kids?
As a namebrand and celebrity endorsed bat, it is a tad more expensive than a generic softball bat. However, with a striking design, every girl loves the look of this bat and how it feels in their hands. Introduce your daughters to softball and take it with you to the batting cages for an afternoon of fun.
One of the best teeball bats for girls, the Rawlings Storm USA youth tball bat is the perfect introduction to baseball or softball for kids.
With a large sweet spot and a -12 drop, any kid should find this bat easy to swing and fun to hit with on the field. To me, this is the girl's equivalent of the Franklin Venom. With a bright pink design, girls fawn over this bat at the store. Design aside, this is a great starter bat for kids. Made out of a 1 piece alloy, it's durable enough for multiple seasons of teeball.
It's also sturdy yet lightweight enough to allow the kids to easily swing through hits and launch the ball into the air. As with the other bats on this light, it is USA approved for all teeball leagues. 
Key Features
USA approved
Lightweight with a big sweet spot
Appealing design
Why do we love this teeball bat for girls?
The Rawlings Storm features a stunning design, large sweet spot, and makes a satisfying ping everytime you strike the ball. Many professional softball players got their start as kids training using this bat and still remember it fondly. This USA approved teeball bat for girls is a perfect (and affordable) choice for kids. The lightweight bat helps produce speed for those kids who can't add some distance to their hit and makes their game better than the usual. It is a perfect choice for the kid and one to give him consistent performance.
What Size Baseball Bat do 6 Year Olds Need?
When considering what size bat you need, you have to consider how big/small your child is. Their height and weight will affect the size bat they can accurately wield. Below is a table that shows some of the most common bat sizes for 6-year-old kids.

It can be confusing figuring out the exact size your 6 year old needs. One simple way to figure out their size is by placing the top of the baseball bat on the ground and seeing how the bat measures him to him. The optimal length is right below the hips. Don't want to go to the store? No problem.
Simply use the chart below to find the perfect length for your child.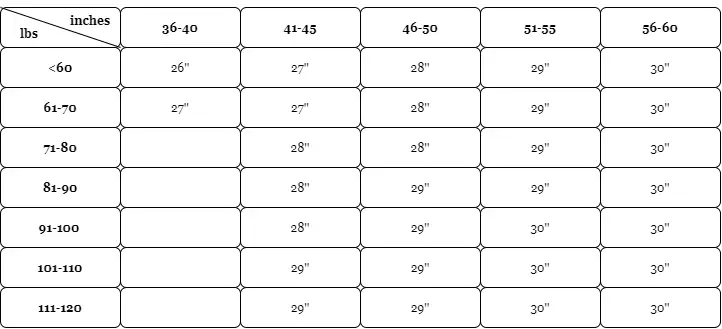 To
choose the best weight
, remember, that your main concern when you're 6 years old is just hitting the ball. You may not be hitting home runs at the age but you should be making contact. To do that, choosing a lighter bat is always better than choosing a heavy bat. A lighter bat will give them more control and allow them to swing the bat faster. This means they'll get on base more.
Choosing a Baseball Bat for 6 Year Olds: Buying Guide
What bats are allowed in his or her league?
 Every league has different rules and regulations that govern the equipment that can be used. Not many 6 year old baseball leagues have strict regulations. At that age, it's more about getting the kids to hit the ball rather than hitting it out of the park. However, the absolute last thing you want to do is buy a nice bat, give it your 6 year old, and then find out they can't use it. Try taking away a new bat from a 6 year old! You'll need to read through this 
article on using a baseball bat as a weapon.
 If there are any rules, they commonly revolve around certain weight drops or 2 ¼ barrels. Research your local league's rules and restrictions to make sure you can use the bat before buying. If you're looking for a baseball bat, why not find a baseball glove at the same time? See here for our article on the topic
: Best Baseball Glove for 6, 7 & 8 Year Old
How much money do you want to spend?
 Some bats, as you probably know, can be very expensive. There are some junior league baseball bats in the $200+ club even! Don't worry, you won't have to spend that much. A standard baseball bat for a six-year-old is usually within the price range of $50-$80, with mostly aluminum bats being in the price range of $80. If you want to go lower, you can – there are a lot of good options on our list that sit around $20 – $40. Above all, you don't want to go crazy. Remember that most players at this age tend to outgrow their bats after 2 years. At this age, you don't need the latest and greatest bats – you just need something that works. 
What about USA bats?
First introduced in 2017, USA bats are still relatively new Some leagues, even at 6 years old(!), require the USA Bat stamp on their bats. USA bats tend to be lighter than other bats thereby making them easier for little kids to use. Be sure to go over the rules of your local league to check on the status of USA bats. 
Have a younger child? Check out the Best Baseball Gloves for 4 to 5 Year Olds
What Kind of Baseball Bat do I Need for a 6 Year Old?
Most times, baseball bats are categorized by the material used in producing them because the materials used in a bats production determine its efficiency and often its price range. At a high level, bats are either made out of wood or metal. Nowadays nobody but professional players in the MLB plays with wood bats. Even your 6 year old should be playing with a metal bat. But what kind of metal bat? The best kind of baseball bat for kids is most likely made out of aluminum. Aluminum is a metal alloy 
most commonly used for baseball bats
 from little league through 
high school
 and college. Aluminum bats have a number of advantages
They're durable due to the strength of the alloy
They're lightweight
They have a slight trampoline effect which propels the ball further.
Composite:
 Another good option for 6 year olds is a composite bat. Composite bats are created from a blend of plastic, graphite, and sometimes titanium. This combination is lighter than aluminium making it perfect for younger players. On the downside, composite bats are more expensive than aluminum bats and are not so durable, especially around the sector between the handle and the barrel. Composite bats:
Lightweight
More expensive than aluminum
Eligible depending on league rules
Hybrid:
 A hybrid bat is generally constructed with an aluminum handle and spin; while the barrel is a combination or rather it is a pressure-molded combo of composite materials i.e graphite, plastic, and titanium. Hybrid bats combine the strengths of both 
aluminum and composite bats
while relinquishing most their drawbacks. Its greatest strengths are its durability, its resistance to dents or indentation that comes from impacts of the ball, dings, bends, defects and warping over time.
Final Thoughts
Choosing the best baseball bat for 6 year olds can be hard but it shouldn't be. Just keep in mind that whatever bat you choose – most likely you'll have to buy a new one when you move from using teeballs to using real baseballs. Using youth baseball bats with baseballs can cause dents and injuries to players. Choose the best youth teeball bat for your boy or girl that makes sense for you. If you want a specific recommendation, leave a comment below and we'll help you out!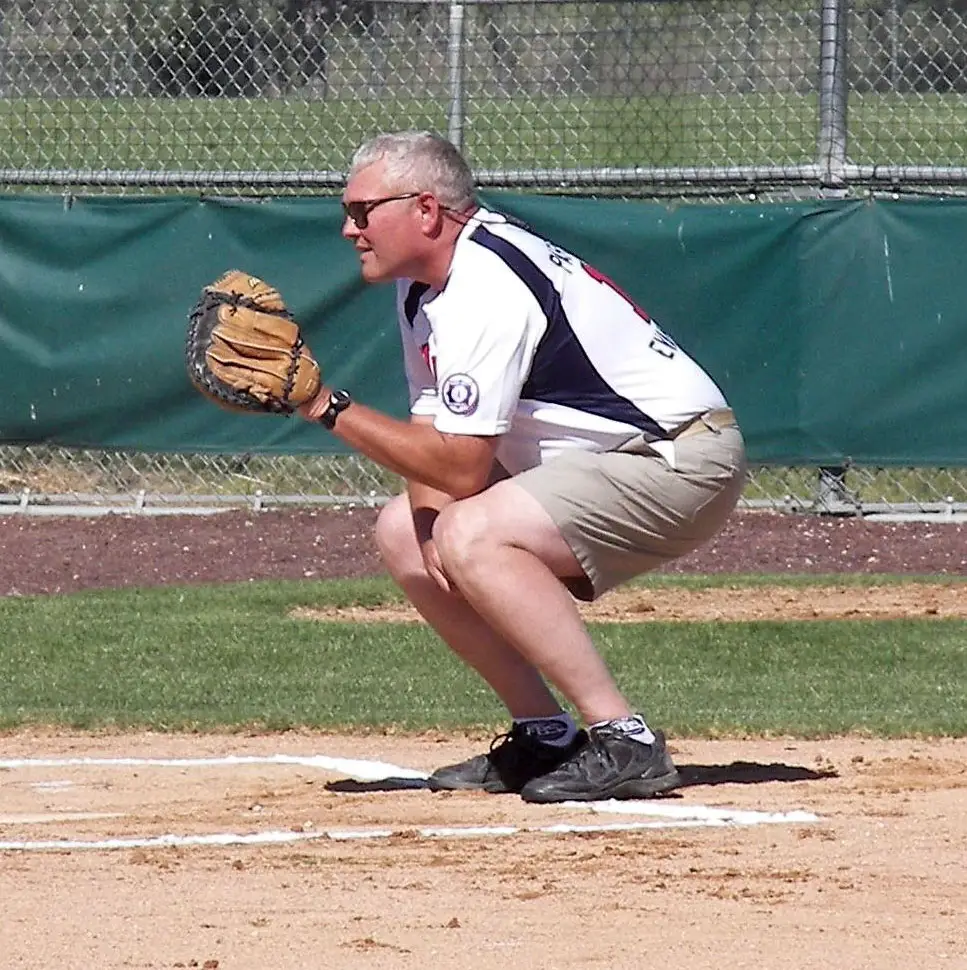 My name is David Farnum and I've been a Little League Coach in my community for the past 7 years. With 2 boys playing baseball and 1 girl playing softball, most weekends I can be found near a baseball diamond.