Senior League baseball bats are one of the biggest sources of confusion in baseball. What are Senior League bats? Well, first, I'll tell you what they aren't: Senior League baseball bats do not refer to a baseball bat for old people.
Now, that we've got that out of the way, this guide will tell you everything you need to know about Senior League bats: what is one, what are the differences, and should you buy a senior league bat.
What are Senior League Baseball Bats?
Let's start with the name.
Senior Leagues are tournaments played by children between the ages of 13 to 16 years. Since children playing baseball at this age are already pretty experienced, equipment manufacturing companies develop specific equipment just for them.
Senior League Bats are designed as a transition between youth bats and BBCOR Bats (meant for high school baseball and above). They have a slightly bigger barrel and weigh slightly more than a youth bat. This helps make the transition to a BBCOR bat easier.
Based on the same notion, companies manufacture baseball bats that match the preference and age of the players.  A Senior League bat is a product derived from the same thought.
Senior League Baseball Bats are also commonly referred to as Youth Big Barrel Bats. These bats are very different from the typical baseball bats.
Due to their barrel size, they are only permitted in specific leagues. Youth big barrel baseball bats have a barrel with a diameter of either 2 5/8 or 2 3/4 with a weight ratio between -5 to -12.
You can also find USSA Approved Bats that are made with precise measurements.
Senior League Bats vs Youth League Bats: Differences
The simplest difference between a senior league bat and a youth league bats is the size of the barrel.
Youth league bats have a considerably smaller barrel, whereas a senior league bat has a bigger barrel.
The difference in the size of the barrel is the reason why Senior League bats are called Youth Big Barrel Bats. Some of the other differences between Senior League and Youth League baseball bats:
Length
When it comes to playing leagues there are some rules that you have to follow very strictly. Youth bats have a length restriction of 36 inches.  They can be shorter than that but bats exceeding 36 inches are not permissible.

Similarly, Senior Leagues bats too have a set of rules that are to be followed while picking a bat. Senior League Bats are 23 inches to 33 inches long. They may seem shorter than the youth league bats but the large diameter gives it a great advantage.
Essentially Senior League Bats are short and stubby. That's how I like to remember them.
The difference in size makes the bats more advantageous for you. If you are younger, the long size of the baseball bat will make it easier for you to hit.
Whereas, if you are participating in the senior leagues; the small size of the bat will make it harder for you to hit. Once you learn to play with it, your goals will shift from just hitting to accuracy and precision.
Weight
While there are no specific rules on weight, there are some general practices that you can consider.  In a general sense, a Senior League bat should weigh between 14 to 28 ounces. Youth bats do not have a fixed weight range.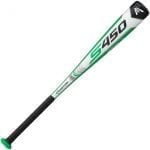 As always when choosing the best baseball bat, be sure to choose one that doesn't weigh too much or too little. A tall and heavy weighted player will choose a heavy bat that will help him hit the ball with the exact amount of power. Similarly, a shorter and light-weighted player will use a lighter bat to land perfect strokes with minimal power.
Barrel Diameter
As mentioned earlier you can distinguish between the two categories using the barrel diameter. The typical barrel size of a regular youth bat is 2 ¼ inches.
Note: Depending on your specific league rules, Senior League bats may not be permitted! Some leagues place strict rules on Barrel Diameter.
Other leagues do not have those restrictions and allow the use of Senior League baseball bats.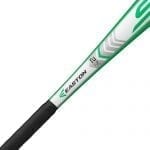 The barrel diameter of a Senior League bat or Youth Big Barrel Bats is around the range of 2 5/8 inches or 2 ¾ inches. Having a bat with a bigger barrel enables you to hit with more power.
The baseball bats with the smaller barrel are more suitable for young players. With a smaller barrel comes less weight. These bats allow the younger players to adequately wield them with good form.
Weight Drop
When you start comparing the different types of Senior League bats, you will notice that there are many bats that have different lengths and weight options. This difference is commonly known as a weight drop.
Simply put, weight drop is the length-to-weight ratio of the bat.Senior League bats have a lower weight drop when compared to youth baseball bats.
When looking for a senior league bat, look towards bats with the weight drop range between -5 to -12. This makes the senior league bats heavier which complements the height or weight of the players who are old enough to participate in the senior league.
Can you use senior league bats in little leagues?
You can use senior league bats in the little leagues only if your bat matches the requirements and adheres to guidelines set by the governing body adopted by the league.
The most common permissions are wooden bat made from single wood, the size of the bat should not exceed more than 33-inches and Barrel diameter should not exceed 2 5/8-inches.
According to these regulations (specific to each league): Yes, you can use Senior League bats in Little Leagues.
If you want to check if your bat is approved or not, you can check here: https://usabat.com/
The weight drop may be a barrier is some leagues but the majority of them allow drop 3 lengths to weight ratio.
Benefits of using a Senior League baseball bat
The added weight and lengthened size of the bat may feel more like an upgrade when you start playing for the Senior Leagues. These attributes are commonly found in Senior League bats and what makes some of them special is the way they are crafted to offer some unique benefits to your performance. We chose some of the top 3 Senior League bats to help you hit homeruns on the field:
EASTON Beast Speed
When defining perfection in baseball bats the EASTON Beast Speed totally deserves the first place. The bat is designed uniquely to make every hit look like a masterstroke. The bat is made with ATAC Alloy –Advanced Thermal Alloy Construction which makes the barrel stronger and light.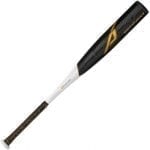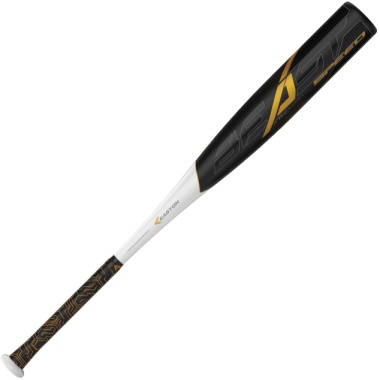 The bat features a custom LIZARD SKINS DSP that provides grip, cushion, and tack to the bat. It is made in compliance with the USSSA guidelines and this bat is approved for Little League use.
DeMarini 2019 CF Zen
Pulling off the straight from the future look, the DeMarini 2019 CF Zen means pure baseball business. This bat is designed to win the game.
The bat is created with the Paraflex+ Composite construction which enables precise weight distribution.
The bat also 3fusion handle for better weight control and feel. It has an X-lite knob that will fit your hand ergonomically.

The bat comes in 36 x 3 x 3 inches dimensions and weighs 1.75 pounds. It adheres to the BBCOR standards and this bat is approved for Little League use.
Rawlings 5150 Metal
When victory is all on your mind and when you're ready to go the distance, a durable companion like Rawlings 5150 Alloy is all you need.
The bat has an incredible 1-piece ultra-responsive design which makes practice and games fun. The bat comes enhanced with Aerospace-grade Rawlings 5150 alloy for ultimate performance and durability.
The bat weighs around 2 pounds and can be chosen for the big and small game both. The bat's weight is optimally distributed for balance and feel which makes it a superior choice for games. This bat is approved for Little League use.

To win the game you need to have the right gear and when choosing one for yourself it is essential to have all the information you may need.
Conclusion
Senior League baseball bats can be confusing but they don't have to be. Senior League bats are just meant to be a transition from Youth League baseball bats to High School BBCORR rated baseball bats. With a slightly bigger barrel and slightly shorter length, they help young players adjust better to high school bats.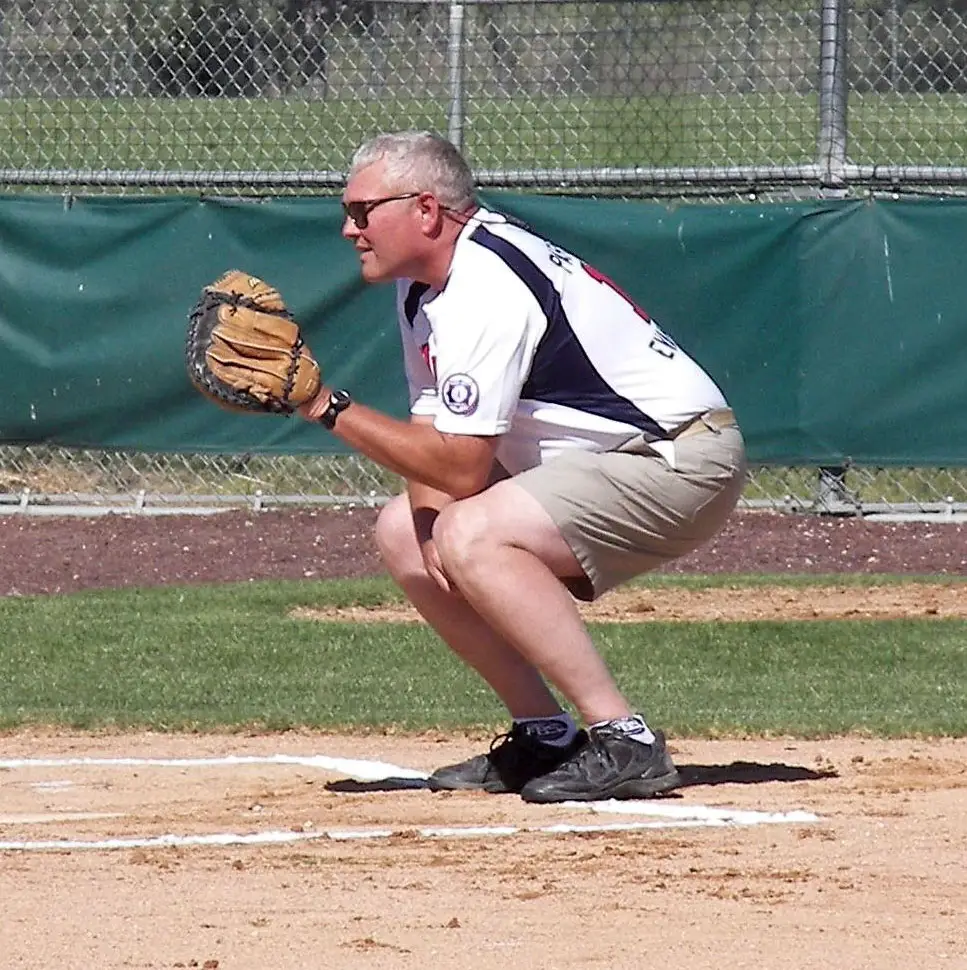 My name is David Farnum and I've been a Little League Coach in my community for the past 7 years. With 2 boys playing baseball and 1 girl playing softball, most weekends I can be found near a baseball diamond.