Best Baseball Rebounders & Pitchback Baseball Nets
Learning how to play baseball can be one of the most rewarding parts of the game. If you're just starting to learn baseball, you may have bought 1 or 2 baseball training aids to help learn technique and progress faster. One other useful baseball training aid is a baseball rebounder or pitchback baseball net. For any player looking to develop their throwing skills, finding the best baseball rebounder can drastically shortcut your learning curve.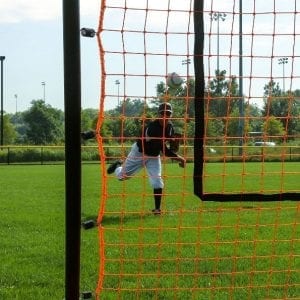 | IMAGE | PRODUCT | | | |
| --- | --- | --- | --- | --- |
| Editors Pick | Rukket Multi-Sport Rebounder | | | Check Price |
| Best Seller | SKLZ Youth Pitchback Rebounder Net | | | Check Price |
| | Champion Sports Multi-Sport Net | | | Check Price |
| | Champro Infinity Pitchback Screen | | | Check Price |
| | Easton Adult Playback Elite Baseball Practice Net | | | Check Price |
What are baseball rebounders?
Baseball rebounders are one of the oldest training aids that are used for baseball practices. A baseball rebounder is a metal frame with a tight-stitched net attached to it. The flexibility of the net acts as a trampoline sending the ball at forcefully back at the thrower. Typically the thrower will throw the ball at the baseball rebounder and then have to act on the fly to catch the ball after it reflects off of the net.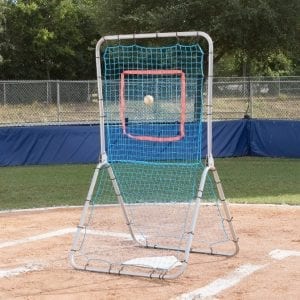 Image Credits: Amazon.com
A baseball rebounder is essentially the opposite of a baseball pitching machine and is a great tool for team and individual practice.
Instead of batting practice, baseball rebounders are very popular for training players to catch different kinds of balls during practice. Instead of having to continually hit balls to the outfield, you can assign individual players to practice using the rebounder. Some of the most common practice drills using a rebounder involve practicing how to catch a line drive, a ground ball, and a pop fly.
A baseball rebounder can be used to train people for players of all ages. Depending on your level, you may get more use out of it. A baseball rebounder is typically used by kids to young adults practicing different ways to pitch and catch the baseball.
Types of baseball rebounders:
Throughout the years, baseball rebounders have been redesigned to make them more user-friendly and efficient. The numerous innovations and design attempts have resulted in the two most popular types of rebounders: Adjustable and Multi-Sport/Skill.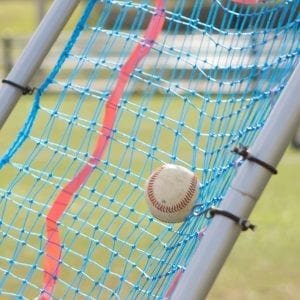 Image Credits: Amazon.com
Adjustable:
Adjustable rebounders are an optimal choice if you want to work on ground balls and line drives. The nets can be adjusted to different angle settings to practice the different types of rebounds.
Typically, the biggest problem with an adjustable rebounder is that you have to adjust the angle manually. This is typically pretty easy but it can still be annoying.
Multi-sport/skill:
If you don't want to get into the hassle of adjusting the rebounder repeatedly, you can go for a Multi-sport/skill rebounder. This allows you to easily practice catching different types of hits without adjusting it. With a multi-sport/skill rebounder, you can throw the ball at the bottom to get a pop-up that lets the ball go up in the sky. To get a ground ball or line-drive you can throw the ball at the center of the rebounder.
Overall, Baseball rebounders are incredibly useful to practice baseball by yourself. Additionally, unlike stuff like a batting cage or pitching machine, they don't require a lot of space.
Don't believe us? Watch this video to see 6 different ways you can use a simple rebounder in your driveway.
Top 5 Baseball Rebounders and Pitchback Baseball Nets:
There are a variety of baseball rebounders in the market that are designed to offer maximum benefits with their exclusive features. We have narrowed down the best pitchback baseball nets that will help you shortcut your learning curve in baseball.
Even though popular brands like SKLZ, Easton, Franklin Sports have their rebounders that promise durability and other additional benefits, Rukket leaves them way behind with its superior quality Multi-sport rebounder.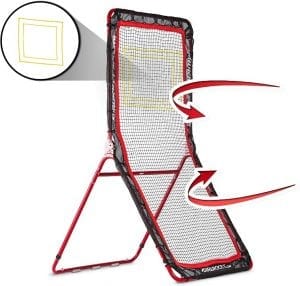 Owing to the several qualities that are missing in other rebounders, Rukket Multi-Sport is regarded as the best option among coaches and athletes.It has 4 different attack angles that give you more options for practicing.
The Rukket rebounder's durability features built to last long nets and mesh protected bunnies. It has a ¼ inch sized frame on all sides that is powder coated and has strong carriage bolt fasteners.
Rukket's strong construction is designed to take on high powered shots with and doesn't flip over easily.
It has a 4×7 foot of practice area which can be used for multiple sports like baseball, softball, lacrosse, football, and soccer. The net is easy to assemble and can be set up for playing in 90 seconds. You can also use the stake that comes with the net to ensure it stays in one place.
Pros:
Multiple Attack Angles
Perfect Bounce Back
Easy assembly
Adjustable Settings
Cons:
Balls hit with force often stay in the net.
To see how to assemble the Rukket Rebounder, you can watch this video:
SKLZ can be considered as a major contributor for baseball and softball in terms of quality kits and practice equipment. The company has also been credited for making one of the best rebounders that can be used for different sports named 'Youth Pitchback Rebounder'.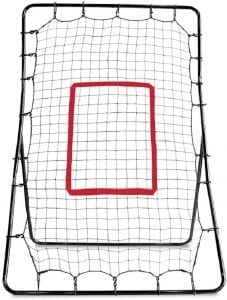 The Youth Pitchback Rebounder features metal frames that are sturdy and can withstand shots upto 60mph. You can try different pitches like ground balls, line drives, and pop flies with minor adjustments.
It can be used to improve the precision with the rectangle strike zone that can be made by knitting the ribbon that comes included in the package. The rebounder has a simple structure that can be assembled easily and quickly.
Finding a rebounder that can stand the torments of tough weather can be challenging. SKLZ Youth Pitchback Rebounder comes with a 21 ply net that is stronger than most of the nets in the market and can stand any weather.
You don't have to worry about outdoor installations as the net comes with sharp and strong ground stakes that make the net stable and prevent shaking during the training.
Pros:
Sturdy net help improved throwbacks
Adjustable SKLZ PitchBack angles for awesome pitching
Fold-up design for easy storage
Has good ground stakes for stability
Cons:
Not stable on all ground surfaces
Champion Sports has quite renowned products in its lineup that have been lauded by both coaches and players. The company's products offer great value against money and are created to outperform most of its competitors.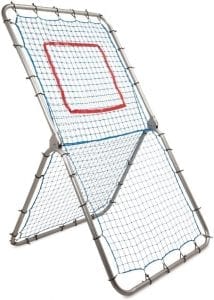 Champion Sports Multi-Sport Net Pitch Back Screen is the company's best rebounder that you can purchase from any store or buy online. The key feature of this amazing equipment is the unique design that makes it suitable for multi-sport training.
It has a high-quality pitch net that is stretched on a powder-coated steel frame. You also get a target square that can help you in improving your accuracy. Its flexible structure has caught the attention of many players from different sports as the net can be set to any angle for practice.
The Champion Sports Multi-Sport Net Pitch Back Screen comes with easy to assemble parts and its in-ground stakes make the pitchback stand firmer on any ground surface.
Champion Sports has eliminated the most common problem faced by players and coaches which is storing the net. Easy assembly and dismantling can be a great feature until you realize you have to do it every day. Since Champion Sports Multi-Sport pitchback comes in a Y-shaped structure it can be folded for easy storage.
Pros:
Durable
Multi-sport Applications
Reasonably Priced
Foldable – doesn't take up much space
Cons:
The Champro Infinity Pitchback Screen is a feature-loaded baseball pitchback screen and a perfect option for anyone who looking for a modern training tool that can make practice sessions beneficial and easier. It has a powder-coated metal ¼ inch steel tube frame.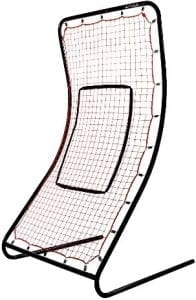 To save you from buying different sized nets for the team, it comes in the dimensions of 72″ H X 42″ W which makes it suitable for players of different height and age. The net has a very easy setup and it can be placed on any surface.
The main role of pitchback nets during practice is to help the players enhance their performance and the Champro Infinity Pitchback Screen does it effortlessly. Apart from letting the players use it for practicing pitches and strikes, the net features a hit zone that can help player hone their accuracy.
Champro Infinity Pitchback Screen is designed to offer unparalleled durability owing to the notable equipment that are incorporated in the pitchback net. It has a 30 ply P.E. net with a 1 ¾ inch mesh that has the ability to endure any weather conditions and provides an excellent bounce-back response.
Pros:
Versatile net for various forms of drills
Heavy construction
Professional Model
High-quality netting
Easy installation and folding
Cons:
Design tends to make it less stable than other options
Easton is a premium sports equipment manufacturer and has an extensive lineup of products that include one of the best senior league baseball bats. However, when it comes to pitchback nets the company has tried its best to come up with a premium product that sits on the 5th spot in our list.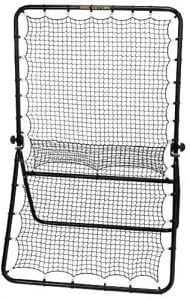 The company has focused majorly on the product's durability, which is why the net comes with a sturdy metal frame and a strong net. It has rubber bands that hold the net and pole together which also allows the net to give amazing bounce backs.
It has a dimension of 48″W x 72″H which is favorable for training small children and practicing various drills.
Pros:
Strong and robust build
Can be used for different sports
Easy to carry and portable
Cons:
Assembly process is harder than similar nets
Conclusion:
If you want to be the best, you have to train to be the best. And with baseball, that's not always easy. Baseball rebounders and baseball pitchback nets are an easy way to practice baseball while you're just hanging out in your backyard. You don't need much equipment.
Grab your glove, a baseball, and a pitchback net, and you'll be all set to improve your reflexes and fielding skills.
I hope this guide helped you. If you have any questions or comments about finding the best baseball rebounder net, let me know in the comments!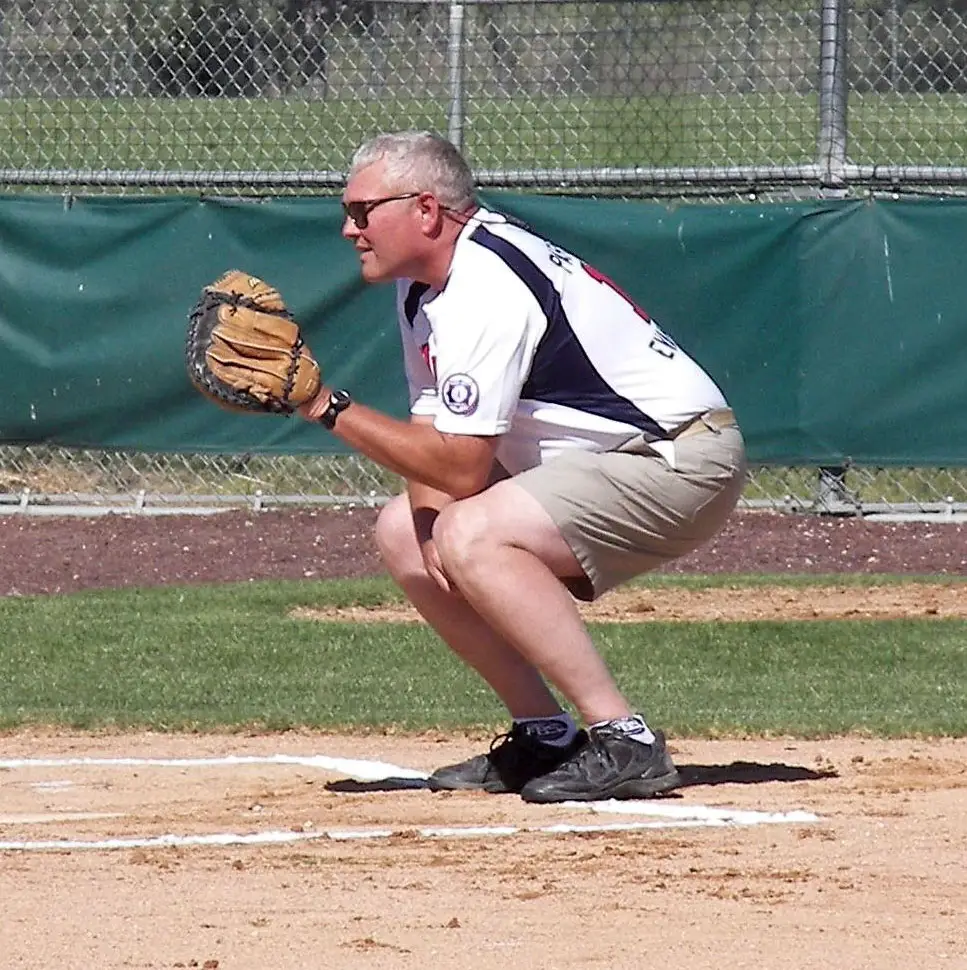 My name is David Farnum and I've been a Little League Coach in my community for the past 7 years. With 2 boys playing baseball and 1 girl playing softball, most weekends I can be found near a baseball diamond.