Best Baseball Training Aids
Have you ever asked yourself what makes a professional baseball player so successful? Anticipating every moment and performing the appropriate action is never just a coincidence. It takes years of dedicated studying, a strict diet, proper rhythmic exercise, and yes, countless hours of practice, to reach their level of performance. Maintaining it is a whole different ball game.
In this article, we'll be talking about the ten best baseball aids available on the market. If you are a budding athlete or just someone that loves sports, using them will go a long way in improving your workout routine. Not only that, but building these habits could mean the difference between mediocrity and athletic greatness.
| IMAGE | PRODUCT | Type of Training Aid | Perfect for | |
| --- | --- | --- | --- | --- |
| Editors Pick | SKLZ Hit-A-Way Portable Baseball Training Station | Batting Trainers | Batting | Check Price |
| Best Seller | Franklin Sports Electronic Baseball Pitching Machine | Training Balls | Pitching | Check Price |
| | PowerNet 7×7 Baseball Net | Baseball Nets | Batting, Pitching, or Fielding drills | Check Price |
| | Tanner Tees Premium Baseball Tee | Batting Trainers | Hitting | Check Price |
| | Arm Pro Strength Bands | Conditioning tools | Conditioning | Check Price |
| | MacGregor Infield Training Glove | Practice gloves | Catching | Check Price |
| | Rawlings LDBALL3PK Line-Drive Training Ball | Training Balls | Throwing, Pitching, and Batting | Check Price |
| | Easton F4 Aluminum Fungo Bat | Hitting | Hitting | Check Price |
| | Zepp Baseball 2 3-D Swing Analyzer | Batting Trainers | Batting | Check Price |
| | Towel Trainer for Pitching | Conditioning tools | Pitching | Check Price |
Top 10 Baseball Training Aids
In a nutshell, the SKLZ Hit-A-Way Portable Baseball Training Station is a tool designed to improve your swinging technique. It uses a unique design where the ball is attached to a short cord. This helps simulate the trajectory of actual in-game pitches, improving your hand-eye coordination.
When fully assembled, this batting aid may seem quite bulky but the entire structure can be taken down within a few minutes.
Take it literally anywhere, like to the park, field, or other favorable workout locations. It's lightweight, too, so mobilization never becomes an issue.
Key Benefits:
Improve aim and timing when batting
Easy to transport
Great for personal or team trainings
No pitcher? No problem! The Franklin Sports Electronic Baseball Pitching Machine serves as your own personal pitcher when training alone. It launches a ball automatically every seven seconds, helping you develop a nice batting consistency.
Watch out for the blinking red light, get into position, and knock each one out of the park!
Maximize each training session by loading up to nine balls at a time. The device's angle and orientation are adjustable, too, to mimic different kinds of pitches.
Best of all, the Franklin Sports Electronic Baseball Pitching Machine is battery-operated, so there's no need for long troublesome extension cords.
Key Benefits:
Comes with six baseballs
Requires only six batteries
Serves as your own personal pitcher
Training aids like the PowerNet 7×7 Baseball Net are incredibly useful when working out. Not only is it portable, but also very easy to set up. It can be placed in any location or terrain, serving as a target for batting, pitching, or fielding drills.
The PowerNet 7×7 Baseball Net is likewise large enough to be used as a backdrop. Position it just behind the home plate, so it catches any errant balls you miss when striking.
This setup is designed for convenience, allowing you to focus all your energy on getting better.
Key Benefits:
Capable of withstanding contact
Collapsible for quicker mobilization
Use it as a target or catcher
Hitting a ball consistently all boils down to proper form. And the Tanner Tees Premium Baseball Tee can help you develop that. Simply adjust it to a height you're comfortable with, place the ball, and swing away!
It's perfect for improving your aim, posture, and timing without the added pressure of hitting a moving object.
Structurally, this tee is well-constructed. It's manufactured primarily from high-grade steel for durability. The ball rest, on the other hand, is made with flexible material, so you make contact directly with the ball and not the tee. As a result, your movements will feel more natural.
Key Benefits:
Movable height from 26 to 43 inches
Made for professional or amateur players
Hand-rolled flexible rubber ball rest
Build up vigor and endurance with the Arm Pro Strength Bands. This conditioning set is designed to enhance the shoulder's rotating speed, arm strength, heart rate, and overall flexibility to prevent injuries.
Getting in shape also helps you perform at a higher level for more extended periods. Needless to say, it's the foundation of every successful sportsman.
The Arm Pro Strength Bands are portable, simple, and have several fitness applications. Beginners can even download an instructional video that comes with this kit. It will allow you to maximize more of what this instrument offers.
Key Benefits:
Simple to use any time and anywhere
Comes with a chart that teaches basic exercises
Improves your strength and conditioning
There's no question the MacGregor Infield Training Glove is stylish. Each one is made using high-quality synthetic leather and sewn into a circular shape – almost like a pancake. This ergonomic form is excellent for catching ground and fly balls since they roll right towards the mitt. It helps improve how fast you transition to throwing, too.
Even though training gloves like this benefit catchers more, it still saves you a ton of time and energy when training. And in case it's your turn to play catcher, you won't have to chase the ball as much.
Key Benefits:
Built for infield training
Manufactured from world-class synthetic leather
Ergonomically designed to save you time and effort
The Rawlings LDBALL3PK Line-Drive Training Ball is an ideal training aid for throwing, pitching, and batting. These are a little bit heavier than your typical baseball, which studies have shown helps promote the proper form. It builds better arm strength, too, and provides immediate feedback after every swing.
Each pack comes with three neon-colored balls. This isn't just to create distinction, but also to establish continuous momentum.
Continuing the same motion, over and over, puts you in a groove and develops a routine quicker. As a result, your body learns the correct techniques through repetition. That's why if you're serious about getting in shape, we would recommend buying more than one set.
Key Benefits:
Can be easily distinguished from regular baseballs
Great for throwing, catching, and striking
Help increase strength in your arms and wrist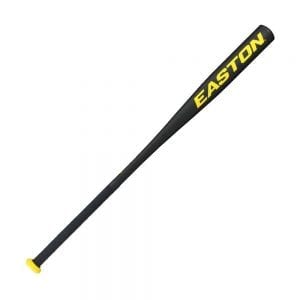 Lightweight and stable, the Easton F4 Aluminum Fungo Bat is meant for hitting baseballs with relative ease. You'll be able to control the direction of the ball better and make it go as far or as low as you want.
It's a practical tool for teaching outfielders how to position themselves when catching. The narrow shape and rubberized grip likewise put less pressure on your body when being used.
Users, particularly children, have also used the Easton F4 Aluminum Fungo Bat to improve their batting stance and posture. After all, it weighs significantly less than standard models, thus requiring less effort to carry. This is yet another advantage that users can enjoy.
Key Benefits:
Perfect for outfield training and catching ground balls
Effortless to control
Durable; doesn't easily break
Have you ever wondered how fast your reaction time is when batting? Or what each stroke looks like? Well, now you can find out, thanks to the Zepp Baseball 2 3-D Swing Analyzer.
This miniature device has a built-in camera and a reading apparatus that instantly measures your bat and hand speed, time-to-impact, attack angle, and other pertinent data. It even captures a 4-D quality high-definition video, so you can review your swing from any direction.
However, what sets this analyzer apart from its competitors is a revolutionary software that's accessible through any mobile device. On it, you'll find all the relevant information, not to mention tips and suggestions on how to improve.
There are even advanced training programs included. It's like having your own personal coach guiding you every step of the way.
Key Benefits:
Compatible with most types of bats
Replay your swing in 360-degrees to get the perfect view
Offers expert tips on how you can improve
Great for compiling team and personal statistics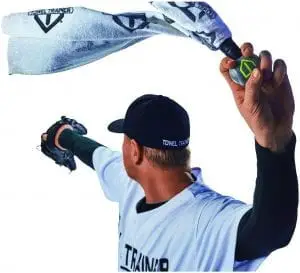 Throwing an excellent pitch is as much about practice as having a textbook stroke. Thankfully, you can do both with the Towel Trainer. This unique training aid helps users get the required reps in to make a lasting change in their throwing motion.
Its textured exterior familiarizes your hand, too, for pitching that perfect fastball, curveball, or changeup.
The Towel Trainer is portable as well. Practice any time or under any circumstance. This no-nonsense approach is probably why even professional baseball players use it in their workout regimens.
Key Benefits:
Helps achieve consistency of throwing properly
Practice different pitches based on the grip
Easy to use even for beginners
Types of Baseball Training Aids
Most baseball training aids can be classified as one of six unique categories. Let's go through them.
Batting Swing Trainers
These tools aids come in all shapes and sizes, but their purpose is one-and-the-same. Batting swing trainers help keep you loose, develop the proper position when swinging, and improves your timing. As a result, you'll feel more relaxed when stepping up to the mound.
Battle swing trainers are also portable – even if they're quite bulky when put up – and require no additional resources like electricity. Use them in any open space as you train by yourself.
Baseball Net
Although many people might consider it frail and unnecessary, we beg to differ. A baseball net is actually one of the handiest – and reasonably priced – training aids available today. Most, if not all, are ergonomically designed and easy to mobilize around the field. You can use it as a target or backdrop when doing drills. It helps catch wayward balls, so you won't have to chase after them anymore.
Practice Gloves
One way of improving your catching ability is by using a practice glove. It's designed to help your hands learn the basics of receiving a ball by providing proper support, flexibility, and protection.
Training gloves are great for fielding exercises, too. Outfielders use them to snatch up fly balls and transition into throwing quicker. Aside from getting familiar with the motions, it makes you feel more comfortable as well.
Training Balls
Practice balls are meant for improving strength and control when batting, throwing, or receiving. These training aids typically weigh more than their in-game counterparts, allowing players to develop a firmer grasp of the fundamentals. Its wide variety of practical uses is the main reason why training balls are a common sight in locker rooms worldwide.
Fungo Bats
Contrary to what most people think, fungo bats won't strengthen your swing. Coaches typically use these training aids when teaching their players how to properly catch different types of batted balls. And since fungo bats are made from aluminum, they're much lighter and thus easier to control the direction.
Conditioning Tools
Staying in game shape almost always leads to better performance on the field. Conditioning tools help athletes warm-up and keep loose right before a game. It also improves endurance, strengthens their body, and enhances overall flexibility. As a result, they rarely get injured.
Currently, there are literally thousands of different conditioning tools available to consumers. This includes weights, exercise bands, medicine balls, and treadmills, just to name a few. However, choosing the perfect accessory will depend on what part of your physique you want to develop. We recommend identifying this before anything else.
Choosing the Best Baseball Training Aid
If you're still overwhelmed, here are some practical factors to consider when selecting what training you should invest in.
Position
Players naturally gravitate towards certain positions. Some are mediocre catchers but excel as pitchers. Still, others prefer being a baseman or outfielder because it matches their skill-set seamlessly. Choosing your equipment should take the same approach.
Each workout must complement the strengths needed to excel in that particular role. It is only through perfecting those that you can eventually take your game to the next level.
Intended Use
Again, just like our previous point, you need to answer the question – what do I want to develop about myself? Is it my stamina? Will losing weight or get bulkier make me a better player? What about precision, timing, and posture? These are just some things to consider. Ultimately, identifying an end goal will provide you with a clearer path. Then, recognizing what instrument and how to conduct yourself will eventually follow.
Price
Before going on a shopping spree, we recommend identifying a firm budget first. This should prevent you from overspending while also prioritizing only the necessary training aids. Trust us; following this process can even simplify the task when choosing between two brands.
Baseball Training Aid Benefits
We've already touched on them briefly in the previous section, but here are some notable advantages with using training aids in your workout sessions.
Improving Performance
Let's get one thing straight – training aids don't work like a magic elixir. They won't have the capacity to suddenly turn newbies into all-star players overnight. On the contrary, these instruments build on your existing skills and heighten them, so you perform at a higher level.
Training aids also increase your tolerance and overall strength when taking part in physical activities. Sports often take a toll on the human body, and being fit lessens the likelihood of sustaining any injuries.
Save Time
Many of the training aids we mentioned are very simple to use. This gives you the option to just train at home rather than travel to a local recreation center. Your workouts aren't any more dependent on other people, either, since almost everything can be done solo.
All this just proves that these tools are here to make our life easier. Tools like the swing analyzer cut your workout time in half by automating several tasks. Conversely, the nets, practice gloves, and fungo bats all help provide a conducive environment where you expel as little energy as possible. This way, you can focus all your energy on developing yourself.
Win More
At the end of the day, baseball is a team sport. Any value we add to ourselves somehow pushes everyone else closer towards the ultimate goal – a championship. That's precisely why it's common for organizations to invest in these tools. They know that training aids are a major ingredient in achieving success.
Conclusion
Now that we've come to the end of our article, there's really no questioning the value that training aids offer – regardless of type. They make the lives of athletes easier by streamlining workouts, providing some much-needed convenience, and strengthens the parts of your game that require improvement.
The key here is to choose one that suits your needs, strengths, position, and price range. Training aids are supposed to make life easier, not be the source of conflict. Ultimately, it's all about balance, which we have no doubt that you'll figure out eventually. Just remember – maximize these tools and pair it with hard work. It won't be long before you're seeing drastic improvement in your game.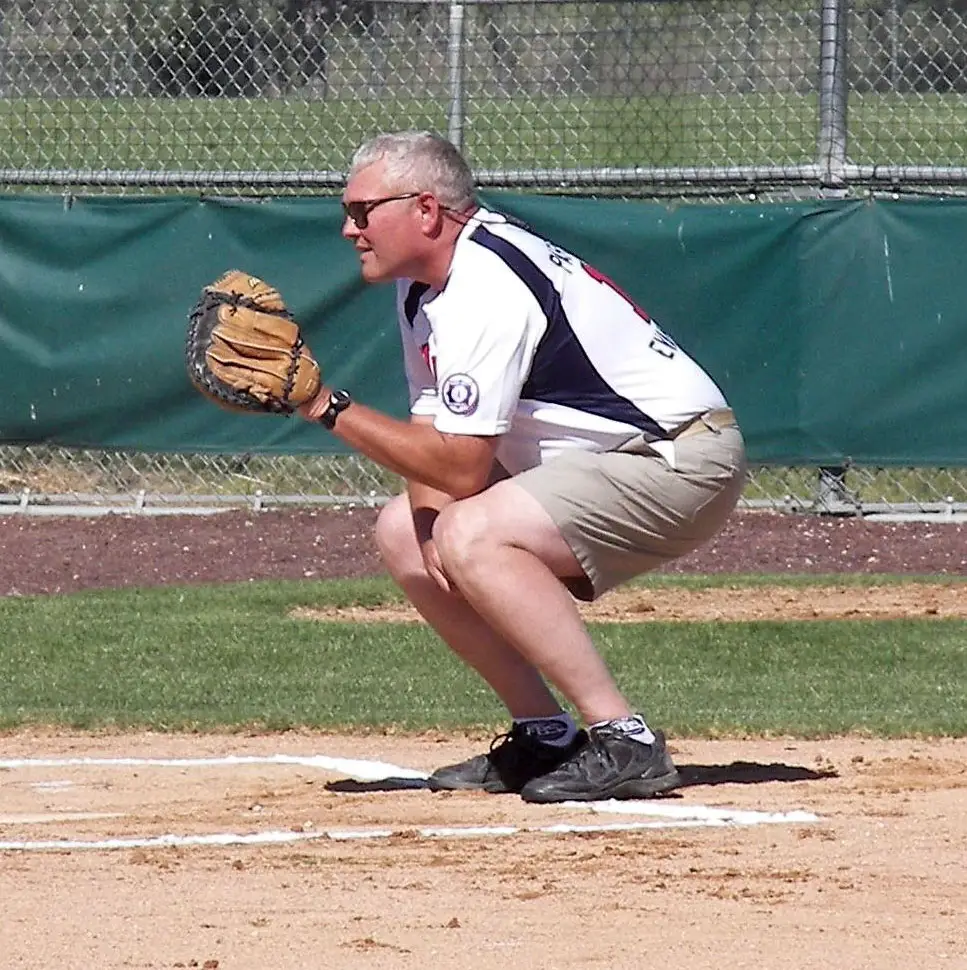 My name is David Farnum and I've been a Little League Coach in my community for the past 7 years. With 2 boys playing baseball and 1 girl playing softball, most weekends I can be found near a baseball diamond.