If you have been chasing the dream of becoming a successful baseball player, you may not always have time to get on the field. For a lot of baseball practice, you may not need to. If you have some baseball training aids and a batting cage close by, you can practice for hours every day of the week.
What is a batting cage?
A batting cage is an enclosed area with nets that can help you become better at batting. Usually, the material used for batting cages is netting and it is normally rectangular in shape.
The nets can also be reinforced with a chain-link fence. However, considering the effects of primary impact and the damage it can cause to the ball, it is not recommended.
The optimal netting for a baseball batting cage is diamond or square-shaped.
Do batting cages help?
If you are looking forward to a full-fledged batting practice session, a batting cage can be immensely helpful. Within such a confined space, you can:
A batting cage allows you to rapidly hit ball after ball quickly
Due to the net, you'll find yourself hitting 2 or 3x as quickly as you would on the baseball diamond
Can practice different pitches and different techniques
For batters, a good batting cage can allow you to practice all sorts of bunts or tweaks to your technique to try and connect to the ball better. For pitchers, you can safely practice different curveballs and practice your technique until it's perfect.
How much does a backyard batting cage cost?
A big consideration for most homeowners is how much a backyard batting cage costs. The cost is why many baseball players prefer to find the closest local batting cages near them.
Depending on the type, a backyard batting cage can cost from $300 to more than $1000 dollars.
Most of the time the bigger the batting cage, the bigger the price. Portable batting cages will always be cheaper than permanent batting cages which require a tedious installation process.
Should you buy a batting cage?
To answer this question, you need to analyze your game and understand the amount of practice required to achieve your goal. Also, take into account the convenience and the price.
Sure, you can go find a local batting cage near you. But the sheer convenience of having a batting cage in your backyard can help turn you into a star.
One of the biggest misconceptions is that you need a massive backyard to install a baseball cage.
In fact, you can choose from different indoor and outdoor variants which come in different sizes. If you're really stretched for space, there are companies that sell portable baseball batting cages.
An indoor batting cage can be helpful in many ways, especially when you are not among the ones who like skipping practice. Indoor batting cage assists you in practicing whenever you feel convenient.
Whether the fields are open or closed, an indoor batting cage is always open for you.
Top 5 batting cages
To get the most out of your batting practice, you need to have the batting cage that suits your requirements.
Coming in at the top of our list is a combination of innovation and durability, the Fortress Trapezoid batting cage. A batting cage like no other, the Fortress Trapezoid cage gives you the best practice experience.
The innovatively designed cage comes with a galvanized steel frame. This built to last long frame is sturdy, powder-coated, and rust-proof. Its strong construction can withstand high-power hits from batters.
With a 0.25-inch weatherproof and rot-proof rope, this batting cage will be safe in your backyard or field for seasons to come.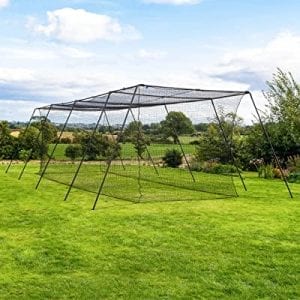 The free-standing frame is one of the best features of the cage. The uniquely angled poles positioned outside the cage eliminate the need for anchoring. The entire cage is designed in a way, that requires minimum effort while installing.
As the poles are outside the cage, the batter gets more area to hit and the batting cage as a whole is easier to move.
Another best thing about Fortress Trapezoid batting cage is that it comes in different size options. You can choose from 35 feet, 55 feet, and 75 feet. The cage is 10 feet wide at the top and 14 feet wide at the base.
When choosing a size option, consider how much space you have. For a smaller backyard, go with the 35-foot option.
[su_button url="https://www.amazon.com/FORTRESS-Trapezoid-Baseball-Batting-Complete/dp/B018W8QMJ4?tag=ibatreviewsge-20″ target="blank" style="soft" background="#00A8E8″ size="10″ wide="yes" center="yes" radius="0″ icon="icon: hand-o-right" rel="nofollow" title="Check Price on Amazon.com"]Check Price Now[/su_button]
Heater Power Alley Batting cage is an excellent option for both indoor and outdoor practice, as it comes packed with amazing features and qualities. The cage has durable 1-inch netting that can withstand numerous hits and rough weather.
It is perfect for players from 4 years of age to the ones aiming to participate in the major league.
It has a sizeable dimension of 24 feet long x 12 feet wide x 10 feet tall which allows you to move freely. The cylindrical shape ensures that the ball is within your convenient reach after every hit.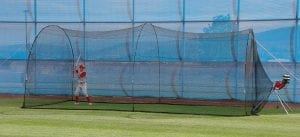 You don't have to worry about the placement of your pitching machine with the Heater Power Alley batting cage. With the safety harness that fastens the machine can be kept outside the cage.
The package comes with heavy-duty ground stakes, ½ inch Fibreglass rods, and a 1inch nylon netting along with a built-in batting cage harness for pitcher machines. You can setup and take down then entire cage a matter of minutes due to the Fiberglass Rods and Light-weight netting.
It is one of the most affordable and revolutionary batting cages that can improve your batting performance at home.
[su_button url="https://www.amazon.com/HEATER-PowerAlley-Baseball-Softball-Pitching/dp/B001916GRK?tag=ibatreviewsge-20″ target="blank" style="soft" background="#00A8E8″ size="10″ wide="yes" center="yes" radius="0″ icon="icon: hand-o-right" rel="nofollow" title="Check Price on Amazon.com"]Check Price Now[/su_button]
Even though portable batting cages can seem like a great option for practice, they can be a trouble to setup. When setting up a portable batting cage, you have to set up the pole, fix the net make sure everything is stable, and secure everything. In some cases, it may take you 30 – 45 minutes just to set up the cage.
The Fortress Pop-Up batting cage does away with all of that. You can assemble and disassemble it in 5 minutes.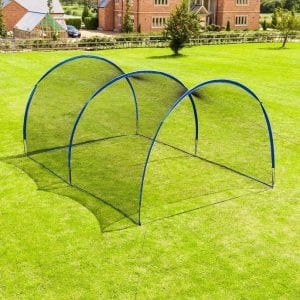 Fortress has added the unique elastic sections to the net making it easy to assemble. Irrespective of the weather, the Fortress Pop-Up Baseball Batting Cage is ideal for practice.
You can place it in the backyard, or a big hall, it can fit any place you want. The cage comes with steel pegs and adjustable guy ropes for better support.
It features a 3ply polyester baseball net with 1-inch knotless mesh. As a result, it can withstand harsh hits without breaking or expanding. Moreover, the poles are made of durable12.7mm fiberglass that is sturdy yet lightweight.
For disassembly and traveling with the cage, a heavy-duty bag is included with the cage.
When assembled completely the cage can reach up to 12ft wide and 9ft in height. It comes in two size options i.e. 20ft and 40ft. If you're looking for the best portable backyard batting cage – this is it.
[su_button url="https://www.amazon.com/ProCourt-Mini-Tennis-Badminton-Combi/dp/B00VVFDLFE?tag=ibatreviewsge-20″ target="blank" style="soft" background="#00A8E8″ size="10″ wide="yes" center="yes" radius="0″ icon="icon: hand-o-right" rel="nofollow" title="Check Price on Amazon.com"]Check Price Now[/su_button]
If you want to practice the old school way, the Jones Sports 70′ 60PLY Heavy Duty #42 HDPE Batting CAGE with Frame KIT is perfect for you. The net has some extra length to it keeping the ball from bouncing back and causing an injury.
The Jones Sports 70′ is designed to withstand any weather and impact. It has nets made of 60Ply heavy-duty polyester to endure even the toughest hits without tears. The cage also comes with an easy lift net door.
It is also designed for a quick set up under 30 mins. Jones Sports 70′ comes with a durable frame that can last for a very long time. The spacious area inside the cage gives you the freedom to try new things that make your performance better.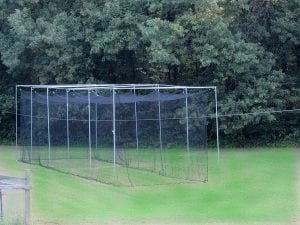 Jones Sports 70′ has a height of 10ft and is 6ft wide which can be great for practice.
One thing to note: If you purchase the Jones Sports 70′ you will get the net and the frame setup from the manufacturer but you have to buy the poles separately.
[su_button url="https://www.amazon.com/JONES-SPORTS-BATTING-BASEBALL-SOFTBALL-BACKYARD/dp/B074X99MYT?tag=ibatreviewsge-20″ target="blank" style="soft" background="#00A8E8″ size="10″ wide="yes" center="yes" radius="0″ icon="icon: hand-o-right" rel="nofollow" title="Check Price on Amazon.com"]Check Price Now[/su_button]
If you are looking for a good baseball batting cage at a low price, take a look at the Batting Cage Frame Kit EZ UP & Down. This simple and minimal baseball cage is incredible in terms of durability and convenience. It is designed for an easy set up so that you can spend more time on your practice.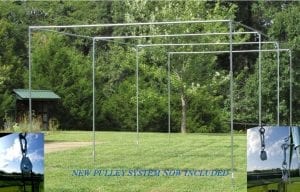 It has the traditional sports cage design and comes in a rectangular shape which gives you more space to practice. It also comes with a durable net that can withstand any number of powerful hits.
[su_button url="https://www.amazon.com/Batting-Cage-Frame-Baseball-Softball/dp/B01M5DI92B?tag=ibatreviewsge-20″ target="blank" style="soft" background="#00A8E8″ size="10″ wide="yes" center="yes" radius="0″ icon="icon: hand-o-right" rel="nofollow" title="Check Price on Amazon.com"]Check Price Now[/su_button]
How to Choose a Backyard Batting Cage
As mentioned above a home batting cage can have many benefits: chief among them, convenience to practice whenever you like. A batting cage can be a big investment though so it's important to consider all of the possible factors before investing in one.
Image Credit: SportySystems
Here are some things that you should consider when choosing a home batting cage:
How much space do you need for a batting cage?
When thinking of setting up a batting cage, you would want it to be as close as it could to the regulated distance. However, the can be very different.
A regulation-compliant batting cage measures upto 60-70 feet which is impossible for most people.
However, there are different size options. Many baseball players and coaches could fit a 30 – 40 ft batting cage.
And there are some advantages to having a smaller batting cage. The closer distance will test your reaction times and help train you to spot and hit the ball better. If you have pitching matching, the speed of the pitch may seem faster than normal. This will pay huge dividends when you're back on the field at a regulation distance.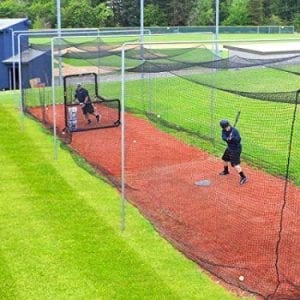 Image Credit: Baseballmomstuff
You should also take into account the setup apparatus that supports the batting cage. Apart from the actual cage, there are anchors ropes and stakes that have to be attached to the rope to keep it stabilized. The stakes are required to be affixed at a distance of six feet from each end. This means, to install a 30-foot long cage you should have 42 feet of space.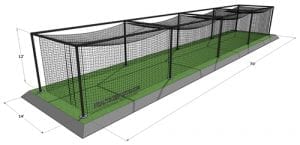 Image Credit: PracticeSports
The same thing goes for the width. Even though the width of your cage maybe around 12 ft the anchor ropes that are required to keep the cage secure will take up another 5 feet on both sides.  This means you need to have a yard with 22 feet space set for setting up the anchor ropes.
This is just one example though and some of the cages on our list – such as the Fortress Pop Up Baseball Batting Cage (link), don't need much in the terms of additional anchors or ropes.
Before buying a baseball batting cage though, be sure to read the setup instructions – it may require more space than you think. You can look for setup instructions in the kit or the package that you have received. Or, if you are unable to find them there, you can often download them from the website of the manufacturer.
Batting Cage Materials:
Frame: 
The frame is an important part of the batting cage. It not only holds the cage but also takes a lot of hits. This makes it necessary to have a strong frame that does not warp or bend with a hit. Metal frames are a widely recommended option as they can withstand the practice and also the weather.
A frame should also be flexible as it can prevent the ball from ricocheting and hitting the player.

L-screen:
The L-screen protects the pitcher or the pitching machine from getting damaged by the balls hit by the players. Some kits may include this screen that is made from the same material as the net.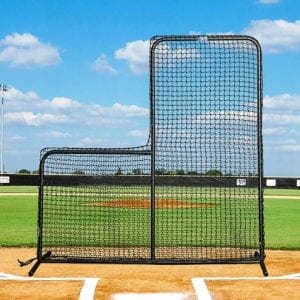 Net:
A batting cage is made of 90% net and 10% percent other materials. The purpose of these nets is to prevent the ball from going out of the cage, but in order to do that; the nets need to be strong enough to withstand your hits.
It is important to ensure that your batting cage has a strong net or you may end up regretting your purchase. Durable batting cage nets are made from nylon and fibers, these materials are known to offer excellent breaking strength and abrasion resistance.
Polyethylene fibers are known for their highly resistant and non-corrosive properties, which make them excellent materials for nets.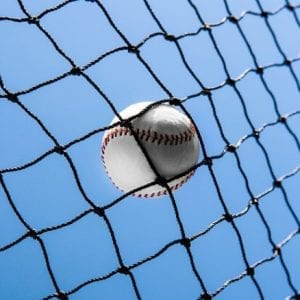 For better results, you must consider batting cage nets with square-shaped construction. These types of nets have a higher resistance to wear and tear. A baffle area for better protection can be a great attribute that you can bet on.
Sometimes batting cage nets are created for specific users which can also bring a difference in their endurance. 
Stake-Down Kit:
A Stake-Down Kit keeps the cage against strong winds but it is not always included in the package. The kit normally comprises stakes, wires, carabiners, and other things that are used as a metal latching mechanism.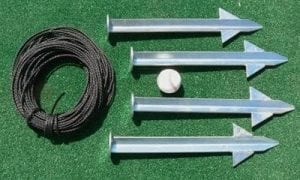 Where will you keep the pitching machine?
To practice baseball inside the batting cage, you will need a pitcher or pitching machine. So when you are setting up the cage you also need to consider the location of the pitching machine.
You'll also need to protect the pitching machine as most batting cages do not come with an additional L-screen.
If you are planning to use the pitching machine inside the cage, you will have to buy a pitching machine screen. You can also consider buying an L-screen and use it with a live pitching machine.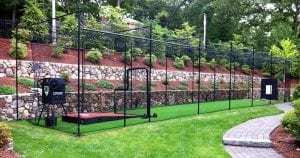 What pitching machine should I use with my batting cage?
A great option if you don't already have a pitching machine, is to consider a combo deal on batting cages and a pitching machine.
We recommend the Heater pitching machine and batting cage combo.
Heater Sports batting cages come with a small opening on the net that can be attached to the Heater Sports Pitching Machines. The machine can be kept safely outside fastened to the batting cage.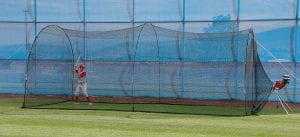 Even though it takes additional space, it helps you save money on the purchase of an L-Screen. Moreover, this helps you utilize more of the batting space area.
No matter what cage size you choose, remember where everything goes. You can't stand that close to the net as you require space for your follow-through after the hit. Hence, the plate needs to be kept at least two-three feet away from the net at one end.
Similarly, if you are placing a pitching machine inside the cage it should be a foot or two from the cage netting.  This is why a 60 – 70 ft batting cage is needed if you want to maintain the regulation distance of 60 feet between the hitter and the pitcher.
Should you get a permanent or portable batting cage?
In order to choose whether you should get a permanent or portable batting cage, there are few things that you need to keep in mind. Portable or removable batting cages can be a great option as they can be removed when not in use. However, there are some disadvantages that you should be aware of before you buy a portable batting cage.
The majority of the disadvantages of the portable batting cages are weather-related. Since most of them come with fiberglass to help with weight there are chances that they may get damaged during cold and hard weather.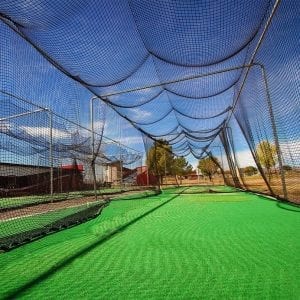 If you are looking to install a temporary batting cage that is easy to assemble or takedown, you will have to purchase a fiberglass batting cage or a residential steel frame cage. These days most of the portable batting cages can be assembled and dismantled within 15-20 minutes.
On the other hand, residential steel frames can take more than an hour to set up.
Setting up a permanent batting cage needs to be a well-thought decision, as it has a tedious setup process and it becomes a permanent part of your yard. Most permanent batting cages take multiple days to set up.
You need to spend one day setting up the support poles and waiting for the cement to dry. Then you have to spend more than an hour to set up the frame and the net. Once the net is fixed and the poles are secure within the cement, you'll finally be done.
Conclusion:
Permanent or portable, indoor or outdoor cages serve the same purpose i.e. enhancing your performance. When purchasing a batting cage you need to consider the factors that influence your choice.
I hope that the above-mentioned information has helped you get information about batting cage and helps you make an informed decision. If you have any queries or suggestions feel free to write about it in the comments below.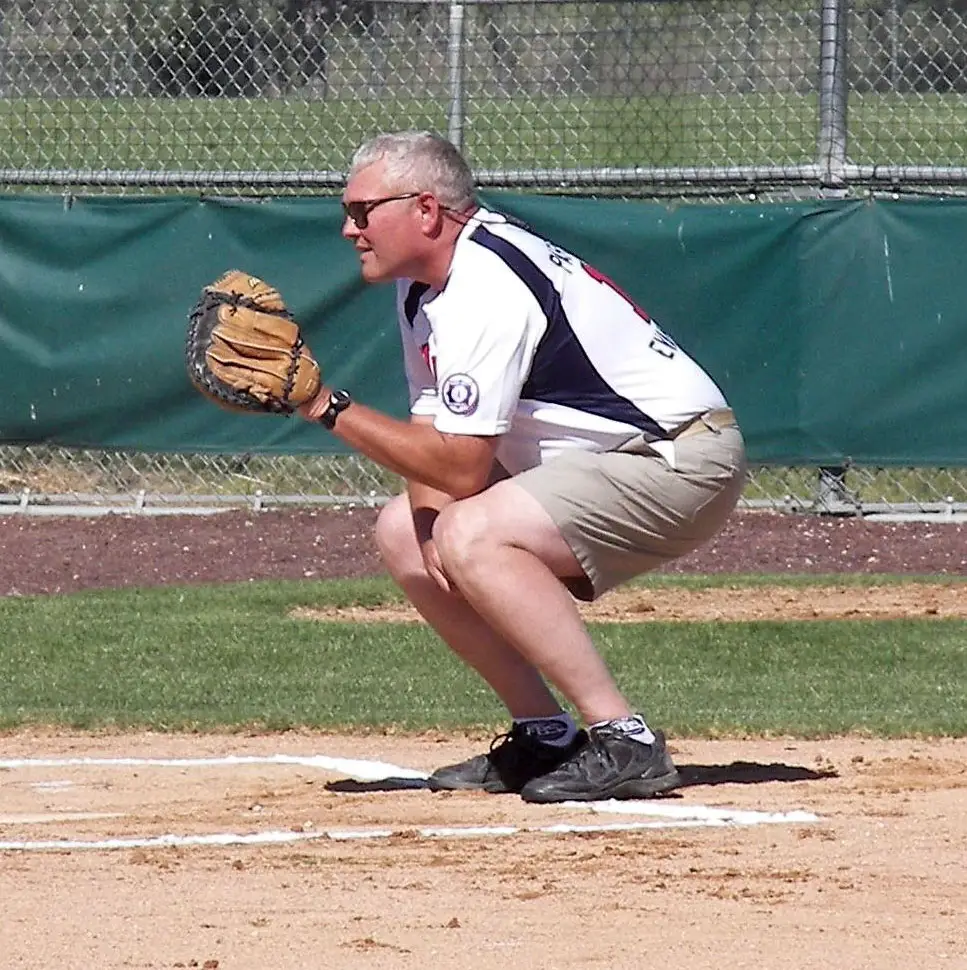 My name is David Farnum and I've been a Little League Coach in my community for the past 7 years. With 2 boys playing baseball and 1 girl playing softball, most weekends I can be found near a baseball diamond.