Bamboo Baseball Bats Pros and Cons
While wooden bats used to rule baseball and are still required in the MLB, more and more bat materials are taking the field. Whether it's a baseball bat made out of a titanium or an alloy composite, these baseball bats perform drastically different than their wooden counterparts. In many instances, unlike wooden bats which require amazing precision, bamboo baseball bats make the game easier for players.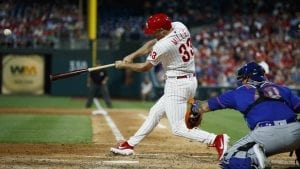 Image Credit: NBC Sports
A bamboo bat is a variant of a wooden baseball bat that exhibits great durability and power. Bamboo bats newer to the game of baseball but have quickly found acceptance from the players. Nowadays bamboo bats are commonly used in practice matches.
Before you read further, Bamboo Bats are not permitted in official MLB games due to their construction.
What is a Bamboo Bat?
Bamboo bats are made from bamboo.  And even though they are made from bamboo which is technically more of a grass than a tree, in baseball they're classified as a variant of wood bats. They might not be as strong as metal baseball bats but bamboo bats come with their own features and benefits.

How is a bamboo bat made?
Since bamboo bats are made from bamboo grass, they have a slightly different construction procedure from traditional wooden bats.
Whereas with a traditional wood bat, you start with a wood block (as shown in the video below), bamboo bats are made out of bamboo.
This means you don't have a wood block. To get around this, bamboo bats are created by pressing separate bamboo strips together. This creates a billet out of which the baseball bat is carved. The bat is then treated with coatings for shine and polished to remove any rough areas.
To learn more about how traditional wood baseball bats are made, watch below. Bamboo bats are made in much the same way – except for the first step in which the billet is made.
Are bamboo bats good?
Generally, bamboo bats are considered good practice options but their proficiency depends entirely on the player's preference. They come with their own set of advantages and disadvantages, which can influence your performance in different ways.
| | |
| --- | --- |
| Advantages | Disadvantages |
| Available in different swingweights | Ineligible in many leagues |
| More comfortable | Requires a break in period |
| Lighter than other wood bats | Can break suddenly |
| Better vibration absorption than wood bats | |
Bamboo Baseball Bats vs Metal Baseball Bats
Durability:
Durability is the most important factor of a baseball bat. And bamboo bats are known for their high endurance. They can withstand a high number of hits before breaking.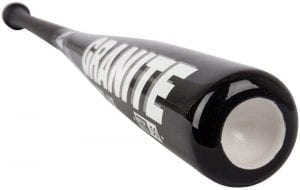 Fewer Replacements:
Normally anyone in their sane mind would choose a metal bat over bamboo bats if they are looking for longevity. However, the reality can be quite the opposite. Metal bats get tiny micro dents with every contact and over time reduce the performance of the bat.
Bamboo bats on the other hand are made strong enough to withstand numerous hits before breaking.
Available in different swing weights:
Metal bats are made according to weights specified by the league organizations. Therefore, it becomes hard to find metal bats in different swing weights. This is not the case with bamboo bats, you can find bamboo bats in different swing weights and pick one that matches your preference.
Cons:
League Eligibility:
League standards specify that bats need to have a unified structure if they are made from woods. Bamboo bats on the other hand, are made by combining the different parts which make it ineligible for many leagues.
Break-in period:
Before you go become a pro with a bamboo baseball bat, the first and most time-consuming hurdle that you may come across is the breaking-in of the bat. Bamboo bats have a composite construction that requires conditioning which can be done by practicing with the bat.
How do they feel on the field?
Bamboo bats are comparatively lighter than other wood options. They offer an amazing swing and great pop. Most of the bamboo bats offer amazing grip along with superior weight distribution. Bamboo bats are also great on contact and they offer reduced feedback to the hand.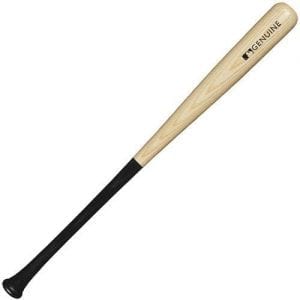 Bamboo bats have larger sweet spots that can save you from mishits.
Nowadays, there are bamboo bats that are combined with other wood types to offer better features.  The classic example of composite bats is the Brett Bros. Maple/Bamboo Wood Youth Baseball Bat:
The Brett Bros has the core made from bamboo and the outer part made from Maple. This combination gives the best of both worlds on the baseball diamond. This bamboo baseball bat offers amazing swing and control while hitting the ball with less vibrations transferred to the hand.
How far can bamboo baseball bats hit?
This is the most important question that pops in the mind of the players when buying any type of wooden bat.
While we go deeper into this on our guide to the best wood baseball bats (link), bamboo bats hit slightly less far than comparable metal baseball bats.
However, don't let this dissuade you from buying a bamboo baseball bat. These bats are incredibly comfortable and easy to swing, making them perfect for practice sessions.
Bamboo Bats vs Wood Baseball Bats
Comparison is probably the best thing to do when choosing between a bamboo bat and other wood baseball bats. However, to ensure that you make the right choice, here are the parameters that you need to focus on.
Durability:
When it comes to durability bamboo bats are considered stronger than 'steel' but maple bats are considered to be the best. Birch bats strike the balance between the wood bat qualities and benefits but their durability depends on the user's behavior.
Ash bats are also popular but due to their construction they are not durable and tend to break easily.

Swing:
It is very important to consider the swing of the bat, as it can have a massive impact your game. BamBoo bats are widely known for their lightweight and offer faster swing speed. Maple bats are heavier and can be tough to swing at first.However, with practice players can master swings on maple bats.
Ash bats are strong and light which enables faster swings and allows frequent contact with the bat. Whereas, birch bats are best for first-time swingers as they have a larger sweet spot and are more forgiving in terms of mishits.
Uses:
These bats are popularly known for being used as practice bats. The construction of the bat enables it to endure numerous hits. They are not permitted in the big leagues but can be used in school and college leagues as long as they have the USABat approved stamp on them.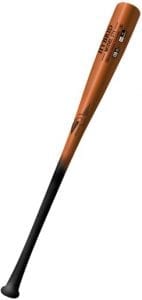 Maple wood is the star of woods bats, as it used extensively across all leagues. They are mostly created with BBCOR standards and hence are permitted in all kinds of tournaments.
Birch and ash bats are widely preferred for tournaments due to their swing ability and lightweight. They are also known for the trampoline effect that reduces feedback and ensures flawless delivery.
Price:
It all breaks down to this when finding the perfect baseball bat. Bamboo bats are the most affordable bats among the variants. Maple bats on the other hand can cost a lot but considering the benefits they offer are quite reasonable.
The price of birch and ash bats differ according to their built and construction. They extend inboth high and low price ranges.
Are bamboo bats legal?
Players or their parents tend to buy bats that can be used for both practice and games. This gives the players the dual benefit of saving money and getting extensive practice with a single bat. However, there are times when players actually end up losing more money after purchasing a bat due to its legality.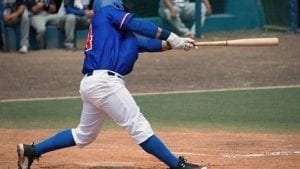 There are league standards that set certain guidelines that are to be followed by manufacturers. These standards ensure the bat's durability and help increase safety of the players.
When it comes to bamboo bats, there are a lot of leagues that don't permit their usage. And the reason for this barrier is their construction.
As mentioned above, bamboo bats are made from bamboo billets which goes against the most common rule of baseball leagues i.e. 'Wood bats should be made from a single piece of wood and have a unified construction.
Are Bamboo Bats Allowed in Little League?
Yes, if the bat has a USABat logo on it, that means they are approved for use in Little League baseball.
According to the Little League's specifications, the bats that meet the USA Baseball Bat standard (USABat) are permitted in the little league.
The bat must be a smooth, rounded stick, made of wood or any other material and color tested and approved by the USA Baseball Bat standards.
Non-wood and laminated bats used in the Little Leagues (Majors) and below, Intermediate (50-70) Division, Junior League divisions, and Challenger division are expected to have the USA  baseball logo which signifies that the bats are made in compliance to the USABat's guidelines.
Bamboo Bats must have the USABAT logo on their them to be used in many leagues.
The Little League rules also specify the use of the BBCOR standard to be used in the Intermediate (50-70) Division and Junior League divisions.
Are Bamboo Bats Allowed in the NCAA?
The NCAA (National Collegiate Athletic Association) permits non-wood bats if they are BBCOR certified. However, there is also a different certification process for NCAA approvals. The bat testing procedure includes processes such as:
Yes, if they are BBCOR certified and pass the NCAA inspection process.
Visual Inspection:
Under visual inspection there are certain things are particularly examined by NCAA authorities. The bat must have an appearance like the approved bat list. It should have a white barrel and should not have any flat white spots.
The bat should not have an audible rattle or any kind of cracked or loose knob or end caps and attachments.
Ring Test:
This process is used to determine the thickness of the bat and its compliance to the NCAA standards. A ring is dropped from the knob towards the barrel if the ring falls without any external force; the bat is approved for the next stage of testing.
Bat Compression Test:
The bat will be tested 6 inches from the barrel, six times and will be tested again from a 90-degree angle. It will be tested three times from which the bat has to qualify twice. If the bat has one passing and one failing result, it will be removed from the compressor and checked for cracks.
If the bat has no cracks, it will be tested for the third time. If the bat passes the test at least twice, the bat will be approved as per the NCAA Standards.
Are Bamboo Bats Allowed in the MLB?
Major League Baseball (MLB) is one of the oldest professional leagues in the United States. Just like every other league in the country, the MLB has its own set of guidelines for baseball bats.
According to the MLB specification the bat should be smooth and not more than 2.61inches in diameter at the thickest part and no more than 42 inches in length.
The bat must be made from a single piece of wood. This is the rule that disallows bamboo bats in the MLB.
Experimental and laminated bats are not permitted in professional games. Experimental bats are only permitted only if the manufacturer has acquired special permission from the Rules Committee.
Cupped bats that have an indentation at the end of the bat up to 1¼ inches in depth is permitted and should not be wider than two inches and more than one inch in diameter.
Are Bamboo Bats Worth it?
To see whether you should purchase a bamboo bat, you can watch this video here:
Bamboo baseball bats are great pieces of equipment that can be used for practice and even playing in small leagues. Their commendable durability and game-enhancing attributes can make them a great addition to your kit bag.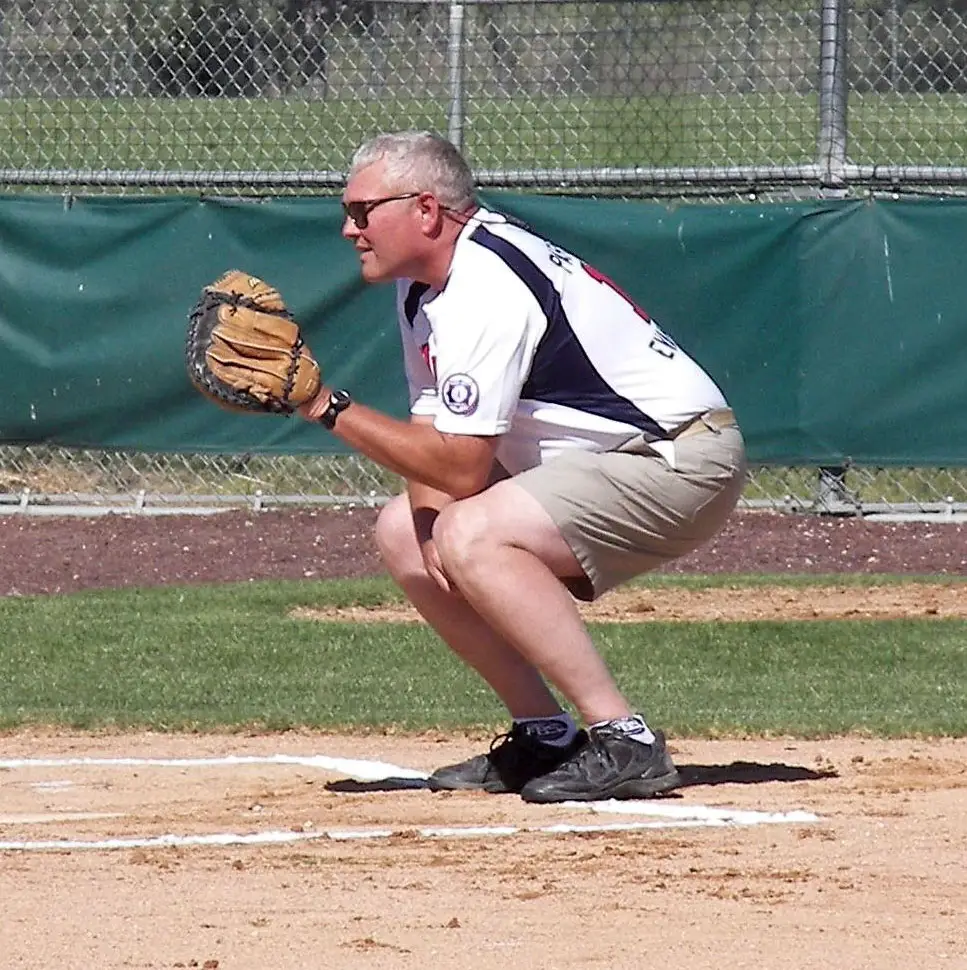 My name is David Farnum and I've been a Little League Coach in my community for the past 7 years. With 2 boys playing baseball and 1 girl playing softball, most weekends I can be found near a baseball diamond.