Best College Baseball Bat Reviews 2020
Looking for the best college baseball bats?  There are certain age brackets where it simply makes sense to look for a different bat or an upgrade. When you were younger, you may have switched bats during age: 4-6, 6 – 9, 10 – 13, high school and college.
At each of these levels, it's essential to prepare and make sure that you're using the best bat for your age. College is a different beast though. When you're beginning to play college baseball, you're entering the big leagues of competitive baseball. And for that, you need to be prepared.
10 Best College Baseball Bats
We've combed through over 40 different baseball bats made for college players and narrowed them down to our top 10.
Each one of these bats is approved for college baseball and is certain to help you hit more homeruns on the field.
Browse our top picks below.
| IMAGE | PRODUCT | Our Rating | Price | |
| --- | --- | --- | --- | --- |
| Editors Pick | Easton Ghost X -3 Adult Baseball Bat (BBCOR) | 10/10 | $$$ | Check Price |
| Best Seller | Marucci Cat8 -3 Baseball Bat | 10/10 | $$ | Check Price |
| | | | | |
| | Rawlings Quatro Pro BBCOR Bat (-3) | 9.9/10 | $$ | Check Price |
| | EASTON Project 3 Alpha -3 BBCOR Bat | 10/10 | $$ | Check Price |
| | Marucci CAT 8 Connect BBCOR Baseball Bat: MCBCC8 | 9.8/10 | | Check Price |
| | Louisville Slugger Select 719 (-3) 2 5/8″ BBCOR Baseball | 10/10 | | Check Price |
| | Louisville Slugger Raid BBCOR (-3) (EA) | 9.9/10 | | Check Price |
| | DeMarini Voodoo One Balanced BBCOR -3 Drop | 9.8/10 | | Check Price |
| | Rawlings 2020 Velo ACP BBCOR Baseball Bat Series (-3) | 10/10 | | Check Price |
Easton has always been known for excellent products and the Easton Ghost X -3 college Baseball Bat is one of the best.
It is popular and well-known amongst many high school and college coaches because of its efficiency and the ability of the bat to meet their needs.
This is a two piece composite bat that is constructed with a larger barrel. You'll be surprised though – it's capable of fast swings.

Special Features:
The Easton Ghost X is filled with mind blowing features to keep you at ease throughout your game at all times.
Engineering X Advanced Carbon Technology (EXACT) carbon construction.
Connexion Technology.
X-tended barrel design.
Hyperskin Grip.
Materials and Size:
The Easton Ghost X -3 Adult Baseball Bat is made of composite material making it durable and lightweight.
It has a length to weight ratio of -3 which makes it pretty much balanced enough for a better swing. It is available in two options: 30″ or 32″ long.
Barrel and Handle:
This bat comes as a two piece composite construction. This means the barrel is made of composite material making it lightweight yet strong.
It has a larger barrel making hitting much easier for the players and enhances performance. To give players better grip at the plate, it has a Hyperskin grip. Hyperskin refers to the construction of the grip – it's designed to be especially sticky to help you secure your grip on the bat.
With it's composite materials and lightweight design, EASTON took care to reduce vibration throughout the entire bat. You'll instantly feel the difference when swinging this bat over the plate. No vibration means better comfort and more power for you.
Pros:
Performance enhancing
Large Barrel Construction
No Vibration
Balanced Weight
Cons:
There can be issues with durability of the bat. To combat this, when buying from Amazon, it comes with a full 12 month warranty on the bat.
Why do we like it?
The Easton Ghost X -3 college baseball bat is a baseball bat designed for power hitters. With a light weight, minimal vibration, and a big barrel, you'll be able to step over the plate and blast home runs every time you step up to bat.
Marucci is known for it's high quality bats and the Cat 8 is one of a kind. If you've experienced the wonders of the Cat 7, then imagine the best parts doubled and the worst parts eliminated.
The Cat 8 takes everything good about the Cat 7 and improves upon it.
Let's go over the specs of the bat. The Marucci Cat 8 is made out of a single piece of aluminum. Compared to it's companion, the Cat 8 Connect, it's significantly cheaper.
Does that mean it's worse? No.
The barrel length of the Cat 8 is unrivaled by any version before it. The barrel walls are made to be thicker and stronger to help add more power and strength behind every hit.
The construction of this bat gives you a longer and larger sweet spot combined with a proper and better weight distribution.
When hitting, you'll also notice a fantastic pop of the ball when coming off of this bat.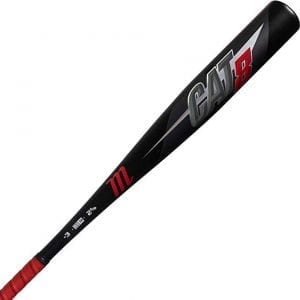 Special Features:
Marucci outdid their selves on this one.
AZ105 aluminum material. This is the strongest on the line while also allowing for a lightweight and more responsive bat.
Second Generation anti-vibration AV2 knob for less vibration feedback
Ring free barrel construction
One piece construction
Micro-Perforated soft touch grip
Expanded sweet spot with multi-variable wall design
Material and Size:
The Marucci Cat 8 Baseball Bat is made of the AZ105 alloy material which is one of the strongest yet lightest materials in the market. This helps it's durability.
It has a length to weight ratio of -3 helping you swing through the ball and introduce more power on your hits.
Barrel and Handle:
The barrel is made out of aluminium which guarantees durability and a higher response rate. It also possesses a ring free construction making the barrel more flexible when taking a swing.
Overall:
Large Sweet Spot
AZ105 alloy material gives you lightweight yet durable
Well Balanced
Built In Vibration reduction
Very attractive and beautiful design
Why do we love this bat?
Marucci Cat8 -3 Baseball Bat has a large sweet spot and a striking design. With it's lightweight yet durable construction, it's sure to lead you to victory. Best of all, this bat is very affordable for any family out there. If you're about to enter college baseball, you can't go wrong with a Cat 8 Baseball Bat.
Rawlings has always been one of the top manufacturers in the game. The Rawlings  Quatro Pro Adult Baseball Bat is one of the best college baseball bats produced by Rawlings Sporting Goods.
It is a four piece composite bat with a reinforced barrel.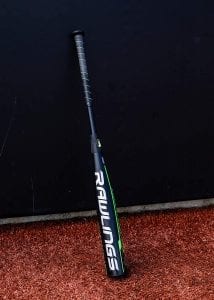 Special Features:
Longitudinal Flex design increases the bat's performance or trampoline effect by making the ball bounce more off the bat when you take a hit.
New Focused flex collar helps reduce vibrations and while maintaining a stiff feel in your hand
Lightweight end cap gives you control
New suspended inner barrel for a better and improved speed
Material and Size:
The bat is made of carbon fiber composite material to ensure the optimal mix of speed, balance, flex and durability. It comes with a length to weight ratio of -3 and a length measurement of 31 inches.
Barrel and Handle:
The barrel of this bat is made of carbon fiber composite material. It has an unique design which comes into play whenever you step up to the plate. The bat is specifically designed to flex longitudinally along the length of the bat. You'll notice it immediately upon making contact with the ball.
The barrel measures about 2 5/8 in diameter which is on the large side. It is infused with a new focused collar to help reduce the amount of vibration and sting on the hand.
Why do we love this bat?
With a 4 piece design, a big barrel, and a strong swing weight, the Rawling Quatro is for the big hitters, the ones who want to hit homeruns or die trying.
If you want balance, speed, improved performance the Quatro  edition is a great pick.
Easton is regarded as one of the world's leading manufacturers of both baseball and softball equipment and they don't disappoint with the Project 3 Alpha.
The Easton project 3 Alpha is a one piece baseball bat with solid and amazing mind blowing features. Its construction helps give you control of your swing and hit on the pitch.
It is made with the ATAC alloy material and possesses Carbon-Core Tech which helps with the creation of thin walls. With this bat you can be sure to send the ball soaring sky high after every hit.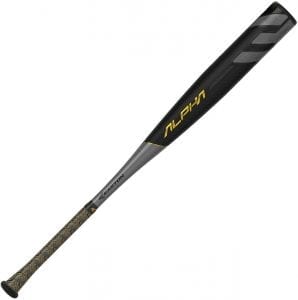 Look at the grip on the Project Alpha in the picture above. Notice anything different? Easton added a custom Lizard skin grip to the bat to give you better handling, control and a comfortable feel anytime you take hold of this bat.
The Project 3 Alpha is created by winners for winners and it's just the right tool to help improve your play.
Special Features:
ATAC alloy construction material
Custom Lizard skin grip for better handling
Possesses the VISCOR handle insert
Speed Cap for a more flexible and responsive barrel
Carbon-Core technology
Material and Size:
The Easton Project 3 Alpha is made from the ATAC alloy material which is reinforced with the Carbon-Core Technology to help create one of the thinnest barrel walls in the game and enhance its durability.
It has a length to weight ratio of drop 3 giving it a perfect balance and the user an optimized control. It measures about 32 inches in length and is suitable for use by both high school and college players.
Barrel and Handle:
The barrel of the Easton project 3 Alpha is a one piece alloy construction with a reinforced C-Core tech. It is designed with durable yet thin walls and possesses a speed end cap to help boost the power on every hit.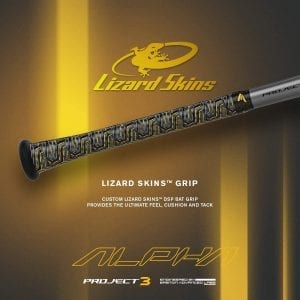 Why do we love this bat?
The Easton project 3 Alpha possesses optimized control, a nice balanced swing weight and a drop 3 length to weight ratio to match with it.
Compared to some of the other bats on this list, the Easton Project 3 Alpha is pretty affordable. Depending on where you buy it from, it ranges between $100 – $200 whereas some of the other bats on this list go for $300+.
One of the best two-piece college baseball bats currently on the market, the Marucci CAT 8 connect is a another popular choice amongst college athletes.
What's the difference between the Marucci Cat 8 and Cat 8 Connect? It's simple. The Cat 8 Connect is a hybrid bat. It's constructed with an aluminum barrel, composite handle, and also an end-load. The regular Cat 8 is constructed entirely out of one piece of aluminum.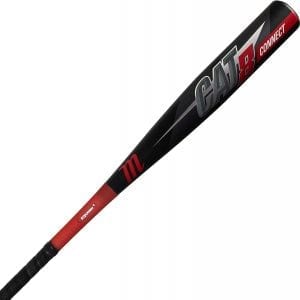 Because of it's superb strength, Marucci was able to give this bat a thin inner barrel wall – improving the compression and trampoline effect of this bat. Don't worry, it's still BBCOR rated and NCAA eligible. But with this bat, you'll certainly be hitting farther than your friends.
Marucci made this bat to provide a stiffer feel and maintain the transfer of energy and power to the ball while reducing the amount of vibration sent to the player's hands. This is possible with the aid of the extended shock Dissipating connection or the 'SDX EXT'.
Another exceptional feature added to this is the AV2 2nd generation anti-vibration knob. It provides a less vibration feedback and a harmonic dampening system to create a better feel.
Special Features:
Ring free barrel construction for a better barrel flexibility and an improve performance
The AZ105 alloy material for strength and durability
It possesses a handle made from carbon composite material
Power loaded barrel
Extended shock dissipating connection
Micro perforated soft touch grip
Expanded sweet spot
Material and Size:
The Marucci Cat 8 connect baseball bat is sort of a typical form of a hybrid bat. It has its barrel made of one of the strongest aluminum materials in the AZ105 alloy and its handle is made of carbon composite materials. The mixing of both materials gives a better barrel performance and a comfortable anti-vibration handle.
Barrel and Size:
The barrel of the Cat 8 connect baseball bat is a two piece construction. It is made from the strong and durable AZ105 alloy aluminum material which allows the bat to feature thin barrel walls. This helps keep the weight down while maximizing the sweet spot and trampoline effect. The handle is made of the carbon composite material making the bat a typical hybrid example.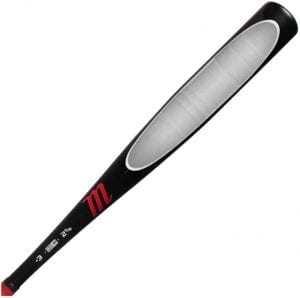 Attached to the handle is a micro perforated soft touch grip with an extra tack to improve player handling and comfort. It also features the AV2 anti-vibration tech and the extended shock dissipating connection to diminish unwanted vibrations.
Why do we love this bat?
This bat is likely one of the best 2 piece bats to hit the market. If you're looking for an all-around bat to help you, this is it. The mix of power, durability, and lightweight combine together in this bat to form one of the greatest college baseball bats right now.
There's a reason a lot of the top teams in college baseball choose Louisville bats over anything else. They're known for being big hitters and for helping win games.
The Louisville Slugger select 719 baseball bat is one of the top bats in Lousville's collection.

Compared to the popular Louisville Prime 919, the Slugger Select 719 is slightly thicker with a heavier end. This helps add that extra oomph when swinging through the ball.
Constructed using Louisville's three piece hybrid construction, the Lousville Slugger Select 719 excels at dampening vibrations and being comfortable during holds. A lot of this is due to the middle piece (shown below with Louisville stamped on it). This middle piece excels at controlling vibrations and preventing them from making it to your hand.
Attached to the end of the barrel is a new SPC End Cap which helps add more speed to the player's swing while maintaining precision.
Material and Size:
The bat is a purely a hybrid bat. It is made of both composite and aluminum materials. The handle of the bat is 100 percent composite made while the barrel is made of alloy.

It has a perfect balance and weight which makes it well suited for use for high school and college students. Like many other bats on this list, it has a drop 3.
Barrel and Handle:
The barrel of the Slugger select 719 baseball bat is made of a very solid alloy material called ST 7U1+ alloy material which is very durable. It has a larger sweet spot which makes hitting easier and helps batters find their groove using this bat easier.
Why do we love this bat?
There are few baseball bats that can stand tall when placed with the Louisville Slugger Select 719 baseball bat. It guarantees you more speed and power with every hit and a better performance than you are even used to.
More top 25 college baseball teams use Louisville Slugger bats than any other brand.
And with the Louiseville Slugger Raid, it's easy to see why. This 3 piece bat brings a new dimension of performance tech which is unrivalled in the market today.
The hybrid 3 piece design (compared to the traditional 1 piece design of most baseball bats) helps increase the trampoline effect giving the ball extra velocity after each hit.
Louisville designed a special composite handle to combat vibration so you won't feel any stinging in your hands upon making contact with the ball.
And, of course, this bat is BBCOR stamped and approved for high school and college baseball play.
Materials and Size
The Louisville slugger raid is constructed from pure composite and alloy materials to make sure the user gets the perfect result. Its composite handle is made of the 360 composite material and the barrel made of the AC21 Scandium alloy barrel. As described below, scandium helps increase the strength of a bat increasing the power generated when you hit.
It has a length to weight ratio of drop 3.
Barrel and Handle:
The barrel is measured at 2 5/8 in diameter and

One unique aspect of the design is the incorporation of a hard connection piece. This piece is found between the barrel and the handle. You can see it in the picture above denoted by the Pure 360 logo.
This hard connection piece helps reduce the vibration received by the barrel before it reaches the players hands.
Overall"
Has a reduced vibration and feedback
The bat is balanced and has a nice control
Gives out a good sound when contact is made
Ball bounces off the barrel pretty well
Comfortable and reliable grip
Price range is fair
Why do we love this bat?
The Louisville Slugger Raid baseball bat is sure to give you better balance, swing and performance and all this at a great price.
More than 150 college baseball programs use Demarini bats – including Oregon State University who has won the College World Series Championship 3 separate times over the years.
And…according to WhatTheProsWear, the Demarini Voodoo One series is one of the most popular college baseball bats available today.

Material and Size:
The DeMarini Voodoo one is made of the X14 alloy material making it a single piece aluminium alloy bat. Most players report that it feels light in their hands. With a length:weight ratio of -3, it's regarded as one of the best balanced bats in the market.
Barrel and Handle:
The barrel of this bat is a solid one piece construction. The use of the X14 alloy helps the bat to be precise and distribute the weight fairly. It measures about 2 5/8 in diameter. Attached to the handle of this piece is the RCK knob which is solidly recognized for its production of comfort.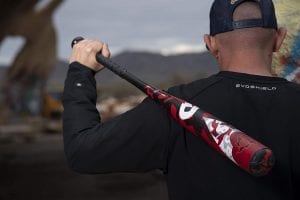 The RCK knob allows you take a swing whenever while feeling at ease on your hands. The 3 Fusion end cap helps to optimize the bat weight control and performance.
Why do we like this bat?
While the handle does transmit more vibrations than similar bats, the Voodoo One posses a superb balance and swing weight. This translates to better control over placement and power than many other baseball bats on the market.
If you're interested in a slightly more powerful bat, you may want to check out the Voodoo Insane edition. That bat is specifically made for power hitters and is a fan favorite in the College World Series.
Rawlings have always been known down the years for product which have hit the market with a bang and are sure to never stop blowing minds away. The 2020 Velo ACP baseball bat is one of its kind and a top player in its field.
Here's why I like this bat: It's the first ever baseball bat that uses carbon composite. What does that mean to you? It has the lightest swing weight possible.
This bat is perfect for hitters are the top or bottom of the line up. If you're the hitter who needs to bring players into home consistently then that's exactly what this bat can do for you.
Compared to other college baseball bats on our list, this bat carries a longer and flatter barrel. This increases the size of the sweet spot to help you get that perfect hit.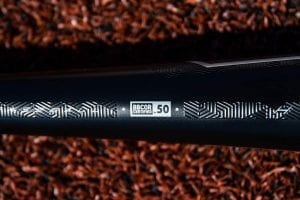 Want more to love? There's a 1 year warranty on the bat protecting it from everything under the sun.
Material and Size:
The bat is hybrid construction. It is a combination of the Ai909 alloy material and the Ultra-light carbon fibers. It offers both lightweight feel, durability and a better exit velocity. This bat possesses a nice and recommendable balance and a length to weight ratio of drop 3.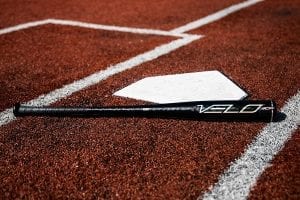 Barrel and Handle:
The barrel of the bat is a 2 piece construction with a 2 5/8 diameter. It is made of the Ai909 alloy material. This alloy allows thinner barrel walls which increases compression and helps increase the exit velocity of the baseball after content. To reduce vibration, Rawlings incorporated urethane fibers to help protect the hands of players.
College Baseball Bat Size
Finding the correct baseball bat size for a college player can be difficult but by now, you should have years of experience playing baseball to help.
Determining the Ideal Size by Length:
Remember that according to college rules, the minimum length of a college baseball bat is 27 inches long and the maximum is 34 inches long.
One good rule of thumb, is to check the length of your baseball bat by simply holding it right beside you.
Have the barrel end of the bat placed on the floor and the knob held up by the hand. The user should stand by the bat as well. If the bat reaches his hip then it is a perfect length.
If the top of the bat reaches to the waist or above, it's probably too long. Below is a chart showing the length measurement;
AGE LENGTH
| | |
| --- | --- |
| 14 Yrs. – 15 Yrs. | 31 inches – 33 inches |
| 16 Yrs. – 18 Yrs. | 32 inches – 34 inches |
| 18 Yrs. & above | 32 inches – 34 inches |
Determining the Ideal Size by Weight:
Another thing to consider again is making sure that the selected bat by length is also suitable for you by weight. The weight of the bat is important because no one wants something that is quite too heavy to lift or to use.
Heavier bats are usually made to generate more power behind your hit while the lightweight bats are made to generate more speed. If you are a fan of power then it is preferable to use the weightier bats.
One way you can use to check the weight of the bat is by holding the bat up with your arm out stretched.
The bat should be held on the stronger hand. This should be done for about 30 seconds. If you are able to hold it up without the arm shaking or getting tired then that bat is a great fit.
What Kind of Bat Do College Players Use?
All college players use either aluminum or composite baseball bats. Wood bats are not allowed to be used in college baseball. In terms of bat construction, most college players tend to swing one piece bats or end loaded multipiece hybrids.
Why Can't I Use a Wood bat in College Baseball?
College Baseball follows BBCOR rules which means that all players must use a BBCOR bat. Under those rules, Aluminum alloy bats are legal.
In the past, many people have said that college baseball should use wood bats – just like they do in Major League Baseball and other professional baseball leagues. Wood baseball bats have been used since baseball was first invented. However, since metal bats have been introduced, all non-professional leagues have shifted to metal bats.
There are a number of differences between aluminium alloy bats and wood bats.
Wood Bats:
Bat Response: Aluminum bats tend to minimize the impact or feedback received from contact made with the ball. With a lighter structure, the wooden bat actually allows the player to feel the contact of the ball on the bat.
Gives an improved form and player strength: A wooden bat is always made to be properly weighted. This makes the bat to be rightly balanced making it possible for the hitter to drive the ball well.
Gives Player a Better Pitch Discipline: One of the numerous advantages of the wooden bat is that it allows players the opportunity to learn the correct way to hit a pitched ball. Due to the fact that the wooden bat dishes out feedback and vibrations, any bad hit would mean you get to feel an adverse feedback effect on your hand. This makes players cautious and therefore has to learn to hit properly.
Creates Better Barrel Awareness: Unlike the metal bats that have an optimized area or sweet spot, the wooden bat does not. The feedback given to you by the wooden bat allows you learn the sweet spot and the best way to makes your hits really count.
Aluminum Alloy Bats:
Larger sweet spots for a better hitting area: The metal bats offer players a larger sweet spot which makes hitting way easier. An average metal bat has a length of about 2 to 6 inches at the end of the metal which helps you achieve optimum power with every hit.
Better durability and does not break: The wooden bat can be prone to break sometime or anytime but its counterpart, the aluminum bat, does not break. This is the reason most colleges prefer the use of aluminum bats as they do not break. This is because more durable woods are harder to find making them more expensive to purchase.
Provides a Faster Swing Speed: Aluminum bats are made to be more of lightweight equipment. This makes the bats way lighter than the usual wooden bat thereby giving you more speed on your swing.
Possesses a Trampoline Effect: The aluminum bats have barrels that are made with thinner walls which make them provide more flex. The thinner walls help transfer the energy from the bat to the ball which gives it a better trampoline effect by launching it farther than the average wooden bat would.
What are College Baseball Bats Made of ?
While one piece wooden bats are allowed in college baseball, players overwhelmingly choose metal bats. Before 2011, college baseball bats were overwhelmingly made out of composite materials.
These materials were lightweight and allowed for a high BBCOR rating which allowed players to hit more homeruns and hit the ball farther. In 2011, the NCAA banned composite bats because they said "[composite bats] hit the ball too hard" (not a direct quote – obviously).
Aluminum College Baseball Bat:
Aluminum bats are the most common type of college baseball bat since 2011 because only aluminium alloy bats are allowed during games. The bat and barrel must be made from a single piece of alloy.
Does that mean all bats are the same? Absolutely not! Different manufacturers love to experiment with different types of aluminium alloys to give different weights and durability to different bats.
Aluminum Alloy College Baseball Bats:
7046
7046 is the standard alumnium alloy composition used by many college baseball bats. This alloy is made up of a combination of Zinc, Copper, Magnesium, and Aluminum. The different variations below simply change the % mix of each material and in some instances, add slightly new elements to improve one aspect of the bat design.
7050
This alloy mix uses more zirconium, magnesium, copper than the standard 7046.
7055
Compared to the traditional aluminium alloy, this mix adds additional zirconium which increases strength.
C555
This alloy is stronger than the 7000 alloy series and includes traces of scandium which helps increase the strength of the bat. A C555 alloy bat is great for power hitters.
Composite College Baseball Bat:
Composite bats are made to be somewhat lighter than the aluminum bats. They used to be made from graphite, plastic, carbon fiber, and sometimes titanium. This mix of materials allowed the bat to be lighter and compress more than aluminium alloy baseball bats. As a result, balls tended fly further using this type of bat – making them extremely popular until the NCAA banned them in 2011.
Wood College Baseball Bat:
As everybody knows, the professional baseball leagues (MLB) only use wood bats. However, all amateur leagues (including college) use metal bats. This has been a hotly contested topic of discussion in the past.
NCAA's new standards (since 2011) have aimed to decrease the difference in performance between metal bats and wood bats. However, the vast majority of college baseball players (almost everybody) still prefer to play with aluminum alloy bats rather than wood.
College Baseball Bat Regulations & Requirements
Every college baseball bat has to follow the same requirements in order to be certified for use in the NCAA leagues and in all of college baseball.
The governing league for college baseball is the NCAA which stands for the National Collegiate Athletic Association. They govern all college sports.
You can find all of the standards that govern NCAA baseball bats here. However, we'll go through them in plain English below.
The big news recently is that the NCAA does not allow white color barrel bats for the 2020 season! The full text of the ruling is below:
Baseball playing rule, Rule 1.12.b.7, requiring that the baseball bat barrel color between the 18- inch mark and the end cap (the hitting area) must be a color(s) that is predominantly contrasting to the color of the baseball
All of the bats in this article comply with this rule – but if you look through Google, there are a lot of bats which don't. The absolute last thing you want to do is get a bat only to discover you can't play with it.
See here for a list of NON-compliant college baseball bats
Aside from the curveball above (no white color bats), the rest of college baseball bat rules are standard. In fact (aside from that rule above), all of the rules and regulations for college baseball bats are the exact same as high school baseball bats.
The regulations vary from college to college and from town to town.  Some of the regulations are:
Any bat for use in the college league must be a minimum of 27 inches and 34 inches in length
Every manufactured bat for college use must also go through the Bat-Ball Coefficient of Restitution (BBCOR) protocol in order to complete its NCAA certification process
The BBCOR process is a common way to certify baseball bats for high school and college play. All of the bats on this list are BBCOR bats and are approved for college play.
All non-wood bats are to be certified so as to be used for collegiate and NCAA play.
Aluminum and composite bats feature an unique trampoline effect. In essence, the barrel of these bats compresses slightly upon contact and then releases the energy onto the baseball by flexing inward propelling the ball further. This testing is to make sure these bats are comparable to each other bats to standardize the playing field.
The baseball bat barrel's shade of color between the 18 inch mark and the end cap should be a color contrasting the color of the baseball.
The knob of the bat should not be altered
All bats that are for use in the college leagues must bear the NCAA stamp which shows it meets both the NCAA bat regulations and the NCAA requirements before they can be used in the leagues.
Each bat must go through the Ball Exit Speed Ratio (BESR) Protocol to be considered for certification.
Have any questions about college baseball bat regulations? Leave a comment and we're happy to help!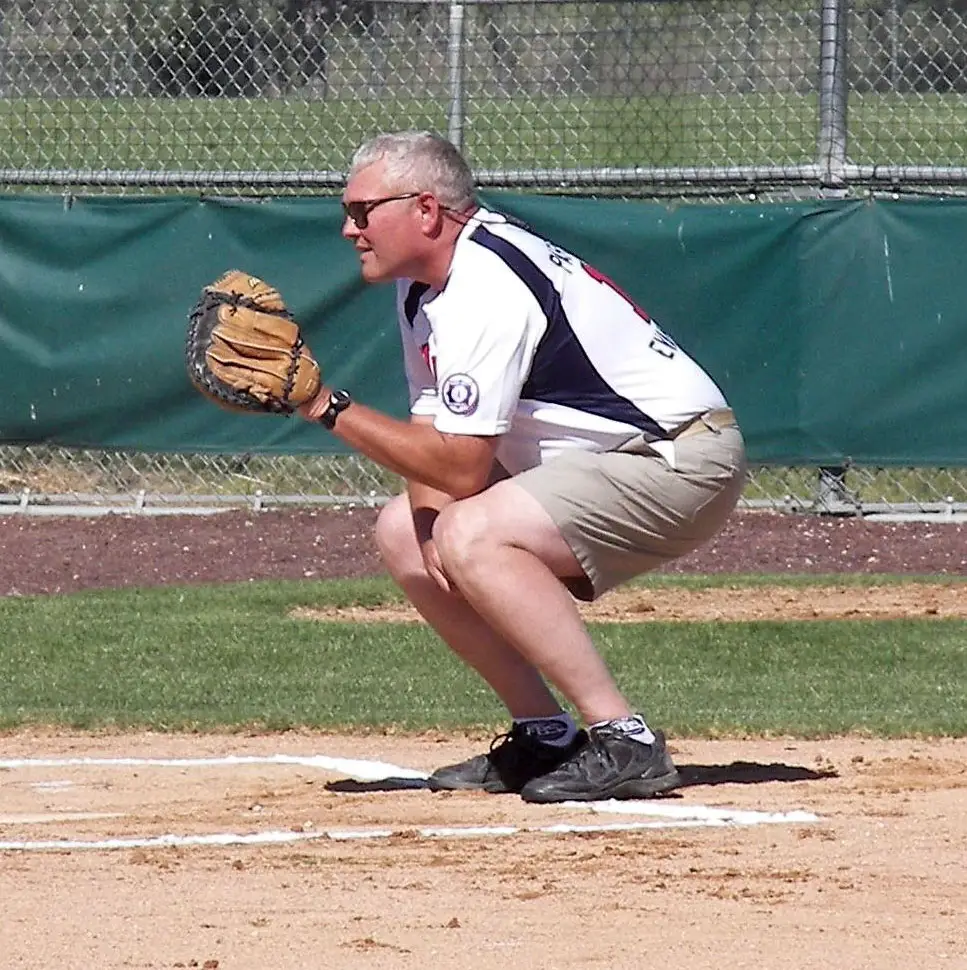 My name is David Farnum and I've been a Little League Coach in my community for the past 7 years. With 2 boys playing baseball and 1 girl playing softball, most weekends I can be found near a baseball diamond.