Compared to sports like hockey and lacrosse, baseball doesn't need much equipment. Most players only need a baseball bat and a glove as the bare essentials. One glaring exception to that though is the catchers equipment.
One of the most important players in the game, the catcher can be commonly overlooked by bystanders.
| IMAGE | PRODUCT | NOCSAE approved | Our Ratings | |
| --- | --- | --- | --- | --- |
| Editors Pick | MacGregor Youth Catchers Gear Pack | Yes | 10/10 | Check Price |
| Best Seller | Easton M10 Catchers Gear Set | Yes | 9.9/10 | Check Price |
| | Boy's Mizuno Youth Samurai Box Set Catchers Gear | Yes | 9.9/10 | Check Price |
| | Easton Youth Black Magic Catcher Box Set | Yes | 9.7/10 | Check Price |
| | Rawlings Velo Catchers Gear Set | Yes | 9.3/10 | Check Price |
| | Under Armor Youth UA Pro 4 | Yes | 9/10 | Check Price |
| | Louisville Slugger Series 5 Catchers Gear Set | Yes | 8.5/10 | Check Price |
| | Wilson Youth EZ Gear Catchers Kit | Yes | 8.3/10 | Check Price |
| | All-Star System 7 Youth Catchers Kit | Yes | 8/10 | Check Price |
| | Under Armour Youth PTH Victory Catchers Kit | Yes | 8.2/10 | Check Price |
Why do You Need Youth Catchers Gear?
Standing right behind the plate poses a lot of potential for injuries in a baseball game. For instance, if the ball hits off the bat in a way that it gets directed towards the face of the catcher, his inability to react in time can result in serious injuries to the neck, face, and head.
Another scary situation that can happen is that the bat will slip from the batter's hand and hit the catcher.
In order to avoid such life-threatening injuries, buying a set of catchers gear for kids is absolutely necessary before you step behind the plate.
As a catcher, it is important to choose good-quality and robust gear that has the ability to withstand harsh blows.
Youth Catchers Gear: The Different Parts Explained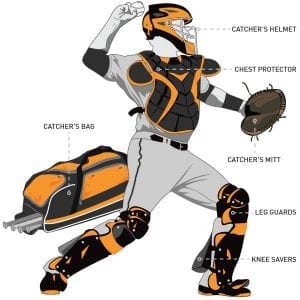 Image credits: dickssportinggoods
A full youth catchers gear set is made up of 6 separate pieces. Some are more necessary than others but every piece is recommended. Let's take a look at them below:
Catchers Helmet:
The head is the most delicate part of your body and requires the most protection when behind the plate.One strong blow on the field can lead to a serious concussion. No catchers are allowed on the field without a helmet in any league.
There are two types of helmets that are used by catchers in a baseball game: the two piece mask and the modern goalie style mask. Both have their advantages and disadvantages.
Two Piece Mask: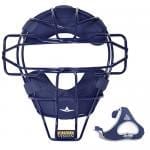 Advantages
Very affordable
More Ventilation
Disadvantages
Less protection
No ear protection
Not allowed in some leagues
Modern goalie Style Mask: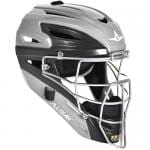 Advantages
Newer
More stable/secure
Better protection
Disadvantages
More expensive
Can be hot during games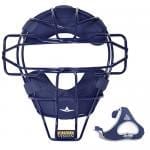 The two-piece mask is available for a player of the different age ranges as they are very affordable. It is easy to throw off for foul balls, plays at the plate and other dire moments. The masks also provide more ventilation, which can keep you cool all along, even during summer games.
The two-piece mask comes with some cons too. It lacks protection. The helmet does not have any protection around the ear which can be dangerous. Moreover, the weight of the helmet can also disrupt your vision during the game.
Traditional masks are considered as outlawed in some leagues so you may need to check the league before buying one.
Hockey Style Catcher's mask: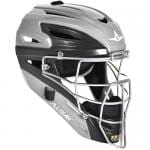 The use of a hockey mask has gained popularity in the past decade. It is also preferred in the major leagues.
The most important quality of this helmet is protection. Considering the dangers that catchers are prone, this mask is a perfect pick as it offers protection to the face, ears, and eyes.
The mask also enables the players to see the field better when compared to a traditional mask. One big benefit is the stability of this mask. Because of it's design, it stays securely in place even while running or diving to make a difficult tag or catch.
Chest Protector
Among the many body parts that are vulnerable to injury, the chest of the catcher has the highest risk of getting damaged. In this scenario, chest protectors can play a vital role in protecting the catcher's chest, collarbones, ribs, and cardiac injuries.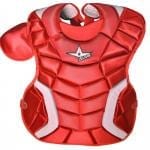 There are different chest protectors for softball and baseball players. Softball chest protectors are divided at the chest which allows the female players to wear them.
Every chest protector has a couple of different parts that you should pay attention to.
Does it come with shoulder pads?
To prevent any type of injury to the shoulder of the catcher, the best chest protectors come with shoulder pads. These shoulder pads are lightweight and flexible so that they don't interfere with the throwing motion. In many cases, the shoulder pads are also detachable.
Is there a groin protector?
Groin protectors are mandatory in the youth leagues. As players get older though, they are advised to wear a cup. Like the shoulder pads, the groin protector is also easy to remove.
Shin guards:
Shin guards help you to protect your knee from scrapes and bruises. Most importantly, it can protect your legs from getting damaged by foul balls. Most shin guards are almost identical.
The big difference between an expensive shin guard and an inexpensive one is comfort. If you expect to be wearing your shin guards for hours every week, you may want to spend a little more to make sure they're comfortable and fit you well.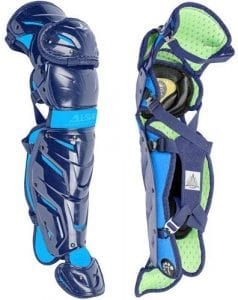 Catcher'sMitt: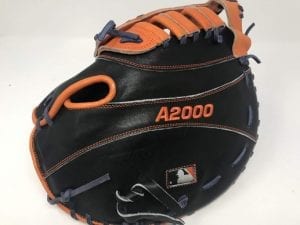 As a catcher, you need to be familiar with mitts/gloves from a very young age. Glove cushions the ball in the hand and its hard surface absorbs most of the impact generated from the pitching.
Finding the Right Size for Youth Catchers Gear
As the catcher's kit comes at an expensive price, it is necessary that you make the right choice. To ensure that a set of gear is ideal for you, you need to buy the equipment that matches the size of your body parts. This can include choosing the right cleats, chest protector, headgear, gloves, etc.
To watch how to size your catching equipment you can watch this video here:
Here are the different size charts for the equipment that a catcher needs in a youth game and also some information on how to get the right measurement:
Head Gear:
There are many simple ways to measure your head; you can either use a measuring tape around your head or a string that can be placed alongside a ruler.
The headgear size for the different leagues is as follows: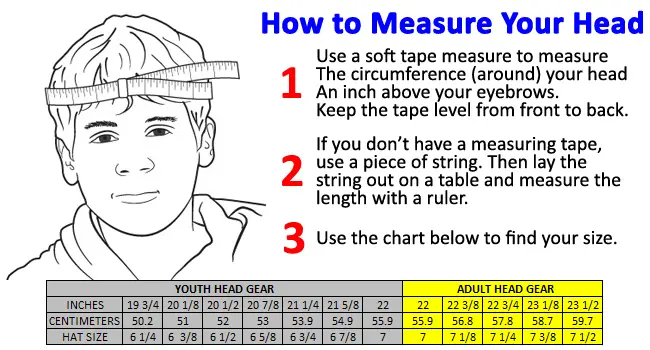 Image Credit: Sportsdepot
Chest Protector:
The chest protector is a massive piece of equipment that is made up of other small parts like shoulder pads and groin protector which can be added or removed. Since chest protector covers from collarbone to the groin, it is very crucial that you choose the right size.
A wrong sized chest protector can cause problems such as failure to protect and can hamper your mobility.

Image Credit: Sportsdepot
Leg Guards:
While leg guards protect your shins and knee from getting injured. Right-sized leg guards can help you ensure that your shins are much safer than with the wrong ones. Having wrong-sized leg guards can result in problems like movement restriction to increased damage vulnerability.
Here are the permitted sizes for leg guards in the different leagues:

Image Credit: Sportsdepot
Top 10 Best Youth Catchers Gear:
With multiple parts and a wide range of different options, it can be hard to find the best youth catchers equipment set.
One of the best options (as you'll see below on our list) is buying a youth catchers equipment complete set. While you won't be able to choose your individual parts, you can rest easy knowing that each part matches the rest of the equipment and you'll be adequately protected during the game.
Each of our product picks is ranked on the basis of comfort, shock absorbance, quality, durability, and price in order to give you the best bang for your buck.
MacGregor Youth Catchers Gear Pack is a great value for money product which can keep you safe during the game while also being comfortable to wear. The kit comes with a strong helmet with a throat protection combo which can deflect any stray balls with ease.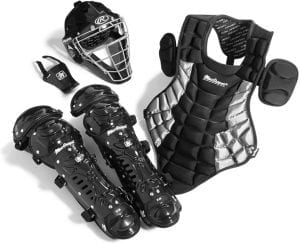 It comes with the MBC74 chest protector which ensures complete protection from top to bottom and amazing impact absorption.
The kit is designed with an innovative material that makes it durable to last multiple seasons. It is among the best products at a very low price.
Easton is one of the biggest baseball equipment providers and has its products are being used by many players and the company's latest M10 catchers gear set is truly phenomenal.
The helmet is made from lightweight HYPERLITE EPP foam and wrapped in ABS plastic shell. Its lightweight makes it easier to remove and throw it during the game. It is dotted with a hole to facilitate better ventilation.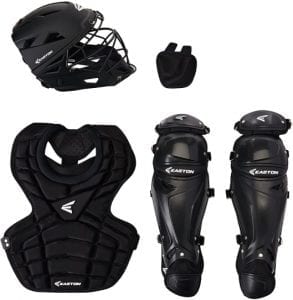 The best part is that the chest protector is made with ZERO SHOCK foam memory which absorbs the impact and keeps rebounds to a minimum.
If you are looking for a robust and durable catchers kit you should consider the Boy's Mizuno Youth Samurai Box Set Catchers Gear. The kit has a well-ventilated helmet with an adjustable jaw pad that allows the catchers to customize the helmet to their face.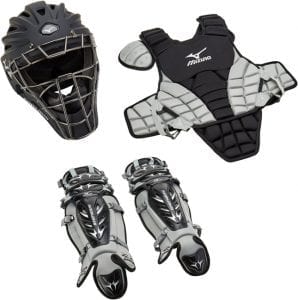 For additional protection, the chest protector and helmet come with 3 layers of foam.
The chest protector is made with the best rebound technology, which ensures that the ball does not bounce off too far. It has a detachable pad to aid custom fit. Moreover, it comes with Dry-lite fabric that keeps your body cool.
The Easton Youth Black Magic Catcher Box Set is a great package deal that brings you quality products that are among the very best in the market.
This helmet has a commendable design that protects you and keeps your head safe from all sides.  The helmet has a protective steel cage with soft vinyl padding around the chin. It also well ventilated to keep your head cool during the game.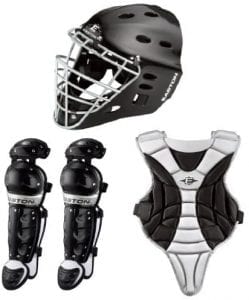 The chest protector is simply amazing. It is designed to offer incredible fit to the catcher with the strong Velcro and adjustable mechanism. The leg guards have a lockdown attachment and PE shin plates which makes it perfect for youth games.
Rawlings is known to provide the best baseball kits that feature great quality and innovative design. There are many cool things about the Rawlings Velo Catchers Gear Set that would want you to go and buy it right away.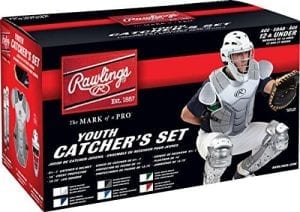 This kit has the best helmet that can be created for a catcher. It has 15 air vents that offer unmatched comfort and sweat control. The helmet is also equipped with Pro Dri Plus moisture-wicking that eliminates the sweat quickly.
It also has an amazing chest protector that can be adjusted with Velcro and an amazing Heat Exchange Foam in the shoulders and ribs for increased airflow.
Under Armour is proficient in making the best baseball equipment in the market. The Under Armor Youth UA PTH Victory Catching Kit is the perfect example of Under Armors' brilliance.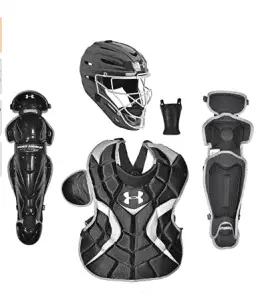 While companies are just trying to eliminate sweat from the kits, Under Armour has installed a microbe shield that kills bacteria. The entire kit is designed to provide a professional look and withstand any amount of force directed towards it.
The leg guards are lightweight and comfortable with good quality foams. With so many great qualities the Under Armor Youth UA PTH Victory Catching Kit is the best in the market.
Louisville Slugger is widely popular for its amazingly created baseball bats but their catcher kit is no less than a wonder.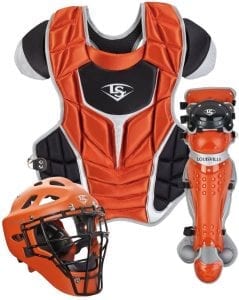 The Louisville Slugger Series 5 Catchers Gear Set is designed considering the number of movements and impacts a catcher has gone through in an entire game. To which the helmet has a strong mask with an adjustable chin-pad.
To protect the player from harm, the chest protector is made with high-density foam padding.
The Wilson Youth EZ Gear Catchers Kit raises the bar high when it comes to durability and quality. It comes with a strong helmet that has a sturdy frame and two layers of foam padding, for increased comfort.
To ensure that the chest protector stays fastened throughout the game, Wilson catchers kit with heavy-duty hook and loop Velcro base straps is the best option. Moreover, the straps do not tangle which makes them easier to wear and take off.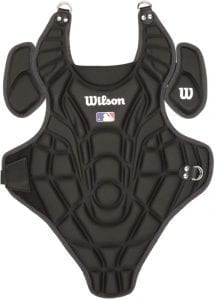 For complete protection on the legs, the company has designed the leg guards with adjustable kneecaps that give a protective and comfortable fit.
The All-Star Youth League Series Catchers Gear comes with incredible equipment in the catchers kit. It has an ABS shell design that offers great comfort and maximum protection. The combination of mask and shield provides profound ventilation/breathability and visibility.
Its snug fit is great for beginners.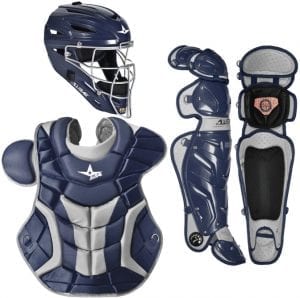 The chest Protector has Velcro straps and additional padding that can keep you safe and help you withstand any impact. The leg guards are designed to offer amazing durability, with an impact-resistant shin guard and the wings that go down for extra protection.
Under Armour is the most preferred brand in the leagues. The commendable kit compiled by Under Amour is something that every catcher needs to have for a great sports experience.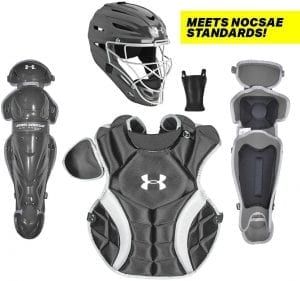 The Under Armour Youth PTH Victory Catchers Kit comes with an advanced and comfortable helmet that can protect you from hit coming from any direction. The patent-based steel cage makes sure visibility does not get compromised.
Its uniquely designed chest protector has the ability to withstand any impact and its adjustable 4 harnesses provide customization and professional look.
Under Armour has also included its patented technology called AEGIS Micro Shield' in the leg guards to destroy bacteria and eliminate odor.
Guide to Youth Catcher Gear
As the role of a catcher is difficult and involves a lot of danger, it is necessary for him or her to have a complete catcher kit. Even though it may seem easy to buy one, without adequate knowledge you might end up buying poor products that don't meet the criteria. Thus, it's important that you follow the guidelines set by the governing body.
To see how to choose the best catchers kit, you can see this video here:
NOCSAE:
NOCSAE is the National Operating Committee on Standards for Athletic Equipment who approves the equipment that can be used in the games. The approvals are based on the parameters that ensure good quality and fair play. The best way to check if your kits match the NOCSAE parameters is to look for the NOCSAE logo on the equipment or visit their website.
Individual vs Set
When purchasing a catchers gear, it is beneficial to buy the entire kit rather than just one or two pieces of equipment for a couple of reasons:
When you buy an entire set you get all the equipment at a lower price and if you're in luck you might also get a good discount. You can also enjoy the benefit of lower shipping costs.
While you're buying an entire kit you get everything in one place and don't have to visit different shops and stores looking for the products.
A catchers kit includes all the necessary equipment that you need for the game. Moreover, the all share the same color and so you don't have to worry about looking like a mixture of colors.
Price:
While there are kits that can be procured at varied prices you need to understand your requirements carefully and start your hunt for the suitable catcher kit for you.
Conclusion
The position of a catcher is very crucial in the team and the equipment can help you stay safe.  I hope the information in the blog has helped you learn about the catchers kit and how to choose the best one for you. Got any questions about a specific kit or one of our choices? Comment below and I'll be glad to help!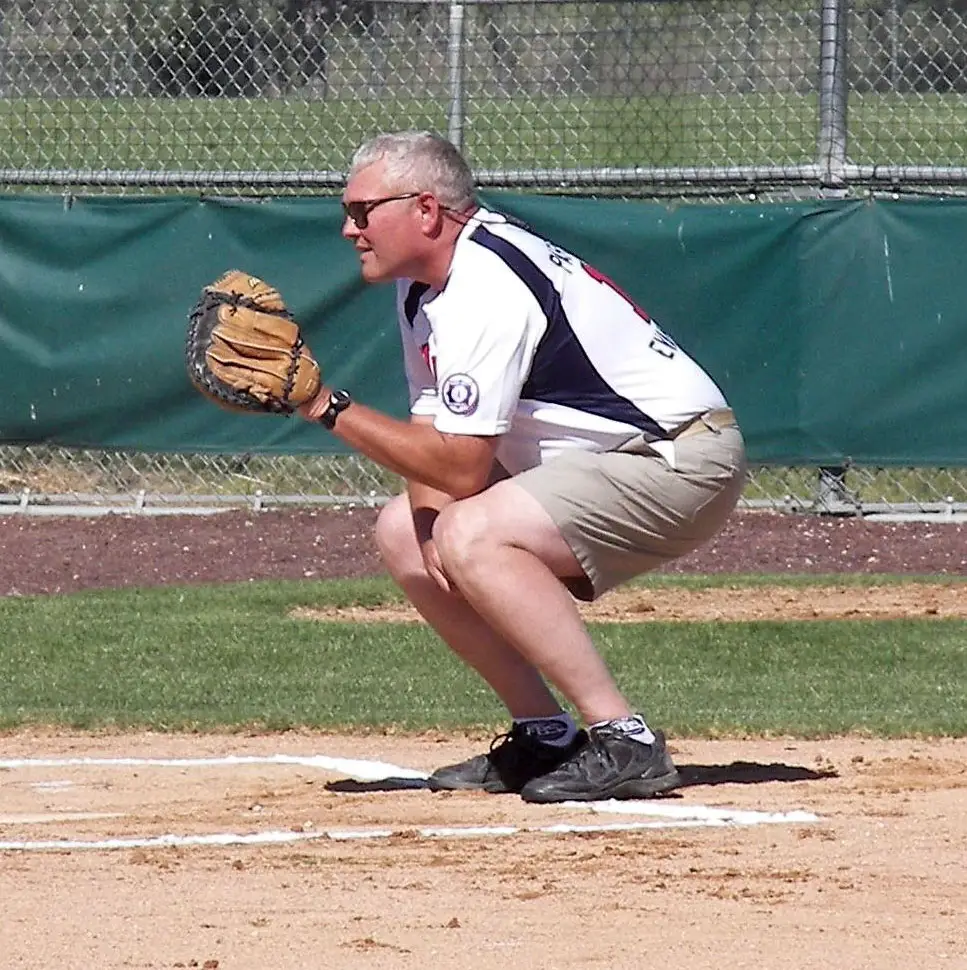 My name is David Farnum and I've been a Little League Coach in my community for the past 7 years. With 2 boys playing baseball and 1 girl playing softball, most weekends I can be found near a baseball diamond.