Best Youth Baseball Cleats: Ultimate Guide
The best thing about baseball gear in today's time is that everything is designed to enhance the player's performance. The variation in products is a result of comprehensive research done by the experts. In order to create a perfect performance-boosting product such as baseball cleats, experts consider important factors such as speed, comfort, power and control.
Cleats are an integral part of the baseball gear. They keep the feet safe and protect you from tripping or slipping during the game.
In comparison to other cleats, baseball cleats are special. They are designed to fit the feet of the player and have molded spikes for better grip. The design of baseball cleats may differ according to size and age of the player.
| IMAGE | PRODUCT | Weight | Cleat Type | |
| --- | --- | --- | --- | --- |
| Editors Pick | Under Armour Harper RM Jr | 9 oz | Plastic | Check Price |
| Best Seller | Nike Trout 4 Pro MCS BG | 8.4 oz | Plastic | Check Price |
| | Adidas Icon Mid K | 9 oz | Plastic | Check Price |
| | New Balance 4040v4 Youth Molded | | Metal | Check Price |
| | Mizuno 9-Spike Advanced Youth Franchise 9 Low | 6.6 oz | Plastic | Check Price |
Youth Baseball Cleats vs Traditional Baseball Cleats
The type of cleats you wear can have a massive impact on your performance. You can choose from metal, rubber and molded plastic options.
Before you choose though, consider the effect it can have on your game. The number of spikes a cleat has can affect your grip on the field. In addition to the material and spike numbers, considering weight is crucial when finding the best baseball cleats for kids.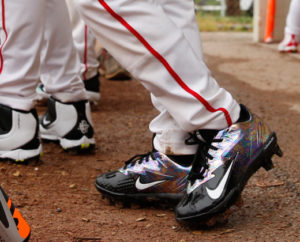 Baseball cleats tend to differ according to the age of the player. As baseball cleats for kids are created for protection and seniors for performance, youth cleats have different requirements.
Youth baseball cleats are designed to offer comfort and flexibility. At a younger level, kids want to make sure their cleats look nice and often choose cleats that are similar to their teammates.
Walking onto the field with good looking kids' baseball cleats can make you feel better and have a positive impact on your game. It is often seen that children play better with the cleats they like.
Why do I need Youth Baseball Cleats?
There are times when parents often make the mistake of choosing the wrong type of cleats for their children. This may not only affect their performance but also have a massive impact on their confidence.
(Image Credits: Baseball Coaching Tips)
To choose the best baseball cleats for your kid, you just need to keep the following things in mind:
Size:
This is where most of the parents go wrong. It is very important to get the right-sized cleats for your kid.
Cleats should fit the feet of your kids and should cover from toes to the heel effortlessly. When running, the feet should not be slipping in and out of the cleat. If the cleats are too tight they can cause pain and difficulty in running and they are loose, they can slide out while running during the game.
Spikes:
Most kid's cleats do not come with spikes but if they are in a higher age group there are some brands that offer spiked cleats. When choosing cleats with spikes for kids, you might have the option of rubber and plastic.To make a smart choice you need to consider the pitch.
If you expect to playingon mud, sand, ground, both rubber and plastic can be an ideal choice. Plastic will give you better grip over bumpy terrain (common on some recreational youth baseball fields).
If you expect to mostly be playing on manicured fields,then it is better to go with rubber spiked cleats.
Comfort:
Your kid should feel comfortable while wearing them and afterwards. Therefore, you need to check the insole and the cushioning of the cleats.
If the insole is not thick enough it can cause pain while running. If the cleats are not cushioned properly the cleats may cause abrasion on the feet.
This is essential and commonly overlooked – If you expect your child to be running and wearing their baseball cleats for hours every game, they need to be comfortable!
Top 5 Youth Baseball Cleats
When you want to perform your best in the game, you need to ensure that you have the right cleats. Here are some top kids baseball cleats to help you on the field.
Named after one of the brightest stars in the game, the Under Armour Harper RM Jr. comes with vital attributes like style and functionality. These amazing cleats come with a molded synthetic upper half for ankle stability and an adjustable strap to keep your feet in the cleats.
It also provides extra support and stability with maximum comfort. The Under Armour Harper RM Jr. cleats take care of your feet's comfort with full-length EVA midsole.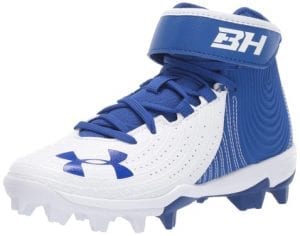 The Under Armour Harper RM Jr. cleatsare designed to offer incredible traction for increased speed and mobility on the field.
With a cumulative weight of 9 ounces, the cleats come with rubber cleats that dig firmly in the batter's box and provide excellent grip in the field and the base paths.
You can choose from over 5 color variants – a perfect selection to make sure your kid can find his favorite color.
Drawing inspiration from one of the greatest players of the time, Nike cleats have always been one of the best sports equipment available. Nike has done it yet again with the commendable Trout 4 Pro MCS BG. It is a sports masterpiece and its creation was inspired by Angels outfielder and two-time American League MVP Mike Trout.
The Trout 4 Pro MCS BG weighs 8.4 ounces and has a synthetic upper that offers extra comfort and breathability. It's embellished with a foam collar that has Trout's name written on it which provides cushioning, protection and stability.
Other highlights include a pull tab at the heel which makes it easy to put on. It also comes with a phylon midsole for comfortable cushioning.
To provide extra traction on the field the cleats come with a TPU plate ensuring that kids feel comfortable running around the field knowing that they won't slip. The Trout 4 pros are available in 3 colors.
Adidas has been one of the oldest baseball equipment sellers in the world. The company is known for creating cleats that are performance boosters. This time Adidas comes with cleats that provide comfort, stability and style and at an amazing price.
The Icon Mid K has a nubuck leather upper which offers the premium suede look for maximum durability and support. To make it better, the cleats have printed details on the upper for extra damage protection along with rubber outsole for excellent traction and a ¾ length EVA midsole for soft cushioning.
The Icon Mid K is available in 4 different colors and they are available in all sizes.
New Balance has always been an excellent option for people looking to buy great baseball cleats cheaply. With the new 4040v4, you can get cool and comfortable cleats without having to spend much.
The cleats come packed with loads of features such as low-top shoe style, mesh synthetic upper and a molded rubber outer plate. All these elements combined form the cleats that offer exceptional comfort with a mix of lightweight, breathable and comfortable performance on the field.
The 4040v4 comes in all wide sizes, which makes it better for people with a wide foot. Moreover, you can choose from 5 different color options.
If you have a hard time keeping your feet on the ground, the Mizuno 9-Spike Advanced Youth Franchise 9 Low is just what you are looking for. Slipping can ruin an entire game and impact your performance significantly.
The Mizuno 9-Spike Advanced Youth Franchise 9 Low consists of a 9 spike sole which creates a generous amount of traction seamlessly.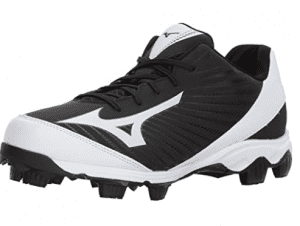 In addition, the cleats weigh only 6.6 ounces and come with a full-length midsole so you'll get complete foot cushioning and comfort.
The cleats can be worn on both natural and artificial surfaces with the same amount of effectiveness. You can get the Mizuno 9-Spike Advanced Youth Franchise 9 Low in 4 different color variants.
Choosing the Best Youth Baseball Cleats
With a large plethora of options available in the market, it can be difficult to buy one.
One thing to understand is that good cleats can be like your companion on the field. If chosen well, they can not only improve your game but also stay for a long time. When buying new cleats you can refer to the points below and make sure you get a good deal:
Type of Cleats
Baseball cleats come with different types of cleats options such as metal, rubber, and plastic. Every material is designed to work differently on different surfaces
Metal:
Metal cleats are used to gain traction in mud or grass. As they are made of metal they dig deep into the dirt and give you the needed grip to take off.
They are also great for helping a batter dig a toe hold in the battery box enabling you to hit without slipping.
Metal cleats are also known to cause injury to players when they make a sudden movement.  The metal grips also tend to wear off when worn on other surfaces.
(Image Credit: Baseball Savings)
One thing to check before buying baseball cleats with metal spikes is legality! Do your fields allow metal cleats? Many don't because they can tear up the field! Make sure you're clear on your specific league's regulations to ensure that you can wear your metal cleats before purchasing.
Molded Plastic Cleats:
Plastic and rubber cleats are mostly affixed to the sole of the cleats which makes them stable and strong. They can be worn on different surfaces even on asphalt and concrete without wearing down.
Plastic cleats cost less and last longer but on the other hand, they can fail to maintain the grip efficiently. While this means they don't stick as deeply as metal cleats, this makes them ideal for muddy and soft conditions. They bounce off the ground rather than sticking in the mud and reducing your mobility.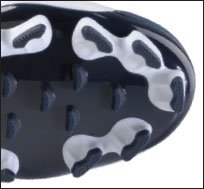 (Image Credit: Baseball Savings)
Plastic cleats are allowed on almost every kind of field and leagues available today. They do much less damage to grass than metal cleats which is why they are preferred by many players and rule makers today.
One disadvantage of plastic cleats is that they can pickup and hold mud underneath the cleats. Sometimes you may not even notice until you lift up your shoe and see you've been walking around with 2 lbs of mud stuck to your cleats!
Turf and trainer cleats:
You have to be very careful in picking the right cleats when practicing on turf fields.
Turf fields are normally made of synthetic material that imitates the toughness of the ground. Wearing metal cleats on turf may damage it and plastic cleats may not be able to give you the needed grip.
For better performance, you can use trainer cleats that come with perfectly balanced grips that give you maximum traction and minimum risk of injury.
(Image Credit: Baseball Savings)
It's important to note that you shouldn't be using trainer cleats in actual games! Instead, use cleats with plastic spikes as these will give you much better grip on the field.
Choosing Baseball Cleats by Position
When it comes to choosing the right cleats, you also need to consider the position you play. For instance, if you are a base stealer, you can choose flexible cleats that can help run from base to base effortlessly.
If you are on the defensive line, cleats with multi-directional spikes will help you run in any direction with a perfect grip on the ground.
There are many things that you need to consider like is the field well-maintained? Or what kind of ground are you playing on?
Infielders:
When it comes to choosing between the cleats you need to consider the condition of the ground. If the ground is dense and compact, plastic studs may hold too much and become heavy making it difficult to move. In such a scenario metal cleats may be a better option if allowed.
Outfielders:
The role of an outfielder requires more action on the lush green areas of the field. In this condition, you wouldn't want large patches of grass sticking to the bottom of your cleats. Hence, metal cleats or plastic cleats are the best option for you.
Pitchers:
To generate the power of a phenomenal pitch you need to have your foot set in the ground firmly. If your foot is not placed well, your pitches may fail. You can use metal cleats to get a firm grip on the ground and deliver stunning pitches.
Material
Baseball cleats are generally made from genuine or synthetic leather.  Genuine leather is breathable and durable than synthetic leather but it can burn a massive hole in your pocket.
On the other hand, synthetic leather provides extra support at the front and the middle of the foot and ankle at a much lower price. There are also other types of materials such as mesh which comes at a very low price but can be a good option against synthetic leather.
Ankle support
Baseball cleats can be broken down into the categories: high tops, mid-tops, and low tops.  High tops extent above the ankle and provide extra support, particularly when moving in a single direction. They might make sudden movements difficult but also keep the ankle healthy at the same time.
Mid tops are for players who need easy movement but at the same time need to protect the ankle with minor reinforcement.
Low tops are for player who has rigorous movements and needs freedom at the ankle for reflexes and quick movements.
Budget
Budget plays an important role in the type of cleats you end-up buying for yourself. If you are confused between spending or saving on cleats, you think of the same in an easier way. Consider the number of months or days you are planning to use the cleats and think of your purpose of buying the cleats. Once you have these in place, buying cleats won't be a difficult task.
Especially buying cleats for kids – you shouldn't need to break the bank. Most youth baseball cleats are affordable especially if you look hard enough.
Conclusion
Choosing the right baseball cleats for your child is essential to their play and enjoyment on the field. Remember to choose cleats that are adequately padded, provide enough protection, and enable your kid to move and change directions freely. With that criteria, you shouldn't go wrong.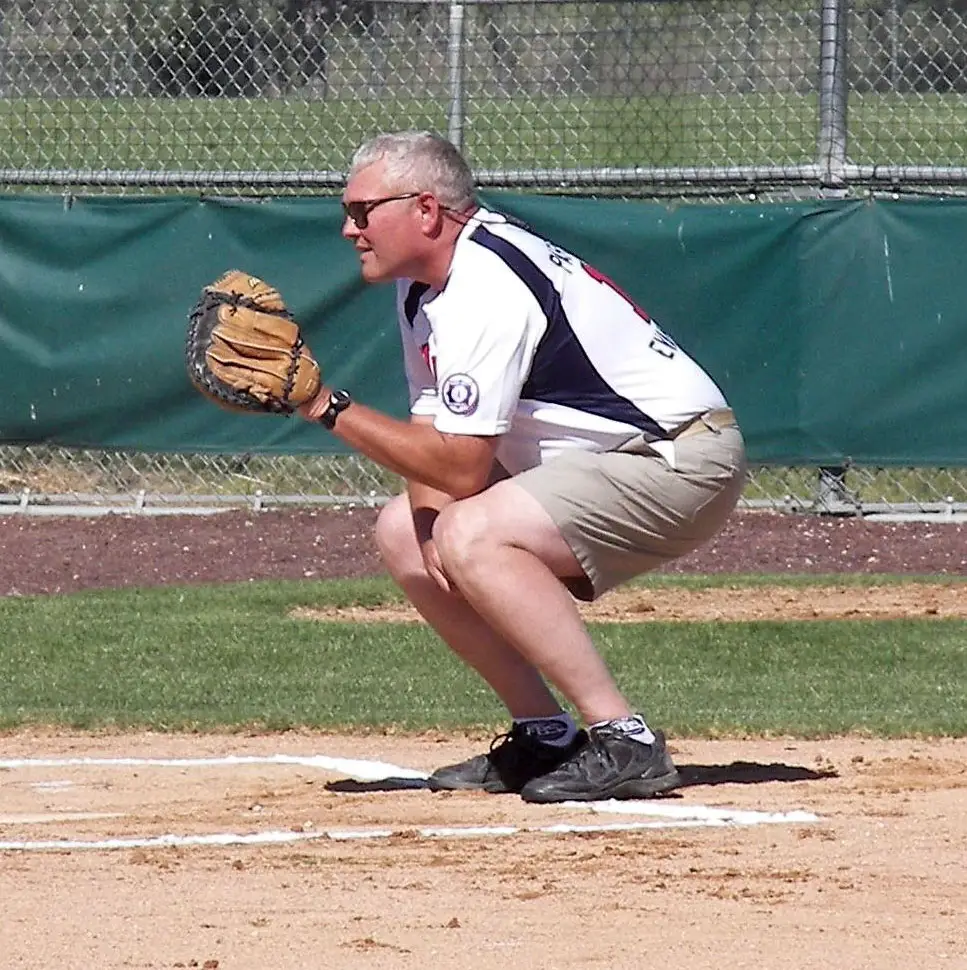 My name is David Farnum and I've been a Little League Coach in my community for the past 7 years. With 2 boys playing baseball and 1 girl playing softball, most weekends I can be found near a baseball diamond.