Best Baseball Swing Analyzer
For those without access to formal coaching, investing in a baseball swing analyzer can be the next best thing. This handheld device is powered by innovative software that can monitor, examine, and critique how you hit. Many models also give users access to several drills, which help improve their skills dramatically.
In this article, we'll be evaluating the 5 best baseball swing analyzers available today. Hopefully, after reading our summary, you can better decide on two things: whether buying one is a viable option, and if so, which model best fits your needs.
IMAGE
PRODUCT
Advantages
Disadvantages
Perfect For

Editors Pick

Blast Baseball Swing Analyzer
Most comprehensive
Expensive
High School/College Players looking to get to the next level
Check Price
Zepp Baseball 3-D Swing Analyzer
Personalized Workouts
Pricey
Little League Coaches/Players
Check Price

Best Seller

Garmin Impact Bat Swing Sensor
Instant feedback
little personalization
Little League Coaches/Players
Check Price
Minch Smart Baseball Swing Analyzer
Inexpensive
Complicated Interface
Players of All Ages
Check Price
Diamond Kinetics Baseball SwingTracker
Swing Visualization
Little training included
Players of All Ages
Check Price
Is A Baseball Swing Analyzer Worth It?
A baseball swing analyzer is the perfect training aid for athletes who prefer working out alone. There are countless benefits to owning one, which include capturing your movements from every angle, collecting relevant metrics, and offering expert advice. If you're seeking a second-hand perspective on the proper technique, this should definitely help.
So to answer the initial question – yes, we believe that owning any one of these models is worth it.
Few models are as comprehensive as the Blast Baseball Swing Analyzer.
Using a high-tech sensory system, it tracks your attack angle, reaction rate, accuracy, as well as other metrics. Then, all data is uploaded to a program, which you can access through its mobile app. On it, you'll find summaries, insights, tips, and a swing-by-swing comparison.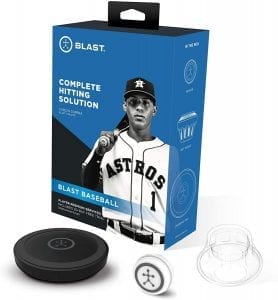 The Blast Baseball Swing Analyzer software is compatible with all Android and Apple devices. You can access the information anytime and anywhere, no matter where you train. It syncs to the camera, too, to capture frame-by-frame footage of your swing.
Consumers will also surely appreciate its user-friendliness. Weighing just 5.6-ounces, the Blast Baseball Swing Analyzer can be readily transported.
It attaches firmly on any kind of bat, too, and requires absolutely no calibration. This is great news for beginners without any prior experience.
We would recommend the Blast Baseball Swing Analyzer to all athletes of any skill level. Aside from helping you develop the basics of batting, it also includes several drills and other training regimens. These are developed by experts in the field, so you can be assured of its effectiveness.
Key Benefits:
Used by professional players in the MLB
Includes a list of advanced exercises
The app can be downloaded on any mobile device
Creates highlights of every training session
Has a command that uploads data to social media
For serious players, receiving instant feedback is invaluable in developing correct habits. The Zepp Baseball Swing Analyzer does this by re-creating a 3-D model of your swing, calculating all measurable aspects, and providing an assessment, within a few seconds.
Its sensor, which measures approximately 6.6 x 4.5-inches, can be synced with any mobile device through the Zepp app. This gives access to pertinent data, like your most recent hand and bat speed, time-to-contact score, and attack angle.
In particular, it highlights what aspects need improvement and how to get better.
Furthermore, the Zepp Baseball 3-D Swing Analyzer creates personalized training modules. Like a coach, it studies your tendencies and techniques before prescribing workouts to address those issues.
This program doubles as a coaching tool, too, for managing more than one player. It monitors their performance, summarizes statistics, and complements every workout. The information can even be shared with team members, which only increases its effectiveness.
Once again, the Zepp Baseball 3-D Swing Analyzer is suited for anyone looking to improve, but in particular, beginners. Its controls are relatively straightforward and help build the proper techniques.
That's why even though it costs a bit more, this is still something we would recommend buying.
Key Benefits:
Gives expert advice in an instant
Captures footage in HD quality and 3-D model
Creates personalized training sessions based on your needs
Manages an entire team
Great for sportsmen of varying skill levels
Although it looks pretty primitive, Garmin's Impact Bat Swing Sensor is actually one of the most revered training tools today. This analyzer works similarly to other models but has an on-screen display screen for delivering immediate feedback. This way, you know exactly how strong your swing is and at what angle.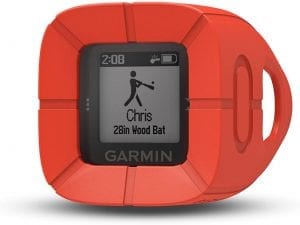 According to our research, Garmin's calculations are incredibly accurate, which is excellent news for aspiring baseball players. It paints them with a real picture of their current skill level. Then, once connected to the app, it also offers advice on how to improve further.
This application is free and compatible with almost any mobile device. You will find a summary of every workout, as well as suggested drills to consider doing. We recommend creating a profile, too, and compare your progress with others of the same age, sport, or skill level.
As a coach, the Garmin Impact Bat Swing Sensor not only provides helpful tips but also allows you to keep tabs on all team members. Track each of their progress by assigning an avatar, and specify tasks or what equipment to use. Ultimately, it is exceptional at bringing everyone together.
Whether you are exercising alone or with others, the Garmin Impact Bat Swing Sensor is a handy device to have in your back pocket – literally and figuratively.
Key Benefits:
Accurate at measuring swing metrics
Create a profile and compare with others
Receive data immediately through the display screen
Track the progress of more than one player
The bright orange color is really eye-catching
For those seeking something more budget-friendly, the Minch Smart Baseball Swing Analyzer is a suitable option. It's not as comprehensive as the others but still contains all necessary functions. And best of all, it's only half the price of its competitors!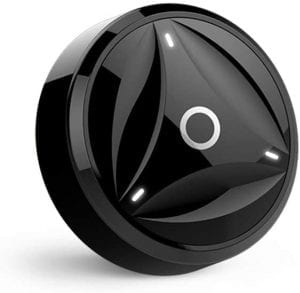 With baseball being a contact sport, this device has been made extra durable by its manufacturers. Each one passes through a rigorous testing process that includes free-fall damage testing, scratch-resistance body trials, and silicone case evaluations. All these ensure that upon impact, it won't break easily.
The Minch Smart Swing Analyzer's sensor can be attached either to a bat or the baseball directly. This will depend on what metrics you want to be calculated. Once done, it immediately transmits the data to your gadget via Bluetooth, and a report is generated. Check your production as well as the areas that need improvement.
All in all, though, especially for first-users, this batting evaluator may seem a bit complicated – and it is. But after a short learning curve, we found it easy enough to make sense of. And, we promise that the Minch Smart Baseball Swing Analyzer is truly worth learning.
It's a proven way to identify your weaknesses and uncover realistic solutions.
Key Benefits:
Capture HD videos for future review
Built to withstand impact
Affordable price appeals to beginners
Fully charged within just 90-minutes
Free replacement maintenance for one year
Whether you're an athlete, coach, or everyday enthusiast, the Diamond Kinetics Baseball SwingTracker can help you achieve greater heights. It evaluates the speed, power, control, and quickness of each swing, before providing a thorough evaluation. This will tell you precisely what aspect needs improvement.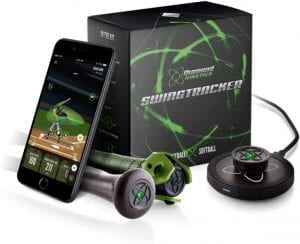 Of course, the Diamond Kinetics Baseball SwingTracker is more than just that. Through the software, it creates a 3-D representation of your swing that identifies its maximum potential.
There is even a personalized Swing Fingerprint that shows your hot and cold zones. Compare two hits side-by-side, too, and determine which one is better.
Unfortunately for Android users, though, this device is only compatible with Apple products, specifically iOS 12 devices or later. There is also a monthly subscription to access its premium functions.
However, that only applies when managing multiple players. If you plan on just using it for personal consumption, then the features initially included are more than enough.
Given those traits, we find the Diamond Kinetics Baseball SwingTracker really efficient at zeroing in on your fundamental technique. And while we would have preferred more extensive training sessions to be included, accessing all that information is already valuable in itself. It should serve as a solid foundation for all future endeavors.
Key Benefits:
Includes several diagrams that present you swing clearly
Compare your performance with other plays
Suitable either for softball or baseball
Includes a free 14-day Premium Hitter subscription
Comes with exclusive drills and workout regimens
Conclusion
Without a doubt, owning a swing analyzer has its own set of benefits. From identifying, evaluating, and then ultimately improving your batting technique, this tool will be with you throughout the entire process – and probably even after that.
When canvassing through options, we would simply recommend finding one that fits the budget, answers you needs, and is comfortable to use. But don't put too much pressure on yourself. This is only a supplementary instrument, really, because the road to success is defined by hard work and perseverance.
Having the best baseball swing analyzer only makes the journey more bearable.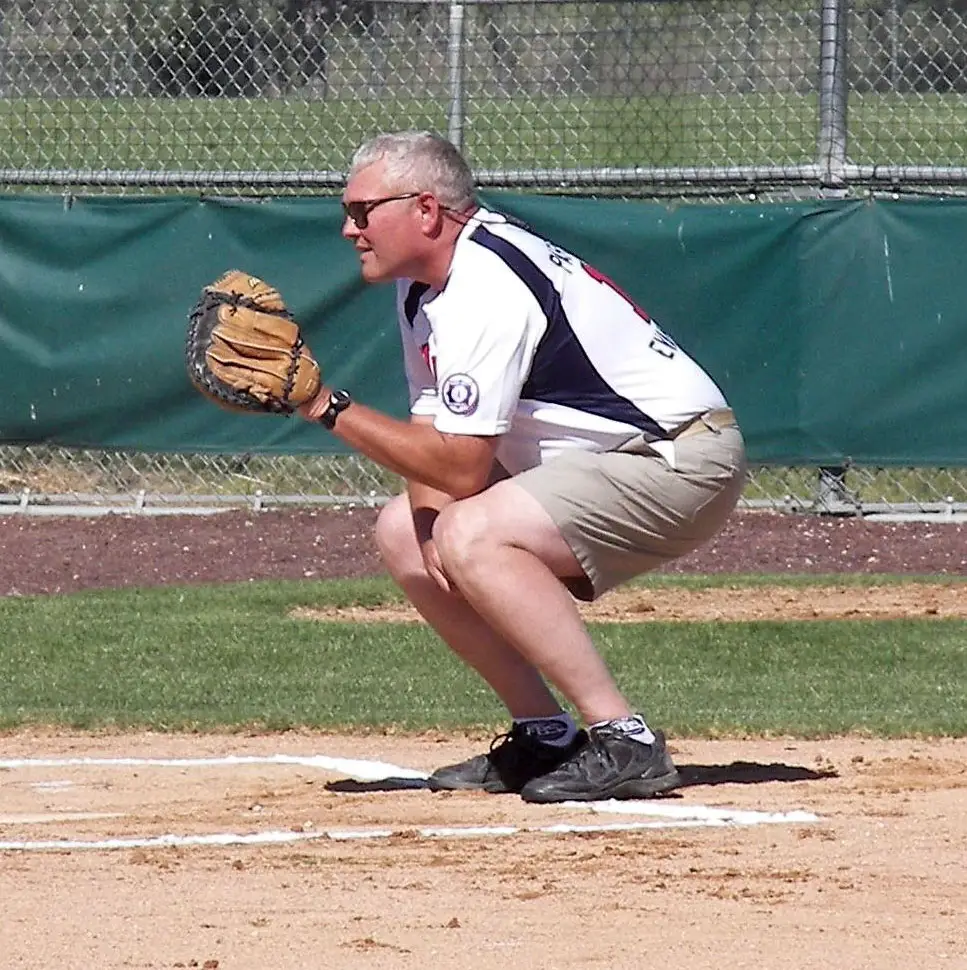 My name is David Farnum and I've been a Little League Coach in my community for the past 7 years. With 2 boys playing baseball and 1 girl playing softball, most weekends I can be found near a baseball diamond.