Best Baseball Batting Gloves
In a baseball game, performance of a single player can have a major impact on the outcome of the game.  Players practice innumerable hours in a day to perform better at every game. But it's not just the skills that helps cross the line, it's quality equipment as well. Especially, when it comes to hitters, equipment does make a lot of difference.
When you step up to the plate, you need the basics: a baseball bat (duh!) and baseball cleats. As you progress though, you'll also want to consider buying some batting gloves.
You already know how important your choice of baseball bat and cleats are to your performance. But, do you need baseball batting gloves? Let's dive into the benefits of having and choosing the right gloves.
| IMAGE | PRODUCT | Material | Price Range | |
| --- | --- | --- | --- | --- |
| Editors Pick | Nike Adult MVP Elite Batting Glove | sheepskin leather, polyester, and nylon | $30+ | Check Price |
| Best Seller | Marucci Elite Batting Gloves | Premium-grade sheepskin leather | $30+ | Check Price |
| | Franklin Sports Neo Classic | Pittards Digital sheepskin leather | $15 – $30 | Check Price |
| | Franklin Sports MLB Cold Weather | Pittards Digital sheepskin leather | $15 – $30 | Check Price |
| | EvoShieldEvocharge Men's Batting Gloves | Digitally embossed sheepskin leather | $15 – $30 | Check Price |
Why you should buy a batting glove?
There are many reasons to have a batting glove both in baseball and softball.
They provide a good grip on the bat that enables you to wield the bat more comfortably
They reduce the feedback vibrations that can make batting uncomfortable.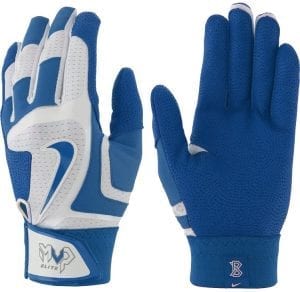 There are many batting gloves available in the market and each of them is uniquely designed and has features that can supplement your performance.
Gloves can also protect your hands from sideburns caused due to the frictions during a slide.
Pitchers can wear batting gloves too. Wearing a batting glove under a good baseball glove can protect you from the shock and prevent sweating in the hands.
If you are trying to buy baseball equipment for the first time, you may get confused and make the wrong choice. Therefore, we have compiled a list of 5 batting gloves that provide amazing grip, cushioning and come at a great price.
To learn how to choose the best batting gloves you can watch this video:
Best Batting Gloves – Our Top Picks
Providing the hitter with an incredible fit, great comfort, durable design and other amazing features, helps make the Nike Adult MVP Elite Batting gloves the best set of batting gloves in the market.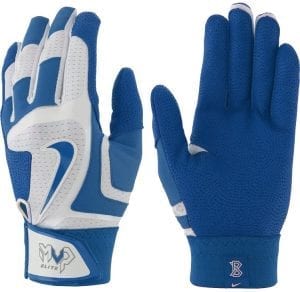 Nike Adult MVP Elite Batting glove is made of 55% sheepskin leather, 17% polyester, and 8% nylon to give the gloves a comfortable feel and durability required to last innumerable games.
The gloves come with a textured design in the front for an improved grip. The back is designed with mesh for increased breathability which helps avoid sweat build up during the games. This feature can be a great advantage, especially when you are playing on hot days.
To make it better, the gloves can be adjusted with a hook-and-loop closure that is easy to adjust and offer secure fit.  Nike has also added reinforcement to the key flex-points of the gloves giving it sturdier feel. The overall compositions of the gloves offer a great balance of comfort and sturdiness.
Nike MVP Elite gloves come in different color options that you can choose from. Some color variants include Black/Black, White/Orange, Blue/White, White/Royal, White/Volt, and Navy/White.
The gloves are only available in adult sizes.
Marucci is widely popular for making baseball products that not only perform well but also look great and carry a signature elegance. The same goes for the Marucci gloves that have made to our list.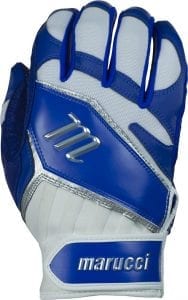 The Elite gloves from Marucci feature a simple and durable design in the construction of these gloves. Marucci has made the gloves using premium –grade sheepskin leather material for the construction of the palm.
Most of the great features of the glove are incorporated in the palm of the glove. The sheepskin leather offers a superior degree of padding while hitting. The entire palm is designed without any seams; this gives the gloves a smooth feel and ensures a comfortable fit for any player.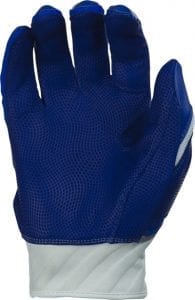 To make the gloves breathable and reduce sweat buildup, the back is made of Lycra and mesh. This enables the player to swing the bat with confidence and a firm grip. The gloves come with Lycra wrist closure insert to make the gloves adjustable while on the go.
Marucci has produced the gloves in different color variants to match every player's preferences. The color variants include Blue, Electric, Red, Black, and White. These Elite batting gloves are only available in adult sizes.
These are another pair of classic high-performance and superior quality gloves made using Pittards Digital sheepskin leather. This makes the gloves tactile and helps you grip the bat tightly in all types of weather conditions.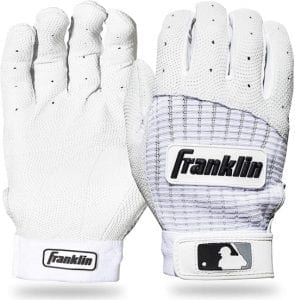 The Neo Classic features a floating thumb technology that sets it apart from all the gloves on this list. This allows the glove to offer better adaptability and grip on the bat's handle. The palm of the glove is made of one-piece leather that makes the gloves comfortable and durable.
With in-built professional-grade spandex and wristband support, the Neo Classic ensures a better fit and reduces the friction in the swing motion. The innovative design makes the glove fit any hand size perfectly.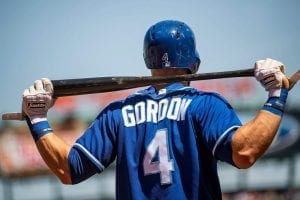 The gloves also feature the Quad-Flex; this prevents the glove from stacking up the material between the glove and the bat. This enables the players to get a consistently smooth and reliable grip.
Neo Classic comes in different color options that include Pearl/White, Black/Black, Black/White, Pearl/Black, Gray/Royal, Pearl/Pink, Pearl/Royal, Pear/Forest Green, Pearl/Gray, Pearl/Burgundy, Pear/Yellow, Royal, and Red.
The gloves are also available in different sizing options like Small, Medium, Larger, Extra Large, and Double XL sizes.
These gloves can be worn anytime but they are specifically designed for winter. The company has used Pittards Digital sheepskin leather for maximum comfort and warmth. MLB Cold Weather comes with Franklin's Quad-Flex technology for added convenience.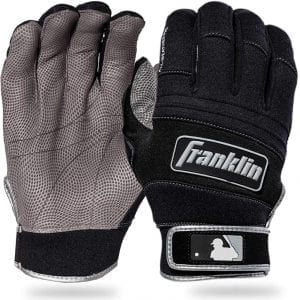 The construction of MLB Cold Weather gloves features a seamless leather palm that ensures a smooth swinging experience. Its insulated neoprene back is a distinct feature among the other gloves on this list.
The insulated back keeps the hand warm during cold weather. They are also breathable which avoids cold sweat accumulation.
MLB Cold Weather is available in a wide range of color options like Black/Red, Black/Black, Black/Royal, Black/White,Black/White Digital Camo, etc.
These gloves are also available in a wide range of sizes such as Small, Medium, Large, Extra Large, Double XL, Youth Medium, and Youth Large.
The EvoShieldEvocharge Batting Gloves is a combination of comfortable design and technology.  Its ability to protect your hands from wild pitches is unquestionable. The digitally embossed sheepskin leather palm offers amazing grip helping you to swing the bat better.
It also comes with a sleek molded pull tab that secures the glove around the wrists while providing great support. The gloves come with an exclusive Gel-to-Shell technology that reduces feedback vibrations by turning from soft to hard.
The glove comes with a custom molding shield that adjusts according to the user's hand's shape and ensures a perfect fit.
The back of the glove is made of Lycra that promotes breathability and avoids sweat accumulation. It comes with a washable shield which can be cleaned using an air-dry wash.
Evocharge Men's Batting Gloves come in different color variants that you can choose from i.e. White, Black, Navy, Red, and Blue.
How to choose the perfect batting glove for baseball?
Considering the importance of gloves mentioned at the start, it is crucial to choose your batting gloves very carefully. While the perfect fit is just the initial step of choosing there are other factors that can ensure that you have a great batting experience.
Material:
Batting gloves are made of different materials that enhance the wearer's performance. The palm of the glove is made of two distinct materials i.e. leather and synthetic. Every material has its own benefits. 
If you are looking for a natural feel and a better grip, you should choose leather gloves. However, if you are more interested in comfort and flexibility, a synthetic glove will not disappoint you.
Leather gloves are typically more expensive but offer increased durability.
Synthetic gloves are easier to clean.
To get the best batting experience, you can get gloves that have leather palms and synthetic fingers. These types of gloves are easy to find as they are made by every equipment manufacturer.
Wrist style:
The wrist of a batting ball has different constructions that facilitate firmness and fit of the glove. Velcro is a widely used variant in gloves but can lose its grip when dirty or wet.
Some batting gloves come with taped wrists for added support. While there are players who wear unrestricted gloves for full-range motion.
The right wrist style for batting gloves can differ from player-to-player. The only way to find the best batting glove for you is to wear one and start practicing.
Price:
The price of a glove may differ based on its quality and the material. It's up to you to understand the type of glove that suits your preferences and can be a great addition to your game.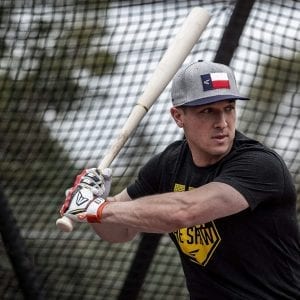 If you are looking for a long term solution, you can choose a branded glove that falls in the high price range. But if you just want to try wearing gloves to see their impact on your game you can go for gloves that are cost-efficient.
To understand the difference between a high price and low priced batting glove, you can watch this video:
Conclusion:
A batting glove can help you in many ways from improving your game to protecting your hands. However, playing with or without a glove lies totally on your preferences.
I hope the aforementioned information helps you make the right decision when choosing the glove. If you have any queries or suggestions, you write it in the comments.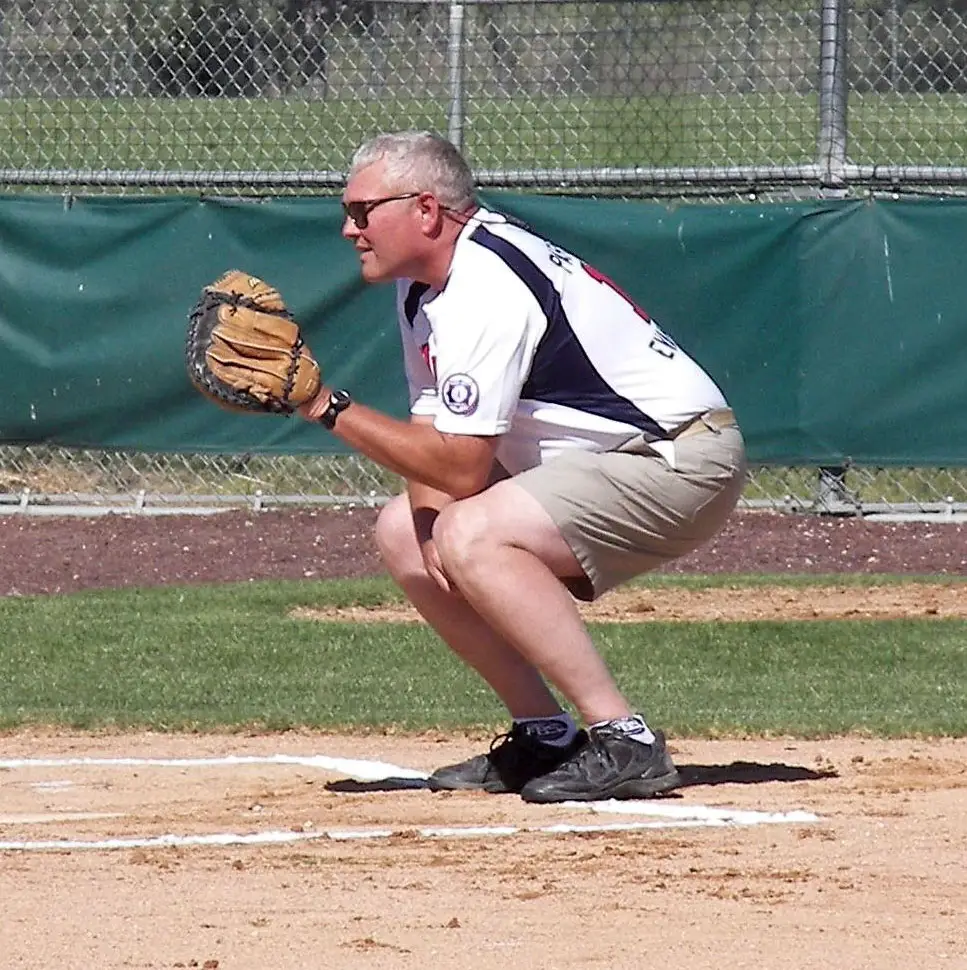 My name is David Farnum and I've been a Little League Coach in my community for the past 7 years. With 2 boys playing baseball and 1 girl playing softball, most weekends I can be found near a baseball diamond.