Standing out on the baseball field in the hot sun can be a grueling experience for even the most hardened baseball player. The sun beating down in your face as you run across the field to catch a pop fly. These are the instances where you find yourself desperately wishing for some baseball sunglasses to help you out.
| IMAGE | PRODUCT | Best For | Price | |
| --- | --- | --- | --- | --- |
| Editors Pick | Oakley Flak 2.0 XL | Best Overall Sunglasses for Baseball | $$$ | Check Price |
| Best Seller | Rivbos RB831 | Best Cheap Baseball Sunglasses | $ | Check Price |
| | Easton Diamond Flare Umpire Sunglasses | Best Cheap Baseball Umpire Sunglasses | $$ | Check Price |
| | Marucci MV108 | Best Sunglasses for Softball | $$ | Check Price |
| | Oakley Men's Radar EV Shield Sunglasses | Best sunglasses for Outfielders | $$$ | Check Price |
| | Costa Del Mar Blackfin Sunglasses | Best Baseball sunglasses for infielders | $$ | Check Price |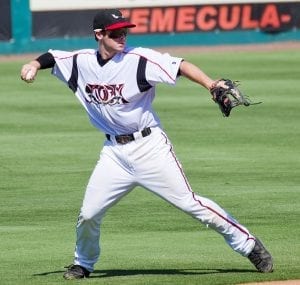 While, for the most part, you only need a baseball glove, a bat, and some balls, some of the best baseball accessories like baseball sunglasses can help you a lot. In fact a lot of times, it can be hard to find players at the collegiate or MLB level who don't wear sunglasses.
If you have ever entered a sports equipment store that sells sunglasses, you may have noticed that there is a variety of sunglasses that differ on the basis of color, size, design, and weight. So how do you decide the best pair of sunglasses for baseball? We'll go through each aspect and personally help you find the best pair for you.
To save you from the hassles of researching and finding out the right sunglasses for the game we compiled a list which includes some of the best ones – also broken out by specific positions.
Top Baseball sunglasses:
When choosing the best baseball sunglasses, you should look for core features that can help you out on the field
Not sure where to start? See some common recommendations from other baseball players.
Oakley Flak 2.0 XL (Best Overall Sunglasses for Baseball)
Flak has been a trusted companion of baseball players for a very long time and every update improves these glasses more and more. The latest 2.0 version of these baseball sunglasses sports a taller frame design and larger lenses. This results in more coverage for the players which better protects your vision from glare or distracting sunlight.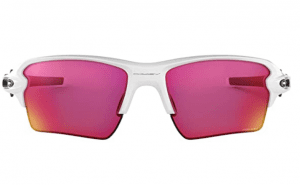 Even though the frames have bigger lenses, the 2.0 has the same chassis keeping these baseball glasses lightweight. These chassis also keep your vision obstruction-free accommodating a larger field of vision.
The fame is made with Oakley's 'O-Matter', that offers more durability, keeps it light, and provides maximum comfort.
In addition, the company has added custom ear socks and nose pads, along with the brand's 3-point fit system. Together, these glasses offer a great fit that stays on the face well and doesn't slide even with excessive sweat.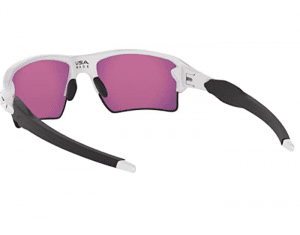 To make it better, you can add prescription lenses to the sunglasses. This makes the Flak 2.0  XL one of the only prescription sunglasses for baseball.
Oakley has incredible sports lenses which include the PRIZM range. These are high-performance lenses that let the wearer track the ball's motion in the sky, even on a sunny day. Oakley sunglasses come with interchangeable lenses and they come with a carrying case.
The Flak 2.0 XL glasses are a part of Oakley's MLB Signature Series. It can be customized with different colors, lens styles, and other design options. The company also allows you to put your name or your team's logo on the lens.
Pros:
Large field of view
Great/sturdy fit throughout a game
Specifically engineered lenses for baseball
Cons:
Moderately high price
Kind of bulky on smaller head sizes
Rivbos RB831 (Best Cheap Baseball Sunglasses)
If you have a habit of losing things, then $200 sunglasses might not be an optimal choice. However, you still buy a great alternative to the Oakley Flak 2.0 XL. The Rivbos RB831 are incredible baseball sunglasses that are affordable and get the job done without burning a hole in your pocket.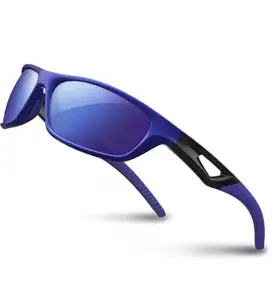 The Rivbos RB831 can be used for many different sports but its REVO lenses come with a grey coat and rainbow shade makes it highly beneficial for baseball. They offer wonderful clarity and 100% protection against UVA, UVB, UVC, and blue light.
The glasses feature a unique wrap-around construction that gives a snug and secure fit to the players. The glasses don't slip off in the middle of a game. While lower priced sunglasses are famous for being easy to break, Rivbos RB831 is surprisingly sturdy.
Rivbos RB831 is made of a sturdy TR90 material that is flexible and bends under pressure rather than breaking. The glasses come with a sleek and low profile looks and can be worn off-field too. Every pair of sunglasses is packed and shipped in a hard case along with a basic cleaning kit.
Pros:
Extremely affordable price.
Eliminates glare and protects the eyes from sunlight and harmful rays.
Great on and off the field
Cons:
Not specific to baseball
Only 5 lenses
Rubber earsock durability can be bad
Ewin E11 (Best Baseball Sunglasses for Umpire)
The Ewin 11 is a pair of polarized sunglasses, that you can buy at an affordable price. These wonderful sunglasses come with incredible design and features that make it an optimal choice for baseball.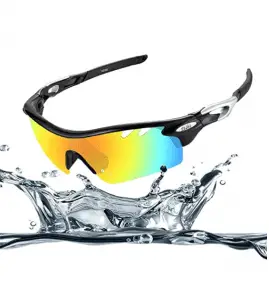 To begin with, the sunglasses are unisex and they can be used by baseball and softball players both. It comes with interchangeable lenses and each of those lenses has different purposes.
Polarized black lenses remove glare and protect the eyes from UV400, which makes them ideal for sports. The REVO lenses protect the user's eyes from UV, infrared, and other damaging lights. The last and final type of lens is the 'Yellow Lens', it can be used for early morning practice or cloudy days.
It is very easy to remove the lenses and they can be stored in a pouch that comes with the entire set.
Every lens of the sunglasses has been created with nine different layers. Each layer adds attributes like strength, durability, and UV400 filtering and protection to the frame. The frames are made from TR90 material which increases flexibility and makes the frames lightweight.
The sunglasses feature a wide temple design the reduces the pressure at the temples and makes the sunglasses more comfortable to wear. It might be a little less snug than other glasses which is perfect if you are not making a lot of movements during the game.
Pros:
Affordable
Flexible to fit to your face
Cons:
Less snug than other sunglasses
Less customization options
Easton has been often commended for creating equipment that is loved and used by the player worldwide. The company has also come up with sunglasses that are specifically for umpires.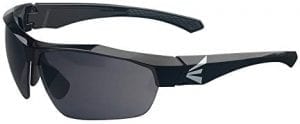 The Easton Diamond Flare sunglasses are created with polycarbonate, which makes glasses impact resistant. It also features an ergonomic design that is very flexible and withstands pressure easily.
The wrap around style keeps these glasses on your face no matter where you look or how fast you turn. The lenses of the sunglasses are 100% UV protective, shatter-resistant polycarbonate lenses. They come with rubber nose pieces that enable you to get the perfect grip on the face while officiating.
The Easton Diamond Flare is a great pick for umpires as they are very affordable and can be purchased easily. These sunglasses offer incredible features at a low price and even come with a soft carrying case that can protect your sunglasses during travel.
You get to choose between the two lens options that include smoke-colored lenses for glare or the black colored lens more suitable for daytime conditions.
Pros:
Affordable price
Flexible and ergonomic
Lightweight supports rapid movements
Cons:
Lenses can pop out
Lenses can get scratched easily
Might look big on small faces
Marucci MV108: (Best Sunglasses for Softball)
Marucci's line of products consists of equipment that are widely sought after by players of both baseball and softball. The company's products are simply beyond comparison and can easily become a player's favorite.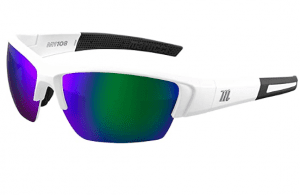 The company has also been a recognized manufacturer of sunglasses and for softball players, Marucci has come up with 'MV108'. One of the best sunglasses for softball, it packs in a lot of features that make it desirable.
Let's start with the best first! The MV108 has been created in collaboration with the renowned name in the world of optometry and eyewear 'Carl Zeiss Vision'. This collaboration is a result of the company's philosophy of deploying professionals to perfect every minute detail of their product.
Carl Zeiss Vision has done an impressive job and created lenses that are meticulously designed to promote visibility, color perception, and movement-tracking, especially against sunlight or blue sky. The MV108 features multiple lens options and each of them can impact your performance differently.
The Green colored lens provides 'true color recognition' when a player is measuring the direction and speed of the ball against grass or sky. Violet lenses enable the players to have a clear and pure vision in all kinds of lighting conditions. The Orange lens lets the player track the balls in extreme sunlight and glare.
The polycarbonate shield of each lenses helps improve durability with the ability to withstand scratches, dirt, oil, and water.
To offer a customized fit the rubber components of the sunglasses can be adjusted according to personal preference. You can adjust the nose pieces and earsocks to make the sunglasses more comfortable.
Pros:
Affordable price.
Multiple lens colors for different conditions
Durable
Cons:
Cannot be used with prescription lenses
Under Armour's sports equipment don't need any introduction. The company is known for making classic accessories that are not only durable but cover the various aspect of the needs of the players. Similarly, Under Armour's TUNED sunglasses is something that every softball player needs to have, to cover the safety and performance of the eyes in the game.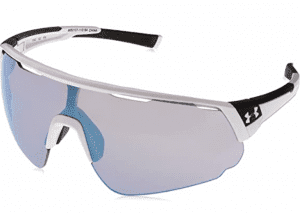 Sunglasses made by Under Armour are designed to withstand the toughest conditions during a game and offer clear vision. TUNED Changeup lives up to the legacy of Under Armour sunglasses and are one of the best softball sunglasses in the market today.
TUNED Changeup comes with ArmourSight lenses, that are designed to protect the player's eyes from UVA, UVB, and UVC rays. Moreover, the frames of the sunglasses are reinforced with ArmourFusion Frames that are created with superior quality materials and then injected with polyamide.
This results in the formation of a nylon-like polymer which makes the frame flexible and lighter. It adds exceptional durability and comfort to the player's face. The frame has a free size and can be worn by anyone.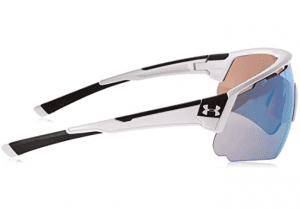 TUNED Changeup's unique design gives you a 3-point fit that guarantees a game-long fit that is both comfortable and resilient. It sports a screwless cam-lock hinge on both sides for a secure fit around the temples.
Pros:
Multiple features for a secure, comfortable fit.
The ArmourSight technology offers exceptional eye protection and vision
Cons:
High price
Limited options for lenses and color.
May not fit all kinds of head measurements.
For outfielders, baseball sunglasses are especially important. For much of the game, you'll have to keep your head pointed toward the sky catching a pop fly or racing towards the fence in order to try and prevent a home run.
The best baseball sunglasses for outfielders help you track balls moving through the sky easily. The Easton Ultra Lite-Z Bladz fits that description just right.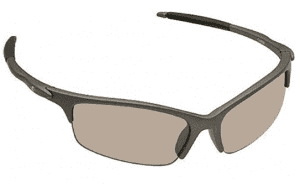 Easton Ultra Lite-Z Bladz is a pretty effective pair of sunglasses for youth outfielders. They come with smoked lenses with grey frames and orange lenses with black frames. Both variants are made from shatterproof polycarbonate that can keep your kid's eyes safe from damage.
Moreover, the lenses are made from 100% UV protection and can protect your kid's eyes from the sun. To make the glasses ergonomic for the wearer, Easton has added a cushiony, rubber nose and earpieces to the key areas.
From the two variants, the orange lenses would be a better option for outfielders as they can eliminate sun glare easily.
Pros:
Affordable, lightweight for boys and girls.
100% UV protection and shatter-resistant lenses for complete safety
Cons:
Too small/tight for older athletes
Only two color/style choices.
When it comes to naming the best sunglasses, Oakley probably has something for every player in baseball and softball. The company's Men's Radar EV Shield is a perfect match for an outfielder as they are more inclined towards reducing the sun's glare and providing the best protection.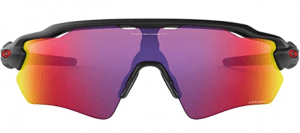 The sunglasses come with Plutonite lenses that offer the best UV protection in comparison to other sunglasses in the market. It can block all the UVA, UVB, UVC, and harmful blue light up to 400mm with ease and keep your eyes safe.
It comes with PRIZM technology for the lenses that enhance color, contrast, and detail to enable the athletes to offer their best performance in the game. The PRIZM technology in these glasses comes with the Road sport variants which enable you to identify any object in the field with ease.
The glasses feature Oakley's patented High Definition Optics (HDO), that offers incredible optical clarity and razor-sharp vision at every angle.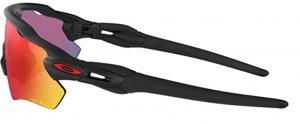 To make the frame lightweight & durable, Oakley has included the O Matter stress-resistant frame that comes injected with thermoplastic. This enables the frames to have more strength and flexibility as compared to traditional acetate and it can withstand high levels of shifting or deforming over time.
It has an interchangeable lens system that is designed to offer optimal performance in any environment. However, you have to purchase the other lenses separately. For increased comfort, the lenses feature Unobtanium earsocks and nose pads, that offer an increased grip with perspiration for a secure and custom fit.
You also get a soft vault sunglass case and a microbag that can be used to store sunglasses.
Pros:
Lightweight and durable
Blocks all harmful rays and protects the eyes from dust
Flexible and comfortable design makes it ideal for prolonged usage.
Cons:
Comes with a high price tag
Other lenses have to be purchased separately
There are very few brands in the market that understand sunglasses the way Maui Jim does. Maui Jim offers a premium experience with its sunglasses that are designed for high activity sports. The Maui Jim Hot Sands is a sleek pair of sunglasses that are designed for a sport like a baseball.

These pair of sunglasses are made from lightweight quality materials. Hot sands is designed to keep the harmful sun ray away and provide you with an excellent vision.
For an infielder whose role mostly comprises moving around the field and perform incredible feats during the game Hot sands can be a perfect pick. The sunglasses fit firmly on the face and do not fall slip during the game.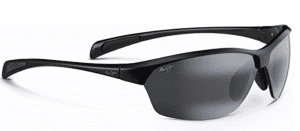 As there is no space left on the side, the chances of dust and debris entering your eyes are next to impossible. Considering the dangers of the impact of the ball on sunglasses, you need to find glasses that are shatterproof.
Hot Sands is made of polycarbonate that can absorb some harsh blows without breaking. The sturdy frame can endure the impact too which makes the glasses safe and long-lasting. The glasses are made from Grilamid nylon that makes it flexible and prevents it from breaking.
The sunglasses have a rubber pad at the bridge of the nose to prevent slippage while you perform rapid movements.
Pros:
Stylish and can be worn off-field.
Lightweight and high-tensile frame that offers comfort and durability
Lenses that block UV light for eye protection
Cons:
Can be a little expensive
Not as secure of a fit as other baseball sunglasses
The name might be new to some players but Costa Del Mar Blackfin Sunglasses are one of the best baseball sunglasses for infielders.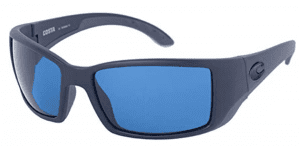 Every single part of these sunglasses is designed to keep baseball players in mind. The rubber grip at the bridge ensures stability throughout the game and does not slip even with sweat. This feature is perfect for infielders as they hardly have time to readjust their glasses during an ongoing game.
The frame has a wrap-around construction, that ensures a firm fit and offers a snug fit for both medium and large faces. Since infielders are in the most action-packed zone where flying dust and debris is very common, the Costa Del Mar Blackfin Sunglasses wraps around your eyes and protect you from it.
The lenses are shatter-proof and can endure a great number of shots before breaking. It also comes with a UV blocking feature and polarization to prevent glare. The amazing glare reduction offered by the lenses keeps your vision clear all the time.
Pros:
Lenses made from a polycarbonate material makes the sunglasses impact and scratch-resistant
Polarized lenses for glare reduction
The lightweight frame offers a slip-resistant bridge
Cons:
How to choose sunglasses:
When choosing the right sunglasses there are some important factors that you need to consider before finalizing your pick.
Frame:
Frame is the most basic and important part of the sunglasses and makes up for most of a pair of sunglasses. Since other parts of the sunglasses are connected to the frame in some way or the other, therefore, you need to look for sunglasses with durable and strong frames.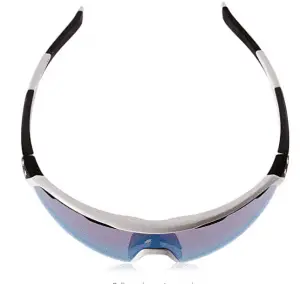 The most important aspect to look for as a baseball player is a wrap around frame. As the name may imply, a wrap around frame will wrap around your head. This creates a tight fit – perfect for baseball players as you're running to catch a errant baseball.
Lens:
Lenses are the reason behind the performance-enhancing abilities of sunglasses. The right lenses not only protect the eyes from the sun but also enable the players to track the ball and easily catch it despite the sun shining in their face.
When looking at a baseball lens, they should be made out of polycarbonate or another impact resistant material. The last thing you want to do is to be hit in the head with a baseball and have the lens fracture directly into your eyes.
Most baseball sunglasses will have impact resistance lens. The lens color (which we'll talk about next) is also essential to choosing the best pair for you.
Lens Colors:
The lens colors of a pair of sunglasses can drastically influence your performance out in the field.With the right colored sunglasses, you can easily track and catch the ball no matter where the sun is.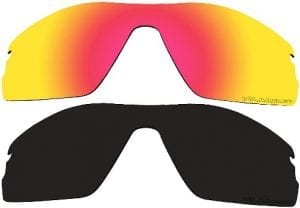 Image Credit: Amazon.com
Most of the baseball and softball sunglasses come with interchangeable lenses that allow the players to swap the lenses of the sunglasses depending on the light conditions.
Temple Arms:
The temple arms are basically the sticks on the side of the face and go across the temple, ultimately resting on the years. Temple's arms are mostly curved or straight. In baseball sunglasses, people mostly prefer straight temple arms that offer a tight fit.
Nose Pads:
In baseball, nose pads are soft pieces of rubber that rest on the nose. They keep the glasses from sliding down or moving too much. Nose pads make tracking the ball easier and since they are made of rubber, they are a little more comfortable.
Ear socks:
These are another part of baseball sunglasses that are made from rubber and offer comfort. They are mostly affixed to each temple arm and rest comfortably on the ears. Some sunglasses have adjustable and even removable earsocks.
Baseball Lenses Color for Different Positions:
The type of sunglasses you choose also depends on the position you play in the game. Here is what you need to consider when buying sunglasses for baseball or softball.
| | | |
| --- | --- | --- |
| Position | Lens Type | Lens Color |
| Outfielders | Large lenses/one piece lens | Orange |
| Infielders | Lightweight/secure/impact resistant | Gray/Black |
| Batters | Impact resistant/wrap around frame | Green |
| Pitchers | Impact Resistant/Wrap around frame | Gray/black |
| Catchers | Impact resistant | Blue/Black |
Outfielders:
The players who are in this position need large lenses or a one-piece lens can be better as this can maximize your field of vision. Orange colored lenses can be a great choice for outfield players as it can help them locate the ball against a sunny backdrop.
Infielders:
Infielders mostly play on the grass and need lenses that can track the movement of the ball. In such cases, the players need to find sunglasses that have gray or black lenses.
In terms of design, you need lightweight and secure sunglasses that will not slip off your face as you turn around or bend down.
Batters:
Clarity is the most important factor that batters should expect from sunglasses. This helps in reading the incoming pitches better, even when the pitch is covered in shade. In such cases, a pair of green or black lens sunglasses can work incredibly well.
Pitchers:
Pitchers barely wear sunglasses and even if they do, it mostly when the sun is overhead, causing glares on the eyes. The pick for pitchers should be a pair of black or gray colored sunglasses as they can ward off glares easily.
Catchers:
Blue or dark-colored lenses are usually preferred by catchers. When the ball is above at the plate, the blue colored lens makes it easier for catchers to spot the ball in the sky and create a perfect landing in their gloves to score a point for their team. Whereas, the black colored lens can be worn anytime.
To learn how to choose the best sunglasses, you can watch this video:
Rules on baseball sunglasses:
Sunglasses are protective eyewear and usually considered as a baseball accessory instead of a kit.
Therefore, there are no specific rules against sunglasses in the game of baseball. However, the umpire may intervene and prohibit you from wearing sunglasses on the following grounds:
If the player is a pitcher and if the sunglasses worn by the player are particularly bright colored and distracting for the batter and other players.
If the sunglasses are not designed for sports and do not have shatterproof lenses, which can be dangerous for a player's eyes.
If your sunglasses do not fall into these categories, you will not have any problems wearing sunglasses in a game.
Conclusion:
There is an extensive variety of sunglasses available in the market. When buying one you may come across some from this list too, but we recommend that you choose the sunglasses that match your requirements.
I hope the above information helps you choose the perfect sunglasses for you and improve your performance in the game. If you have any queries or suggestions, you can write it in the comments.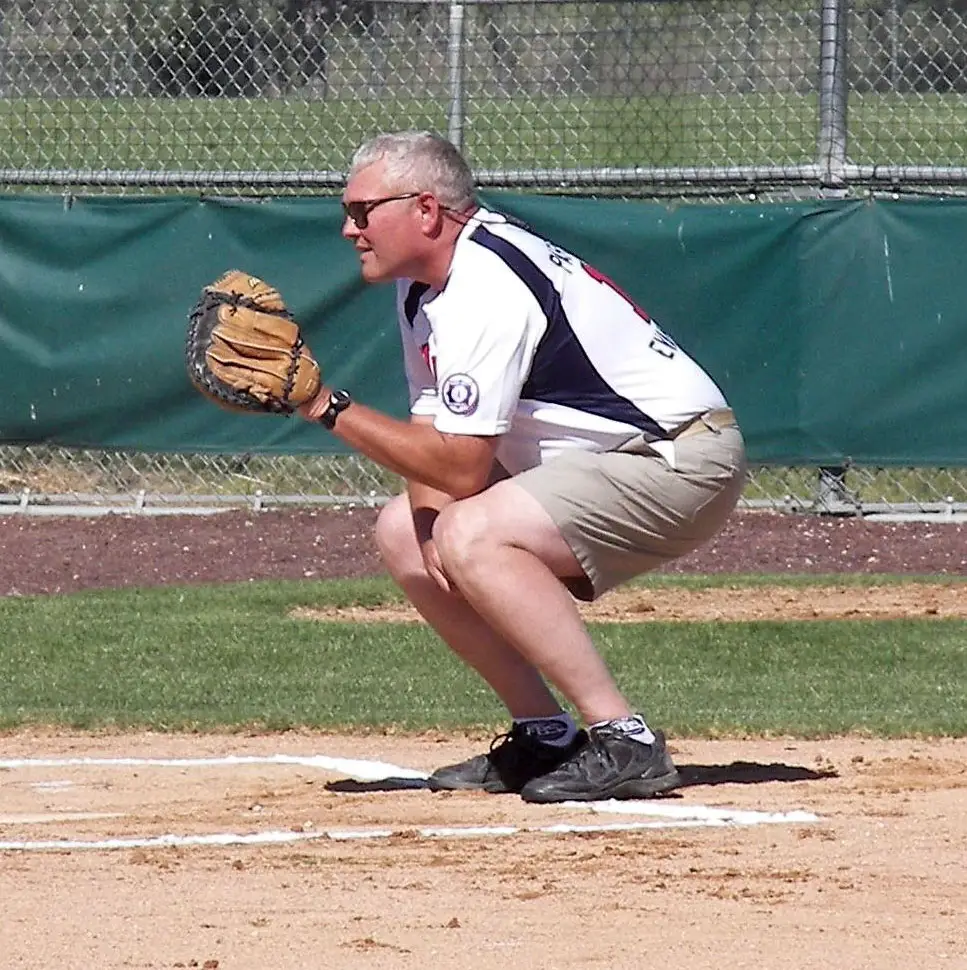 My name is David Farnum and I've been a Little League Coach in my community for the past 7 years. With 2 boys playing baseball and 1 girl playing softball, most weekends I can be found near a baseball diamond.