Every baseball coach has unique drills and tricks to help their team perform better. From different hitting trainers to making every player run sprints, each exercise is designed to help you becom better. Recently fungo bats have become popular. Today, we'll explore what is a fungo bat, what are fungo bats used for, and much more.
| IMAGE | PRODUCT | Summary | | |
| --- | --- | --- | --- | --- |
| Editors Pick | Easton MLF5 Maple Wood Fungo Bat | best fungo bat overall | | Check Price |
| Best Seller | Louisville Slugger K100 Ash Wood Fungo Bat | most affordable fungo bat | | Check Price |
| | Marucci Aluminum Fungo Bat | best aluminum fungo bat | | Check Price |
| | SSK PS100 White Ash Fungo Bat | Fungo bat for MLB | | Check Price |
| | Baseball Express Fungo Bat | best fungo bat for softball | | Check Price |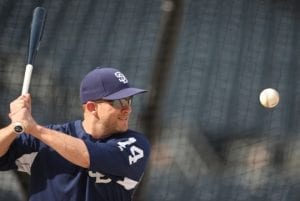 What is a Fungo Bat?
The name Fungo, sounds strange right? Well, the name has many definitions but the most sensible one is that the word is derived from the Scottish word 'Fung' which translates to pitch, toss, or fling. Fungo is the name of the action that is done while using the bat.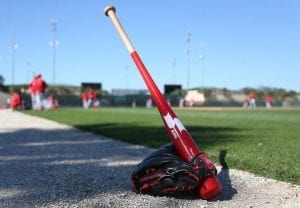 Fungo Bats are longer and lighter than the traditional bats. This leads to reduced fatigue and less chance of injury. Primarily used for practice, fungo bats have become very popular among some coaches.
Fungo bats were introduced in the year 1800s as a training apparatus and have become very popular since then. To see how a fungo bat is made, you can watch this video:
What is a Fungo Bat used for?
Fungo bats are only used for practice. The construction of the bat does not comply with the league rules leading to their use in practice – not in games.
Broadly the use of a fungo bat can be described as, a bat that is used for striking the ball in mid-air towards the receiving player. The benefit of using a fungo bat differs for both batters and infield or outfield players.
Now, you may be wondering – compared to other pieces of baseball training equipment, what are the main benefits of a fungo bat?
Fungo bats help players hit balls more accurately. In short, it improves their aim.
The construction of fungo bats allows coaches and players to send the ball accurately in a single direction in the entire field. Moreover, the lightweight and ergonomic form of fungo bats reduces the chance of fatigue or injury.
Fungo Bats improves Hand-Eye Coordination:
The entire process of using a fungo bat is a great way to improve hand-eye coordination. The actions that involve holding the bat in one hand and hitting the ball with the other hand, if done repeatedly, can be a great exercise for improving hand-eye coordination.
Saves you time and money:
Having a fungo bat can eliminate the need for many types of equipment such as the pitching machine. Moreover, it also rids the need for an assistant or coach to throw the ball at you. This can prevent you from spending money on costly equipment and save the time that you would normally waste while finding the best baseball training aids.
Acquire skills to win more games:
The entire goal of practicing with a fungo bat is to develop or hone the skills that help you become a good player. With fungo bats, you can invest more time to focus on improving power, precision, and speed for a long time without getting tired.
Apart from all these benefits, each fungo bat is constructed differently and comes with unique qualities that you can check before buying. You can also compare the fungo bats from different brands to find the bat that fits your requirement.
Best Fungo Bats:
Every fungo bat has a unique construction that enables it to offer special abilities to the person or player using it. Here we've picked the best fungo bats for baseball practice – coaches of all ages and abilities should take a serious look at these.
If you are looking for a good quality fungo bat, the Easton MLF5 Maple Wood Fungo Bat should be your first pick. The bat is made using maple wood which adds durability and an amazing 'crack' sound. Even though it is made from maple wood, the bat is surprisingly light.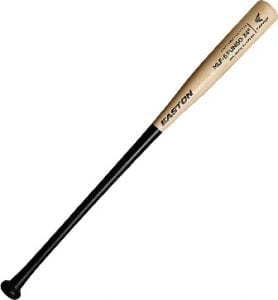 The construction of the bat is focused on giving you total control over all of your swings. The exceptional length of the bat is enough to create leverage and enable you to send the ball to the deep outfield.
Its light swing weight lets you place skill-testing ground balls anywhere on the dirt and keep hitting for hours without getting tired. It comes in 10 different colors – perfect if you want it to match your team colors.
Pros:
Created from Rock Hard North American Maple
Pro Cupped End
2 1/4 Inch Barrel Diameter
Cons:
It can be a little heavy for outfielders.
The longevity of the bat depends on how you use it
Louisville Slugger is one of the prominent baseball equipment manufacturers. The company is widely renowned for creating superior quality equipment that are used by the majority of baseball players. It has also released a fungo bat, named K100 made from Ashwood which can be great for practice.

The K100 is made by using premium grade Ash wood that has the ability to withstand long hours of practice and innumerable shots. It has been designed to assist players and coaches for perfecting technique and performance.
The K100 is specially designed for coaches to enable them to hit groundballs and easy flyballs for infield or outfield practice. It is a common fact that hitting ground balls and fly balls can be tiring, which is why the special construction of the fungo bats makes them lightweight and extremely easy to swing.
Due to their commendable qualities like lightweight, durability, and most importantly the ease of swing, they have become a preferred option among the coaches.
Pros:
Made from ash wood
36" length; 16oz weight
One style option
Cons:
It can be a little heavy for young players.
Starts chipping after prolonged use.
Not looking for a wooden fungo bat? The Marucci Coach Series Aluminum Fungo is worth a shot. As the name suggests, the bat is made from tough aluminum that adds commendable durability. It measures 35inch and weighs around 22 ounces.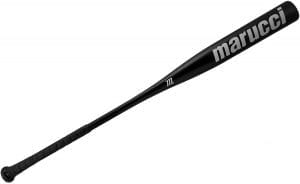 The Aluminum Fungo series from Marucci offers all the benefits of the traditional baseball bats from Marucci just in a fungo design. It has a high-strength alloy design that helps the players maintain superior control over the plate
It features the latest AV2 knob from the Marucci line-up. This feature has an upgraded, harmonic dampening system that reduces the negative vibrational feedback and gives a better feel.
The bat also comes with a professionally designed handle that is removable, an ergonomic knob shape for more top-hand control and comfort, and a micro-perforated soft-touch grip with extra tack to give you a firm grip.
Pros:
Professional quality materials
Unparalleled comfort
Highly Durable
Cons:
Aluminiumfungo bats take some getting used to
SSK has been regarded as one of the most widely preferred brands in the world of baseball. The bats made by the company have all the important qualities that are required in a pro baseball bat.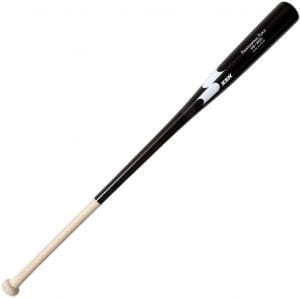 Coming to Fungo bats, SSK's PS100 White Ash Fungo Bat is one of the best bats for practice and it is extensively used by pro-MLB players. The bat is made from Japanese white ash wood which is thick helps in making the bat lightweight and durable.
For a balanced swing weight and better control, the bat has been designed to have a long barrel. The PS series has different versions and the PS100 is the smallest of them all. Youth leagues and MLB coaches use the bat for infield practice, while the little league coaches use it for all kinds of practices.
Pros:
Great pop, great feel, length, weight
It comes in every color imaginable which is a massive plus.
Hugely popular with lots of MLB players and teams.
Cons:
Can experience some slight dents after a season of practice
Baseball Express's notable line of products consists of some of the best baseball equipment that are used by the top players of the game. The company also has its exceptional range of fungo bats that can be a great addition to your practice kit.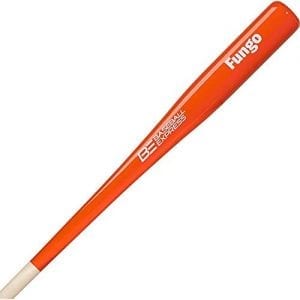 The Baseball Express Fungo bat is made of maple wood and offers the perfect pop. It has retained the traditional form that combined factors like durable construction and rock-hard finish. These bats don't come with a cupped end.
It only weighs 14 ounces and is one of the lightest bats in the entire industry. Moreover, this lightweight attributes to wonderful swing and balance the bat has to offer. It can be used for both baseball and softball.
Pros:
Lightweight
Balanced swing
Can be used for both baseball and softball
Cons:
Can break easily with powerful swings
Paint comes off too easily
How to hit with a Fungo baseball bat?
We already know the way a Fungo bat is used during practices. The fungo bat can be a great tool for batters who are aiming for perfection. However, to use the bat to its full potential, you need to first learn to use it right.
Fungo bats are not like regular bats and due to their construction, hitting the perfect shot at the very first try can be next to impossible. Here are some tips that you can use to nail your fungo ball practices.
Grabbing the bat:
When hitting with a fungo bat, you have to be quick on your feet. The typical procedure for hitting with a fungo bat is to toss the ball up in front of you and hit it.
A big factor in your accuracy and hit rate is dependent on how you grip the bat and get yourself ready for the strike.
Since fungo bats are thinner than the regular baseball bats, they have to be gripped a bit differently. The bottom handgrip can be like a normal baseball grip, but the upper hand grip has to be from the fingers and not from the palm. For the upper handgrip, the bat should to be held from your fingers wrapped around the bat.
Tossing the ball:
Once you have learned to grab the bat in the right way, you need to learn how to toss the ball for the hit. While there is only one direction to toss the ball, there are different ways to toss it. The most basic way to toss the ball is to hold the bat with the bottom grip and toss the ball with the upper hand.
This is the best way to toss the ball because the bottom hand will maintain the grip and give you the power required to hit the ball even if you are unable to get a grip for the upper hand and complete the shot.
Another way to toss the ball is to hold the bat with the upper grip and toss the ball from the under the bottom of the bat. This will help you get the complicated grip ready and the easy-grip you can hold it later.
Swinging the bat:
Fungo bats are don't require much power in the swing owing to their extended length. You just need to get the swing right and let the bat do the rest. To make sure you land a perfect hit, you need to be a good position with the right angle and grip. Once you're good with all that all you need to do is swing the bat.
To learn how to hit with a fungo bat, you can watch this video:
Conclusion:
Fungo bats are a great tool for practicing baseball, even though it takes time to get accustomed to using them. Once you start using them in practice though, you won't want to stop. Fungo bats are the best way to repetitively hit groundballs and flyballs for hours during practice. Due to their lightweight construction, you'll feel much better swinging a fungo bat than you will swinging a traditional aluminum bat.
Have you ever used a fungo bat? What did you think? Coaches and players chime in!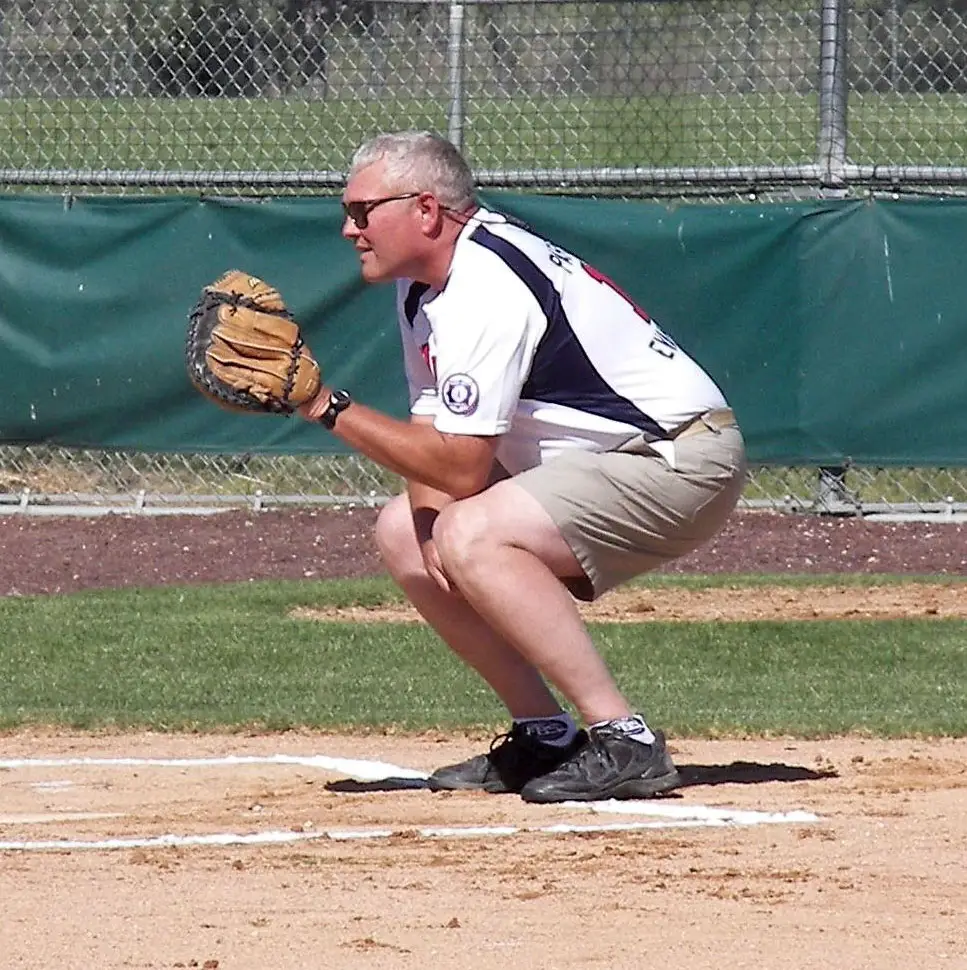 My name is David Farnum and I've been a Little League Coach in my community for the past 7 years. With 2 boys playing baseball and 1 girl playing softball, most weekends I can be found near a baseball diamond.