So, you were watching a game and noticed that the hitter is wearing something on their thumb.
What you saw is called a batting thumb ring. It's sometimes also called a batting thumb guard.
Some statistics show that four in every ten professional baseball players now use these guards in league games.
But what are these baseball thumb guards? And why are the pros suddenly wearing them more and more?
Do they offer any real benefits? And if yes, what are the best batting thumb rings in the market?
Don't worry because today we'll be answering those questions and more!
| IMAGE | PRODUCT | Description | Price Range | |
| --- | --- | --- | --- | --- |
| Editors Pick | Bukang Baseball Thumb Protector Set | One of the cheapest yet high quality options | $10 – $15 | Check Price |
| Best Seller | Franklin Sports Baseball Bat Swing Trainer | Helps with ensuring good batting technique | $5 – $10 | Check Price |
| | ProHitter Proper Grip Batter's Training Aid | Great for kids | $10 – $15 | Check Price |
| | Louisville Slugger Blaze Power Grip | Helps enhance grip and reduce stinging from the bat | $10 – $15 | Check Price |
What is A Baseball Thumb Guard?
Batting thumb guards or baseball thumb guards have been around for a few years – they're nothing new.
However, they have recently soared in popularity among big leaguers. Because of this, it's the younger players in the league have noticed and started using them as well.
These rings are typically made from a small piece of soft plastic, which has a hole to accommodate the thumb. The small size of the ring often leads it to go unnoticed – both live and on TV.
The primary benefit of wearing the ring is that it fills the gap between the thumb and the handlebar of the baseball bat.
A Baseball thumb guard is a piece of plastic to reduce the sting that results from a mishit. The vibrations of the bat from mishits can cause a lot of damage to the hitter's hands.
But thumb rings now have evolved to give players a range of other advantages.
Why Use a Thumb Guard?
There are several reasons you should consider using a thumb guard when you're on the diamond. The pros are using it for good reason.
Reduces the Sting from Mishits
This is pretty self-explanatory.
The average pitch speeds have exceeded the 90mph mark, and hitting a ball with force at such speed with the wrong spot on the bat produces a sharp stinging sensation. You'd be surprised to know how common hand injuries are in the game.
Wearing a thumb guard on the diamond absorbs a lot of the vibrations from the mishit, allowing you to give your 100% on the field all season.
Improves Your Grip
If you grip a baseball bat and analyze your grip long enough, you will notice that your palm is oval-shaped, whereas the bat is cylindrical.
Hitters are physically limited from getting a perfect grip on the bat.
But the plastic thumb ring fills the gap between the bat and the palm, which instantly improves grip. With a ring, you'll also need to exert yourself less to grip the bat.
Refines Technique
The improved grip and the lessened fear of the shock from mishits helps players on all parts of the skill scale refine their technique.
Beginners often find the batting thumb ring especially helpful since it helps them grip the bat correctly. A lot of coaches now encourage using a batting thumb ring for this reason.
Plus, improvement in technique may also result in an enhanced swing, increased power, and better speed.
One Note: None of the research behind batting thumb rings has been scientifically proven! There is no study that proves that batting thumb rings help in the way studies show that wearing a helmet can save lives.
However, with the big leaguers wearing it more and more and amateurs swearing by it for training, it may be worth a shot for you.
The good news is, there are several high-quality thumb rings you can buy right now and get a taste of the benefits yourself.
I'll review some of the market's best options below.
Best Baseball Thumb Guards
For less than what lunch costs, Bukang gives you a set of five high-quality batting thumb rings.
All of the rings in the set are a different color, and these can be used when playing both baseball and softball.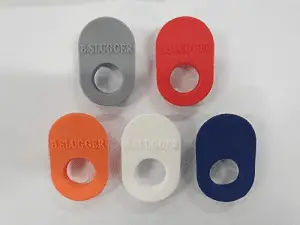 The batting aid must be worn on the thumb of the top hand, and the company implements what they call "pro-grip-tech."
This helps improves batting control, swing power, and speed.
These are some of the most affordable thumb protectors you'll find on the market. While they work the same as the others, it is important to note that they're not quite as soft as some of the premium options.
Pros
Affordable
Different colors in the set
Great value for money
Cons
Not as soft as other options
If you don't mind spending a little extra for quality, you won't regret getting the Franklin Sports bat swing trainer.
The sturdy batting aid makes you keep the bat in your fingers and not in your palms. You'll be forced to use the right batting technique when you wear it.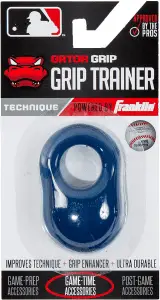 It also relieves a lot of stress from the thumb when you swing the bat.
But one of the best things about it is that it's built to last. The silicon construction gives it a lot of flexibility, but it will last you for seasons before showing signs of wear.
One other advantage it offers is that it helps prevent blisters on your hands.
Pros
Ultra-durable construction
Forces you to use the right technique
Prevents blisters
Fits both kids and adults
Cons
The ProHitter grip is explicitly meant for players aged 12 or younger. If your kid gets the batting technique right early, there's a good chance they'll go far in baseball or softball – whatever they play.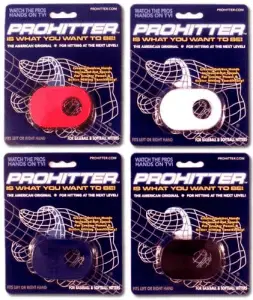 It can be used with both wood and aluminum bats and with or without gloves on.
The aids are reasonably priced, which is also excellent.
Pros
Affordable
Can be both with and without gloves
Cons
Only for players under the age of 12
Louisville's Slugger Blade Power Grip has a unique design that gives you an enhanced grip. But it also helps prevent hand injuries with the hexagon channel impact zone.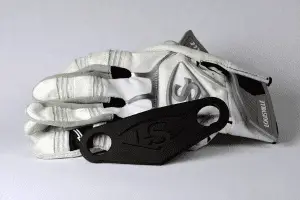 Pros
Fits both right- and left-handed people
Great for both kids and adults
Comfortable fit
Cons
Our Thoughts
Realize that even I say expensive, you can get the best batting thumb ring on the market for only ~$15. These aren't expensive pieces of equipment. However, I've played with and without them and I've found that they really help – for all of the benefits mentioned previously.
I would especially recommend using a batting thumb ring as you learn to swing in Little League. There it'll help develop your technique and prevent bat sting from mis-hits.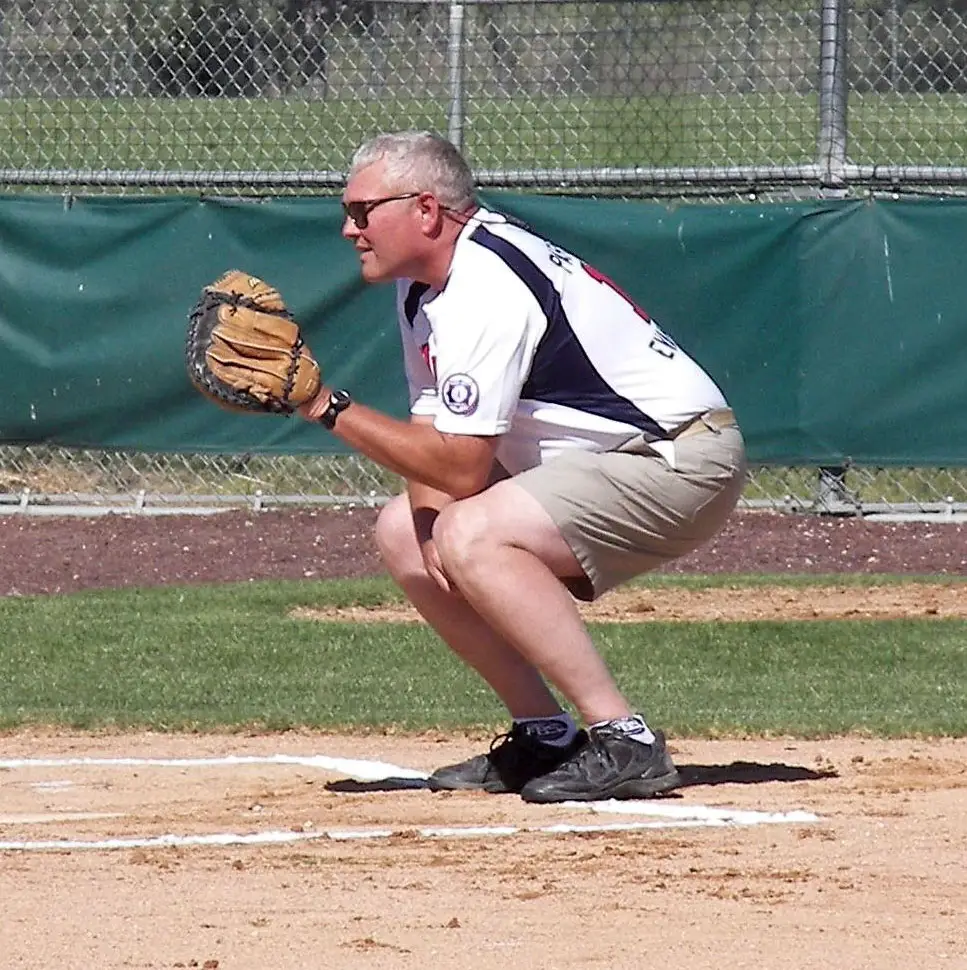 My name is David Farnum and I've been a Little League Coach in my community for the past 7 years. With 2 boys playing baseball and 1 girl playing softball, most weekends I can be found near a baseball diamond.