Weighted baseballs have been a hot topic of discussion in baseball dugouts for years. Do weighted baseballs work? Will using weighted baseballs cause injury? Well, step up to the plate because we're about to dive straight in this thorny issue.
I get it, you're always trying to find a way to get better. Could adding weighted baseballs do that for you? Yes.
| IMAGE | PRODUCT | Weight | Best Used For | |
| --- | --- | --- | --- | --- |
| Editors Pick | Markwort Weighted 9-Inch Baseballs | 5.6 oz | Pitching | Check Price |
| Best Seller | Franklin Sports Weighted Baseball | 10 oz | Pitching | Check Price |
| | SKLZ Weighted Training Baseballs | 12 oz | Pitching | Check Price |
| | SKLZ Contact Ball | 15 oz | Hitting | Check Price |
| | Atec Hi Per Power | 12.5 oz | Hitting | Check Price |
| | Hit Run Steal Weighted Practice Balls | 15 oz | Hitting | Check Price |
What are Weighted Baseballs?
Weighted baseballs are a special type of baseballs that are used for training. These baseballs can help build muscle and improve your pitching and batting technique.
Several scientific studies have shown that an exercise routine incorporating weighted baseballs can improve your fastball velocity .
However, remember the difference in weight. Since they are heavier than usual baseball, you need to watchout for injuries that can be incurred from it.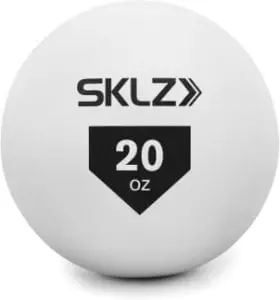 Note: While we'll commonly refer to weighted baseballs as heavier than normal baseballs in this article, there are also underweight baseballs. These are baseballs which are lighter than normal baseballs. The science behind these is less proven than heavier baseballs.
Many coaches and young players doubt the effectiveness of training with a weighted baseball, but there are numerous studies to prove that weighted baseballs can help you improve your game.
In this article, we'll answer some common questions that people have when it comes to using a weighted baseball.
What should I consider when using weighted baseballs in training?
Keeping the hazardous factors in mind these are variables that should be considered; you should not be undergoing any sort of pain or muscle damage. Your body movements should be fit for playing with a weighted baseball.
You also need to consider your anatomical maturity while playing. It is important to have a good foundation of strength while pitching a regular baseball. Most importantly, when using a weighted baseball you need to ensure that you have not participated in any velocity programs recently.
What are weighted baseballs used for?
Many baseball coaches make the argument that weighted baseballs are not necessary because you can just do strength training.
To an extent, that is true. Strength training develops a lot of similar muscles that help improve pitching speed and baseball performance.
However, while strength training can affect your velocity, training with a weighted ball can enable you to develop strength and coordination at the same time.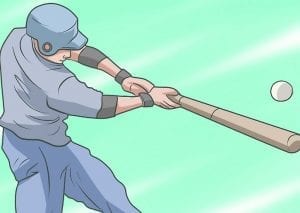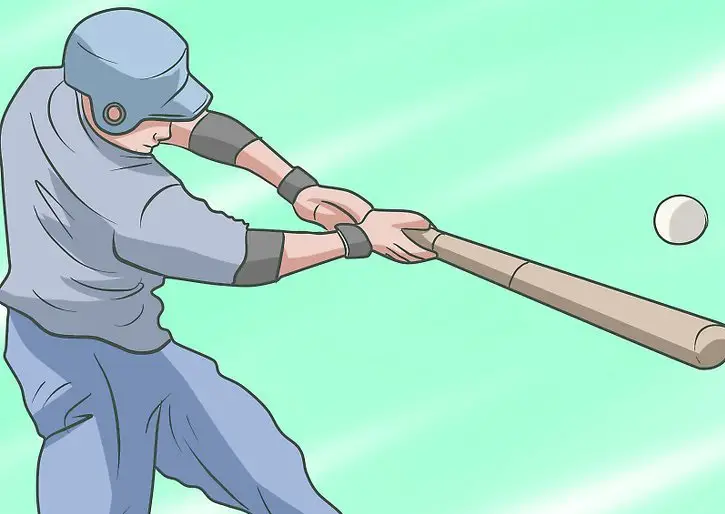 Weighted balls promote the coordination of muscle contraction and development of the efficient kinetic chain in the throwing motion.
The best way to use weighted baseballs is in a strict schedule that combines weighted baseballs and strength training to rapidly improve baseball performance.
Can training with weighted balls cause major injuries?
Any kind of training without proper management or assessment can be harmful. When training with a weighted baseball you can observe a few things, which can protect you from injuries.
You need to have a thorough assessment of your batting and pitching technique before starting to use weighted baseballs. This will let you gauge the amount of strain you can exert while training.
You have to be careful with using weighted baseballs but they don't cause any injuries if you follow these points.
20-30 minutes of warm-up between the practice sessions.
Carefully plan your throwing days so that you don't wear off your muscles.
Include strength training in your schedule; most importantly weight lifting will help you enhance your pitching movement.
Implement proper stretching and mobility routines before and after sessions.
Types of Weighted Baseballs
There are two types of weighted baseballs: overload and underload. A regular baseball weighs about 5 oz.
Overload and underload baseballs can be distinguished in terms of weight and impact on your training.
Underload weighted baseballs typically weighs about 3-4 ounces and are typically used to increase your speed.
Overload weighted baseballs typically weigh between 6-7 ounces and help you increase strength.
On a technique side, underweighted baseballs can help you produce superior elbow and shoulder angular velocity but with a reduced impact on the shoulder and elbow.
Using underweight baseballs trains the arm to move faster and develop quicker arm speed.
Overload baseballs on the other hand helps in conditioning the arm to produce better throw results. The weight of the ball influences the movement of the body by increasing the kinetics on the shoulder and elbow. This can help you improve the raw velocity of your fastball.
What are weighted baseballs used for?
From the information above it is pretty easy to understand that a weighted ball can help you gain speed and velocity but in order to use weighted baseballs in your training, let's break it down by position/role.
For Hitters
The use of weighted baseballs can work wonders for hitters. It is highly effective for players who struggle to finish their swing.
Weighted balls can also be a good way to implement good extension and follow-through, and getting your hands through the zone.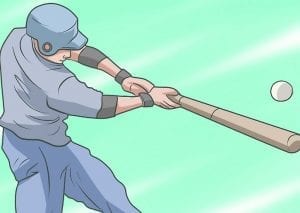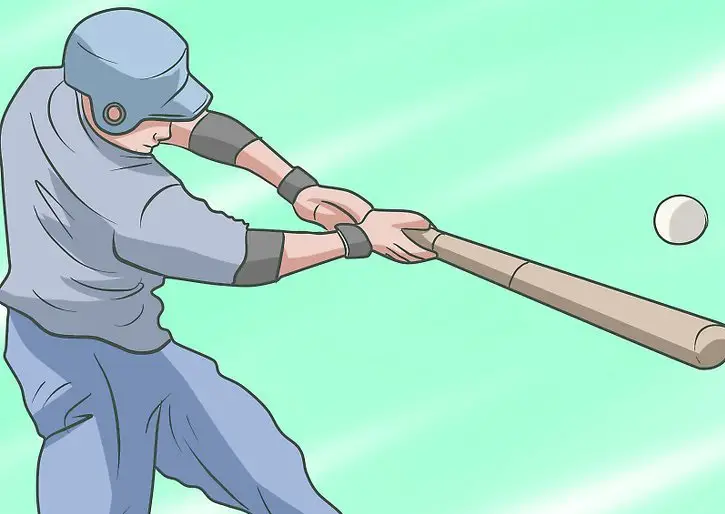 You can use the soft toss training for the same, by asking the pitcher to use regular baseballs and feed you from the front or the side for at least 8-10 reps.
You can then switch to weighted baseballs with the same distance and number of pitches. The basic indicator of improvement can be your movement.
After training with weighted baseballs for a while, you will be able to complete your swing even after the contact with the ball. You can repeat this training with preferred rotation.
For Pitchers
Pitchers play an important role in the entire baseball game. It is their performance that is often the pivotal role in the entire match. In order to throw a perfect pitch, pitches need to develop the right technique and have the perfect combination of speed and velocity.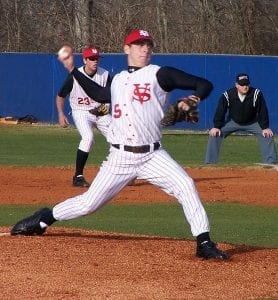 Weighted baseballs help pitchers correct their angle and increase swing power. To boost your speed and power, you can incorporate a couple of weighted balls exercises in your practice sessions.
You may face difficulties while throwing the ball first due to the heavyweight but after a few pitches or days of pitching, you will experience a tremendous change in your speed and velocity when switching back to regular baseballs.
Are weighted baseballs good for your arm?
The answer is YES – weighted baseballs can be good for your arm IF you have proper technique and use a proper training regime.
Many people think that weighted baseballs are bad for your arm. When you look closer, you'll see that they either use poor technique or overuse weighted baseballs.
Pitching is a high impact movement and requires a lot of strength that taxes the ligaments of your body. Weighted baseballs can help develop that strength safely IF used properly.
Before practicing with weighted baseballs, make sure you've talked to a baseball coach or pitching coach, to ensure you have the right technique and you're releasing the ball at the correct angle for each pitch.
Do not use weighted baseballs before making sure your technique is perfect.
What age can you start using weighted baseballs?
If used improperly, weighted baseballs can cause injuries that can keep you from playing baseball.
The best age to start using weighted baseballs is 16 years old.
At this age the body has developed anatomically enough that introducing weighted baseballs into a designating training program would be safe.
Using Weighted Baseballs: Advantages/Disadvantages
Advantages of Weighted Baseballs
Faster Pitches
As mentioned earlier, a weighted ball is attributed to improving performance.  Due to its heavyweight, a weighted ball pressurizes your muscle and increases power and speed of your pitch in the process.
Better Performance At-Bat
The balls that are used in tournaments are light and easier to hit. Weighted balls, on the other hand, are harder to hit as they require more force. Once you get used to striking the weighted ball, a regular ball with a child's play.
Quick Results
When it comes to increasing strength and speed for pitching and hitting, most people recommend a diligent strength workout training program. However, these workout regimes take time to slowly develop the muscle and even more time to help you apply the benefits to your game.
Because weighted baseballs are so similar to playing regular baseball, you'll begin to see results much quicker than you would by other training programs.
After practicing with weighted baseballs a couple of times every week, you'll be able to walk up to the plate and smash homeruns in no time.
Disadvantages of Weighted Baseballs
Exertion
As a strength workout, weighted baseballs take up more energy than the regular baseballs. Even though it helps to increase strength, there is a fair chance that throwing/hitting a few pitches will leave youstruggling for breath.
Difficult Schedule
While practicing with the right form and technique can help you gain great results, it's essential to have a good training regime.No matter how many pitches you throw or how many pitched balls you hit, if you are unable to get the reps and techniques right, your entire practice session will reap no result at the end.
As mentioned earlier, there are two types of weighted balls that can be used for training i.e. underload and overload. Using any one of them in your schedule will yield different results. Underload balls can help you develop high speed whereas overload balls can help you develop power.
Alternating underload/overload weighted baseballs is essential to a great routine using weighted baseballs.
Injury
Unlike regular balls, an injury incurred from a weighted ball can cause serious damage. Getting hit with a weighted ball can cause injury from swelling to bone damage.
Moreover, incurring damage while pitching can cause ligament damage, muscle tear,or even shoulder dislocation.
Be sure you have the correct technique and a good training program BEFORE starting to use weighted baseballs.
Best Weighted Baseballs for Pitching
There are some weighted baseballs that are specifically used for improving pitching performance. Here are some of my top picks:
Markwort Weighted 9-Inch Baseballs
Fine equipment to make your practice sessions worthwhile, Markwort weighted baseball promises longevity and better resistance. The baseball comes in the dimensions of 3 x 2.9 x 2.8 inches and weighs 5.6 ounces. Its PU leather cover provides better grip and cushioned landing making it safer for practice.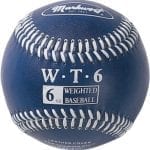 If you are looking to add power to your pitch, Markwort Weighted 9-inch baseball is the optimal choice. The Markwort Weighted 9-inch baseball comes with specific weight marking for better information of weight. It also has a close and strong stitch which makes it sturdy and renders a firm grip.
If you want to take your pitches to the next level, this is the baseball that should be a part of your practice kit. Franklin sport weighted baseball is a heavyweight ball that weighs 10 ounces. The weight of this ball is perfect for increasing power in the pitches.
Franklin Sports Weighted Baseball
If you want to take your pitches to the next level, this is the baseball that should be a part of your practice kit. Franklin sport weighted baseball is a heavyweight ball that weighs 10 ounces. The weight of this ball is perfect for increasing power in the pitches.

Franklin sports weighted baseball comes in the dimension of 7 x 3.5 x 2.8 inches and weighs around 11.2 ounces. The ball comes with a strong PU leather cover and sturdy inseams. The leather offers better cushioning of the ball in the hands and the seams offer an excellent grip while pitching.
SKLZ Weighted Training Baseballs
Firmly built, evenly weighted and superior quality leather usage are some of the constituents of the legendary SKLZ weighted baseball. SKLZ baseball is finely designed to enable you to hone your pitching skills and add power to your pitches. The ball has a sturdy seam that enables you to pitch better with firm grip.

The SKLZ weighted baseball is available in 0.1 x 0.1 inches and weighs 12 ounces. It can be used to develop immensely powerful pitches that can help your team with the game.  In order to play with this heavy-weighted ball, you first need to practice with weighted balls that are of lesser density.
Best Weighted Baseballs for Hitting
In baseball, batting requires as much power and speed as the pitch to score a point. There are numerous ways that you can use to increase your power and speed and practicing with a weighted ball can surely give you great results.
Here are some amazing weighted baseballs that can help you with your batting training.
SKLZ Contact Ball
SKLZ is no doubt the best-weighted baseball for batting practices.Its smooth body is built with high-quality materials that offer higher durability.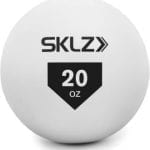 The ball weighs around 20 ounces which can make swings tough at first but once you get enough practice, hitting the ball would not be a hard task. The ball weighs 15 ounces and makes good practice equipment. Its heavy density will help you to gauge your swing power and also increase your swing strength at the same time.
Atec Hi Per Power
The Atec Hi Per Power ball 8 x 4 x 8 inches and weighs 3.4 pounds. The ball is made with an Xdc (Xtra durable composite) construction that protects the ball from cracking. The aerodynamic design of the ball lets you achieve consistent and accurate ball flight time with every hit.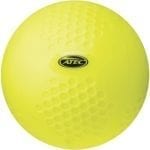 Atec is not very popular in the world of baseball but this product can bring about a change for the brand. The Atec Hi Per Powerbatting ball is commendable batting practice equipment that can be used for improving your batting skills. With a meticulous build and structure, it can increase your power and accuracy.
Hit Run Steal Weighted Practice Balls
If you are bored of the oddly colored baseballs and are looking for something trendy to practice with, then Hit Run Steal Weighted Practice Ballsare the perfect option for you. This graphically decorated ball not only looks good but is also great as practice equipment.

Hit Run Steal Weighted Practice Balls feature a bold red color and weigh 15 ounces. The ball is made out of high-quality PVC shell and is filled with sand for weight. The ball has a circumference of 3 inches and can fit the palm of your hand easily.
Hit Run Steal Weighted Practice Balls enables you to improve your game by adding power to your swings and help you hit with accuracy.
Our Final Thoughts
Weighted baseballs are a great training tool that are perfect to improve your pitching speed and hitting performance. Weighted baseballs are safe – providing you have the proper techniques down and use them in accordance with a good training schedule.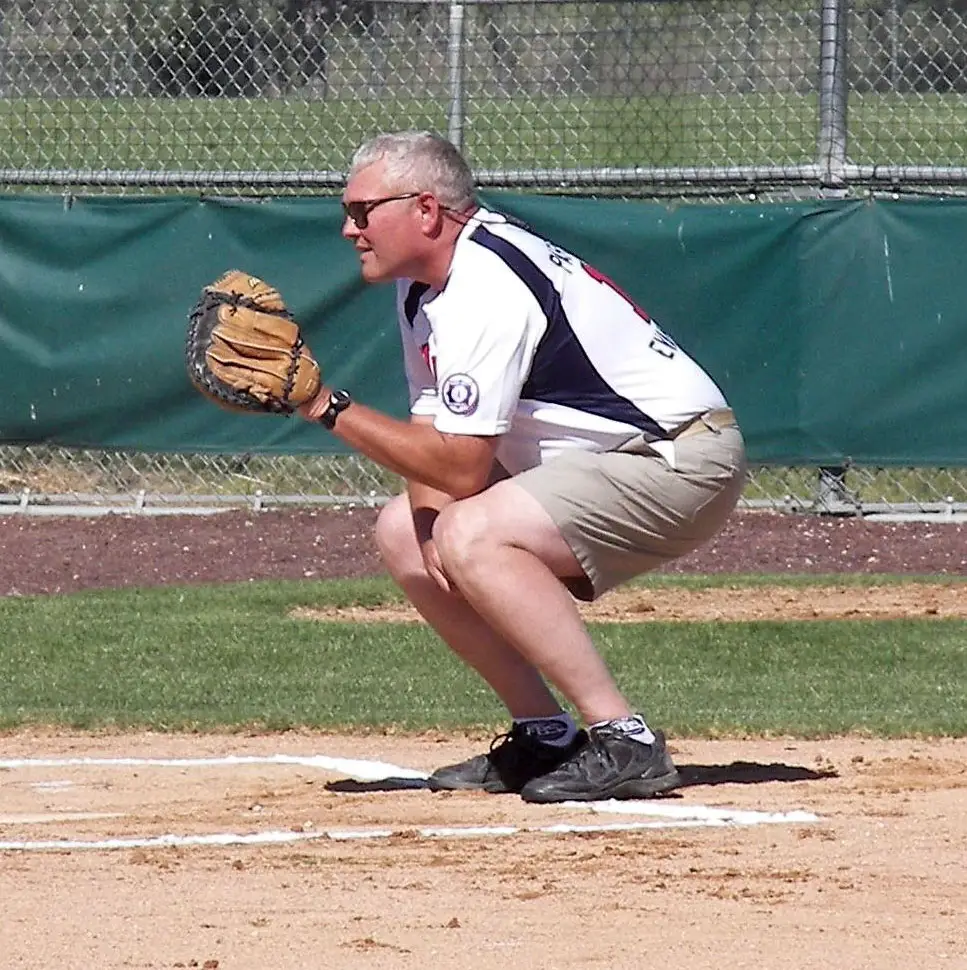 My name is David Farnum and I've been a Little League Coach in my community for the past 7 years. With 2 boys playing baseball and 1 girl playing softball, most weekends I can be found near a baseball diamond.