First Pitch Baseline Pitching Machine Review
First Pitch specializes in manufacturing pitching machines for the sports industry. For more than 20 years, they have produced high quality and consistent pitching machines for a variety of sports worldwide.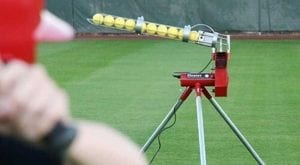 If you are on a hunt for the best pitching machine in the market, look no further. This First Pitch Baseline Pitching Machine facilitates the utmost quality, versatility, and safety for the players. However, before getting into the facts and features of the machine, let us first understand what it is.
| IMAGE | PRODUCT | Pros | Cons | |
| --- | --- | --- | --- | --- |
| Editors Pick | First Pitch Baseline Pitching Machine | Lightweight & reliable, the First Pitch pitching machine is one of the most affordable options on the market. | This pitching machine does require a power cord so that may hamper coaches taking out to the field. | Check Price |
What is a Pitching Machine for Baseball?
A Pitching Machine is an equipment that is engineered specifically to deliver accurate pitches for baseball or softball players. It helps batters in learning and enhancing their swinging and maneuver techniques. It throws all types of baseballs, softballs, or even dimple balls targeting the batsman.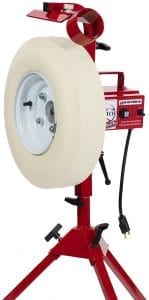 The First Pitch Baseline Pitching Machine is ideal for baseball or softball players who want to get better at hitting and have the time to commit. As one of the best-selling baseball pitching machines, here are some of the benefits of this machine.
Features
Adjustable Speed and Pitch Angle
This pitching machine is reliable and convenient for rookies, intermediates, or professional players. It offers adjustable speed levels for all types of batting players from 60 MPH for Softball to 70 MPH for Baseball. In addition, the design of the machine helps to throw precise and constant throw strikes targeted at the batter.
The capability of adjustable speeds and precision in strikes enables this equipment to be efficient and convenient for the newbies as it works. Moreover, you can easily alter the pitch angle of the machine to cover the complete plate area.
Easy to Switch Ball Type
It is an impeccable machine for players that are on a hunt for versatility. It is created in a way to effortlessly switch balls from Softball to Baseball to Dimple. This machine works well with sports and materials such as Baseball, Softball that are dimpled, made of leather, and approximately 11" or 12" balls. Hence, you do not have to spend on different equipment for different sports.
The rapid-change engineering in the First Pitch machine allows switching of any type of balls just in seconds. Therefore, this helps to save time and money spent on procuring individual machines. This is an all in one equipment and perhaps one of the best ones in the market.
Reversible Legs  
The Pitching machine facilitates reversible legs that help to adjust the machine from baseball to softball. It is quite easy and doesn't require any tools or hard work for the adjustment. In fact, you don't even need to be an expert, and just under 2 minutes you are good to go for any of your preferred sport.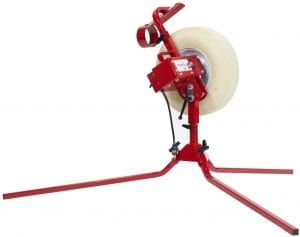 Moreover, you get the most suitable working height for your gameplay, as it is built for all the types of height (small or tall) of players.
Base Stability
The most intriguing factor of this pitching machine is that it offers a stable base because of the in-built capped steel legs. Thereby, whilst throwing the ball, you do not need to worry about the instability or inaccuracy of the machine. You just need to keep in mind that the equipment is placed on a flat level surface for the utmost stability.
Moreover, the pitching machine has the ability to throw different types of balls such as pop flies, fastballs, fly balls, changeups, dimple balls, ground balls, and pitches.
Covers Wide Area
It provides a feature that is the best way to train and improve your batting and pitching skills for either of the sports. This machine is equipped with 360-degree adjustment thereby, enabling you to catch fly balls and fielding the grounds from anywhere on the field possible.
It adds an extra challenge to your field training sessions. Moreover, the machine's accurate dampening locks facilitate effortless adjustments to any angle you prefer.
Durable and High-Quality Construction
The First Pitch Baseline Pitching Machine is engineered with all-steel materials to add durability and facilitate high quality whilst performing on the field. A well-constructed machine offers a ¼ HP motor along with an extra-large shaft and bearing. This helps to increase the strength and protect from any external damage.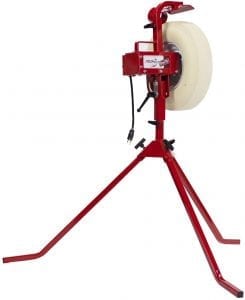 The materials used on the equipment assures that it is compact and sturdy to elude any breakage or bending of the machine in any circumstances. Moreover, it has capped steel legs to give stability to the machine in all kinds of weather conditions or ground levels.
The pitching machine's strength facilitates to deliver powerful and rapid speed throws in the field. It has a curved skid plate that provides ball durability and precision in the pitch. Besides, the machine is equipped with an electric motor that provides constant power up to 110V.
Safety and Security
The best part of this pitching machine is that it is safe around children. Whilst most parents and coaches often worry about the dangers and harm of motors around children, this equipment is quite safe and secure to use. The electric motor in the machine is covered in steel that guarantees the security of children.
It eludes any accidents that can happen while training with children. Regardless, it has an accurate dampening lock that facilitates effortless adjustments and locks the machine's settings whilst in usage.
Price Range
Astonishingly it is quite affordable with the utmost quality and performance this pitching machine offers. Thereby, you get to have an excellent experience of training without splurging your bank account.
It is reliable and durable; thus, it is an exceptional investment without worrying about replacing the equipment. It usually comes with a 5-year warranty. Moreover, it is an ideal product for training children or beginners, as the speed can be easily adjusted according to their needs.
Installation
The installation of this pitching machine is simple to understand and it is not time-consuming. Besides, it is provided with a ball feeder and as mentioned above, it throws all kinds of balls. Thereby, you don't need to spend extra on purchasing a separate ball feeder.
Pros
Cons
It is lightweight and reliable

If not placed on a leveled ground, it can get unstable
You can easily install the machine without any time consumption
Sometimes it gives imprecise speed level. Mostly slower than the actual speed
It has simple and in-built control that can be understood easily

The machine is sturdy and durable as it is constructed with all-steel material
It needs a power connection as the machine is restricted to zones with a power source

The open-wheel of the machine is prone to friction burn
It is safe around children
It throws the ball at a consistent pace and accurate levels
Suitable for all types of players
An excellent way to bond with family and friends
Mostly comes with 5 years warranty
Conclusion
The First Pitch Baseline Pitching machine is a onetime that is well worth it for serious baseball and softball players. It's affordable, capable, and a great baseball training aid.
is an amazing way to train your children or players for the respective sport. It is convenient, effective, and a fun way to improve or brush up the batting and pitching skills of all types of players.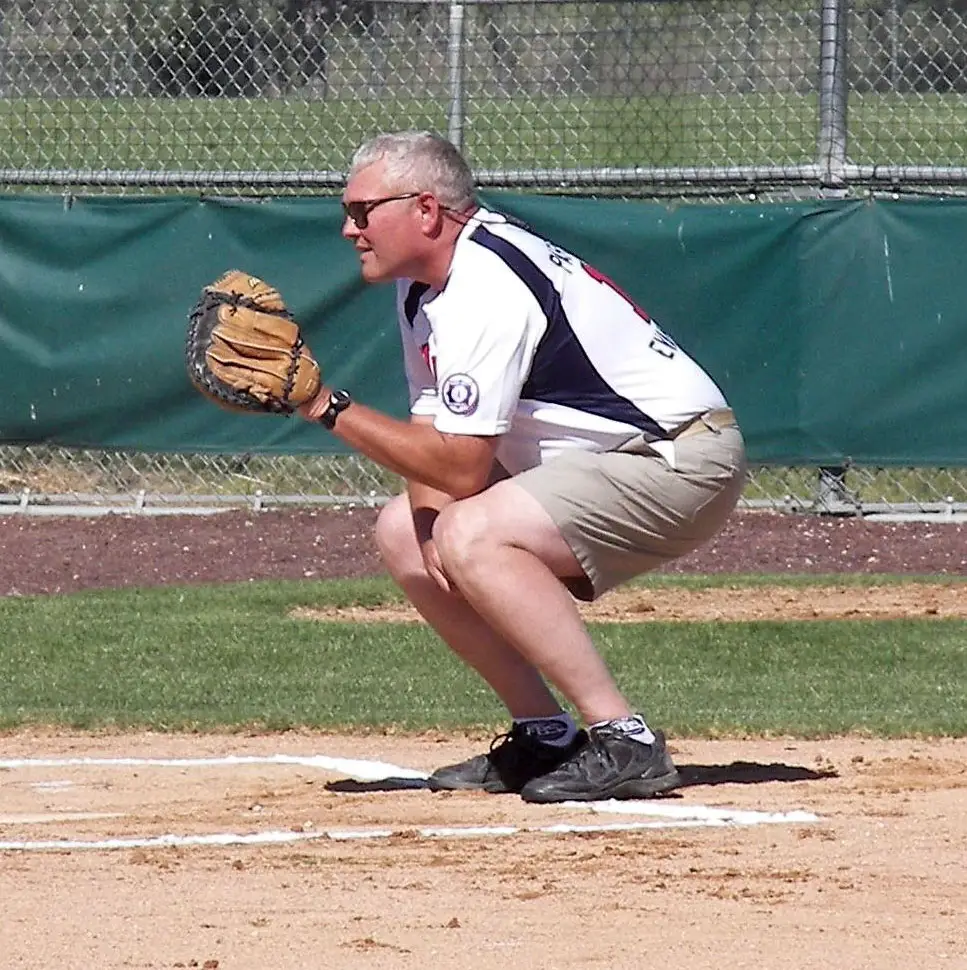 My name is David Farnum and I've been a Little League Coach in my community for the past 7 years. With 2 boys playing baseball and 1 girl playing softball, most weekends I can be found near a baseball diamond.