Seven Best Double Wall Softball Bats for More Home Runs
Regardless of if you're a beginner or an experienced softball player, there's no questioning the fact that the best double wall softball bat you use can make or break your game.
Knowing that you can rely on your bat regardless of what the pitcher has in store or what the circumstances are can help you make the most of every pitch.
Double-walled bats are known to be some of the best softball bats that exist. If your league allows it, you should look into getting one.
But finding the right bat can be a real chore – there are dozens of seemingly perfect options to pick from.
To help you out, in this post, I will highlight seven of the best double wall softball bats in the market.
| IMAGE | PRODUCT | Description | Price | |
| --- | --- | --- | --- | --- |
| Editors Pick | EASTON GHOST | Most popular for a reason. Not cheap but it's hitting power is unparalleled. | $$ | Check Price |
| | EASTON GHOST ADVANCED | The Advanced version comes in with 2x the pop and loads of power. | $$$ | Check Price |
| Most Popular | DeMarini 2020 Prism | With power and style, this bat is perfect for any softball player | $$$ | Check Price |
| | Louisville Slugger Xeno Plus 17 | Comfortable and designed for power hitters | $ | Check Price |
| | DeMarini Juggy OVL Slowpitch Bat | It's hard not to like a rad-looking bat regardless of what it feels like in hand. | $$ | Check Price |
| | Mizuno F20-CRBN | Most affordable softball bat on this list yet it doesn't sacrifice on quality | $ | Check Price |
| | Anderson Bat Company Women's Rocketech 2.0 | Affordable yet strong, this is another top pick | $ | Check Price |
But before I do, let me shine some light on what a double wall softball bat is and how it is better than its single-walled counterparts.
What is A Double Wall Softball Bat?
It's a little self-explanatory – a double wall softball bat has two walls or shells instead of one. For this reason, they are also sometimes called double-barrel bats.
These bats are typically made from aluminum or a combination of alloys, and they are hollow on the inside.
Another difference between a "regular" single-walled bat and a double-wall bat is that the effective hitting area is larger and typically extends throughout the barrel.
This can be advantageous regardless of the hitter's skill level.
However, it is important to remember that not every league allows the use of these bats. Make sure you check with the coach or ask another player before showing up with a double-walled softball bat.
Why Use The Best Double Wall Softball Bats?
This is an excellent question since single wall softball bats are allowed in virtually every league, whereas double-wall bats are not.
Why should you take the time and tax yourself looking for the right double wall bat?
Well, for two reasons:
Durability
Single wall softball bats require a ton of maintenance and need to be handled with care if you want them to last for multiple seasons.
However, you will face no such problems with a double wall softball bat.
Many companies promise that their double-wall softball bat lasts much longer than an average double wall softball bat because the walls are thicker.
This isn't always the case, since there are several other factors to consider when gauging the bat's quality and durability. The bat's design is only one of these factors.
However, bats with thicker walls tend to last longer, so it's an entirely plausible explanation.
The bottom line is, as long as you get a quality double-wall bat, you can be sure that it will last you longer than a single wall bat.
Trampoline Effect (More Pop)
The trampoline effect of the bat is the main advantage it offers.
When you swing the average double-wall bat hard, you will notice that the ball goes noticeably further away.
It's easier to hit home runs with a double-wall bat for this reason – the increased "pop."
The reason behind the trampoline effect is that both the walls of the bat flex when it hits the ball. When the walls spring back into position, the ball gets an extra jolt of energy, which typically sends it flying.
Now that you know why you should get a double-wall bat, here's a list of seven of the industry's best double-walled softball bats you can choose from.
Best Double Wall Softball Bats
The GHOST is one of the most popular softball bats for good reason. Sure, it doesn't come cheap, but the value it offers to a hitter is matchless.
Like all other bats on this list, the double-barrel bat has excellent pop. But the feel and sound are super satisfying and invoke confidence.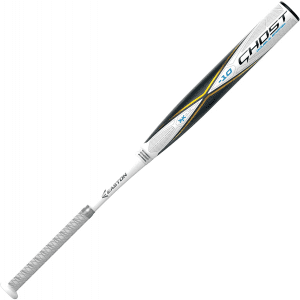 The bat comes with EASTON's XTX – which stands for Extra Tough Resin Matrix Technology. The tech makes the bat extra durable by making for extremely low barrel compression.
While this won't affect the bat's pop, in addition to increasing the life of the bat, it will also reduce the vibration you feel when you swing the bat.
If you play aggressively and aim for home runs in every game, the comfort the tech offers counts for a lot.
The two-piece bat also features EASTON's ConneXion+ technology, incorporating Nitro cell foam into the bat.
The foam keeps the bat consistently balanced – it won't feel weirdly heavy in your hands at times, and the reliable connection also contributes to the bat's overall excellent feel.
The bat is approved for all fields – which is a massive advantage.
You don't have to worry whether the bat is illegal on a given pitch since it is certified for ASA, NSA, ISA, ISF, and USSSA (fast-pitch only).
The 1.2mm Hyperskin grip is another feature that invokes confidence. However, the grip's thinness ensures that the handle never feels too big or uncomfortable to hold onto.
It comes with a standard one-year warranty and is available in all sizes: 30", 31", 32", 33", and 34" sizes with -11, -10, -9, and -8 drops.
Pros
Approved for all leagues
Available in all sizes and weight drops
Comes with 1.2mm Hyperskin grip
Low barrel compression = low vibration and high comfort
Excellent pop and sound
Cons
If you're willing to pay a little extra for more pop, you won't regret getting the EASTON GHOST ADVANCED.
The inner barrel is designed to be lighter and more flexible, and the outer barrel is designed to be super robust.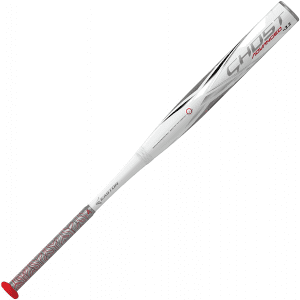 The peculiarity of the design reduces compression down to virtually zero, increasing barrel flex and giving the bat more pop.
There's more.
The launch composite technology that comes incorporated into the bat makes for a larger sweet spot than you'd find on a run-of-the-mill bat.
If you're on the diamond and want an edge over the other team, this is the bat you buy.
Additionally, the company's patent-pending soft knob tech reduces vibration for the bottom hand while giving you more power potential. You'd be amazed at how much easier hitting a home run is with the bat!
Since it's a GHOST, this bat also comes with the ConneXion tech. However, the tech is improved and enhanced for this bat.
The GHOST ADVANCED comes with ConneXion Evolution – the amount of Nitro cell foam injected into the bat is doubled, which makes it the best feeling bat that EASTON has made to date.
In addition to the 30"-34" sizes, a 29" version is also available.
Pros
Power Boost tech increases the power of hits
Lizard skin custom bat grip – excellent feel and tack
Double the Nitrocell foam
Bigger sweet spot
Cons
If the bat's look is something you like to factor into your purchase decision along with the performance, the DeMarini Prism is right for you.
"Prism" is apt as a name for the bat – it's one of the most attractive bats in the market for sure.

But no compromises are made to quality and performance.
It comes with DeMarini's Doublewall Gapped Barrel Technology, which gives the bat a massive sweet spot. This is very advantageous in any game in every league.
Speaking of leagues – the bat is certified for every field. You can safely play with it in ASA, USSSA, NSA, ISA, and ISF leagues without worrying about getting in trouble.
The bat sounds great, and the feel is solid too.
The excellent feel of the bat is owed to the continuous fiber composite barrel. It's very light and comes with no excess or breaks – just pure performance.
Additionally, the ReFract EndCap works seamlessly with the Continuous Fiber Gapped Wall to help hitter generate more bat speed and make the most of every ball that comes their way.
Another excellent feature is its 3Fusion Connection. It stabilizes the two-piece bat to reduce vibration while making for better weight control.
It is available in many sizes with -10 and -11 drop weights, and for the money, it's one of the best-rounded bats available.
Pros
Approved for all leagues
Massive sweet spot
Eye-catching design
3Fusion Connection
Cons
Supposed quality control issues
Comfort and ease when batting is something all players long for. However, the hunt for the right bat gets a lot more complicated for younger players.
Style and weight are two more things you will need to factor aside from the bat's feel.

Luckily, the Louisville Slugger Xeno Plus 17 looks and feels excellent coming in at a weight drop of -11. It's perfect for 10-13-year-olds!
It has excellent pop right out the wrapper owing to the integrated S1iD Barrel Technology. You won't need to wait for it to break in to see an improvement in performance!
The bat boasts a composite, zero-friction double-wall design, which gives it fantastic pop. The bat will achieve its maximum flex without much effort or resistance, making it an excellent option for young softball players.
The sweet spot is large, and in addition to being super light, it's also perfectly balanced. Swinging the bat will undoubtedly be easier for beginners.
The iST Technology incorporated into the bat reduces the negative feedback from mishits, and the high-quality fade synthetic grip gives the handle a super comfortable feel.
Overall, it's one of the best double-wall bats money can buy for young softball players.
Pros
Excellent pricing
Lightweight yet excellent pop
Minimal negative feedback
Comfy handle grip
Cons
Best for 10-13-year-olds only
It's hard not to like a rad-looking bat regardless of what it feels like in hand.
However, the DeMarini Juggy offers the best of both worlds – it looks great and feels better!

The stacked doubled walled construction makes for soft compression, and since it's end-loaded, it's perfect for heavy-hitters looking to knock one out of the park in every game.
The composite construction is fortified by the Znx alloy handle used. The alloy increases the stiffness of the bat and also makes it more durable.
With increased stiffness comes increased ball deflection. The bat has excellent pop!
But just like every other bat, the Juggy also has its disadvantages. It's only approved for the ASA league.
Also, it's only available in the 34" size, but it does come in different weight drops, so you can pick whatever you find comfortable.
Pros
Great look
Soft compression and a nice pop
Znx alloy handle
Cons
Only stamped for ASA
Slightly expensive for what's offered
It's hard to find another bat that's worth the money more than the Mizuno F20-CRBN is.
There's a lot more on offer besides the unique, attractive look.

The bat comes with XZone tech, which creates a massive sweet spot on the bat by adjusting the composite angles at ten specific points on the barrel.
Since the F20-CRBN is made out of black array carbon, it has a shorter break-in time than most other bats.
Furthermore, the anti-shock design makes those mishits more forgiving by reducing the vibrations.
But what makes it worth the price is its durability. It's the most affordable bat on this list of the best double wall softball bats, but no compromises are made to quality.
The bat is made using the Cylinder Seaming Construction Process, giving the bat a longer life.
Pros
Anti-shock design
Unique look
Affordable
Approved for all leagues
Large sweet spot
Cons
Only available with -10 weight drop
The Rocketech 2.0 is another excellent low-priced bat that offers a lot of value.
This "muscled up" best double wall softball bat is end-loaded, giving hitters the feel they need to comfortably knock balls out of the park.

The larger sweet spot is more forgiving to beginners that are trying to perform well on the diamond.
Its reduced moment of inertia is another significant advantage – it makes the bat more comfortable to handle and allows hitters to swing more freely.
The plush, padded grip makes for a firm feel when held, and its spiral design gives you a confident grip.
The bat is approved for ASA, USSSA, NSA, and ISA, ensuring that you can play with it even if you're traveling.
Pros
End-loaded bat
Low price
Plush, padded grip
Low MOI
Cons
Only available in 31" size with -9 weight drop
Best Double Wall Softball Bats: Our Final Thoughts
The EASTON GHOST ADVANCED is the best double wall softball bat money can buy.
It has otherworldly pop, a massive sweet spot, a vibration-absorbing knob, and comes with advanced ConneXion tech, which makes it the best-feeling bat the company has made.
The bat will make hitting home runs easier, and not giving it my full recommendation would be almost insulting.
You cannot go wrong with the EASTON GHOST ADVANCED.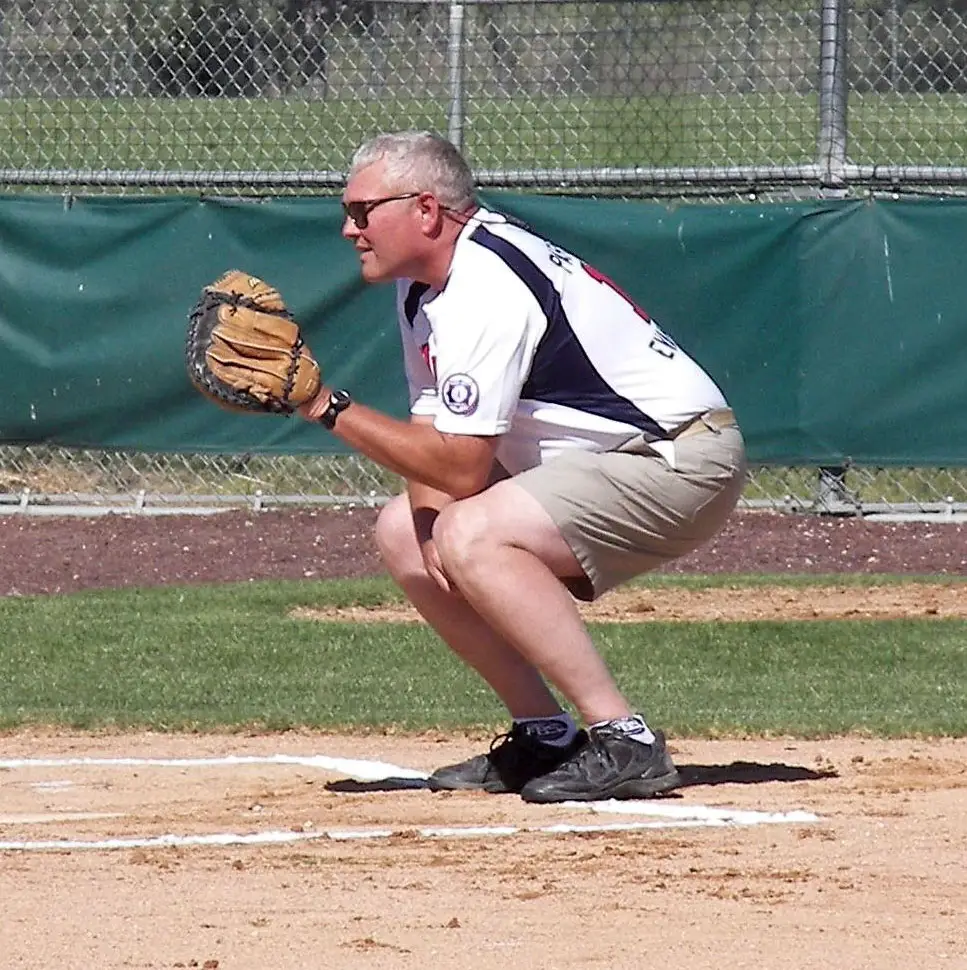 My name is David Farnum and I've been a Little League Coach in my community for the past 7 years. With 2 boys playing baseball and 1 girl playing softball, most weekends I can be found near a baseball diamond.