Wiffle ball is one of the best games you could play in your backyard.
Wiffleball came about as a toned down version of baseball and was originally meant to be played in confined spaces.
Today though, whether you're playing with your kids or having a friendly game with your friends, it's a game that all can play – especially on hot summer days!
Buying the right bat will help ensure that you have a great time – whether you're with your friends or with your kids, nephews, or nieces.
But before I get into highlighting the seven best Wiffle ball bats in the market, let me clear the air as to what a Wiffle ball bat is.
| IMAGE | PRODUCT | Description | Price | |
| --- | --- | --- | --- | --- |
| Editors Pick | The Original WIFFLE Bat & Ball | The original wiffle ball bat | $ | Check Price |
| | Franklin Sports MLB 30" Authentic Plastic Bat & Ball Set | Cheaper yet still just as good as the original | $ | Check Price |
| | EASTON PRO STIX | For the people who prioritize looks | $ | Check Price |
| | BLITZBALL Starter Pack | Best used by Adults | $ | Check Price |
| | Louisville Slugger Replica | Perfect to train kids how to hit the ball | $$ | Check Price |
What Is a Wiffle Ball Bat?
While we're accustomed to calling the game Wiffle ball, Wiffle is the name of a brand.
WIFFLE® ball bats are those yellow plastic bats that you've seen at least once. Purists that love the game stick to playing with these bats only – after all, there can only be one original.
However, many other brands supply bats that are better than the original in some ways.
To help you find the right Wiffle bat, in this post, I will give you a brief overview of some of the best bats for playing Wiffle ball, along with their pros and cons.
Of course, I'm going to start by discussing the features of the original. This will help you figure out how the other bats contrast with the original.
Top 7 Best Wiffle Ball Bats
There's nothing quite like the original.
The iconic WIFFLE bat and ball set comprises a hollow plastic bat that's 32" long. It comes in the trademarked yellow color – that's how you can tell it's the original.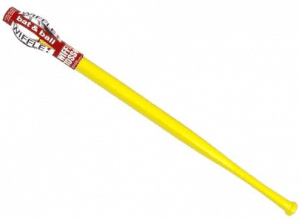 Baseball bats have a maximum length of 34", so you'd think that the original WIFFLE bat wouldn't feel much different.
However, you'd be surprised at how different the bat feels in the hands. It's a lot lighter and noticeably thinner than the average baseball bat.
The lighter weight means that kids can't hurt anybody with it accidentally. Additionally, the included plastic ball comes with carefully-placed perforations, making it a lot lighter than the average baseball.
As a result, the ball moves a lot slower than the average baseball, which means even if someone hits it hard, they won't accidentally break the windows.
But this doesn't mean you can't get some big hits with it if you're planning to play with friends or even with your family on, say, Easter day.
It's made in the USA, and while the bat and the ball are lightweight and hollow, you don't have to worry about them breaking after the first use.
The bat-ball set is super affordable and makes for an ideal gift to your children or nieces and nephews.
Pros
The untainted original
Lightweight and sturdy
Affordable
Cons
Some quality control issues (it's kind of cheap)
The Franklin Sports MLB bat and ball set is a lot different from the original WIFFLE set. But just like the original, it too has its pros and cons.
The bat is smaller at 30 inches, and while you may not find a significant difference in handling this bat versus the original, the difference can be huge for little children.

It will undoubtedly make playing the game and having fun a lot easier for four- and five-year-old children.
The bat comes in three different colors – red, green, and blue so you can find your child's favorite color.
Additionally, the bat isn't plain, like the original. It comes with grooves and grains, giving the bat the texture of wood.
Of course, since it's a set, it also comes with a ball. The ball is white and comes in the regulation size of 9", which can help a child get familiarized with what the ball looks like at different distances.
Both the bat and ball are sturdy, but not as sturdy as the original WIFFLE. You will be able to play rough with it and hit hard – that's not where the problem is.
However, the bat cannot handle the weight and force of a real baseball like the original WIFFLE can.
The plastic is not built to make heavy hits with real balls, and the bat will break.
On the plus side, though, the ball that comes with it makes a delightful whizzing sound when hit, making the game more engaging.
It's made in the USA, so quality isn't something you need to worry about.
Pros
Smaller 30" size makes it easier to handle
Comes in three colors
The ball comes in the regulation size of 9 inches
Interesting texture
Cons
Not dog proof so keep Fido away
If the look of the bat is something you take seriously, you cannot go wrong with the EASTON PRO STIX.
From a few feet away, you won't be able to tell it's made from plastic. That's because it's modeled out of a professional wood series bat.

However, this plastic series bat makes for a fun game of whiffle ball for both adults and kids. If you're looking to make some big hits, this is the right Wiffleball bat to buy.
It's just as light as the original WIFFLE bat, but it's longer at 33 inches, which means it's better geared for bigger children and adults.
It also comes with a seamed plastic training ball that's just as sturdy – the set will undoubtedly last for years.
But that's not even the best part. It doesn't cost a lot more than the original WIFFLE set, and sometimes, it even goes for much less than the original.
What's more is that it has incredible pop, making it the perfect Wiffleball bat for adults who want to play a casual game of home run derby.
However, you don't have to worry about handing it to a child – while the plastic is sturdy, it's far from harmful. It's lightweight and completely harmless regardless of who you give it to.
You can bet everybody at the park will want one!
Pros
 Looks real
Excellent pop
Great pricing
Super durable
Impossible to hurt somebody with it
Cons
Some purists don't like the look – it looks too mature
The BLITZBALL bat is another bat that boasts a striking design.
But this is a bat for more serious adults, and it's not really built for kids. BLITZBALL takes the idea of Wiffleball and adds a little more intensity to it.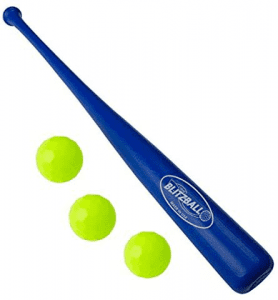 In essence, it's the same game with the same rules. However, the bat and ball combo is designed to supply more curving action, more speed, and more home run distance than Wiffle ball.
On average, the ball will travel 50% further away than a Wiffle ball will. This makes the game a little more fast-paced and exciting.
The bat is a bigger at 33 inches, but it still weighs a little under one ounce. The price is reasonable for what you get, and it comes with three balls and not one, which is excellent value.
You must keep in mind that the bat doesn't play well with regular Wiffle balls.
While the game is undoubtedly more intense, you don't have to worry about accidentally hurting someone.
It's perfectly safe for backyard use and can be great fun for kids if they're up for a more challenging game of Wiffle ball.
Pros
Faster-paced Wiffleball
Completely safe
Longer bat
Comes with three balls
Cons
Children may find it too challenging
The C271 34" league bat is one of the most recognizable bats ever made. And if you want to make your child feel like a real baseball player, this is the bat you should get.
The bat is a replica of the 34" C271 big-league baseball bat – it copies everything perfectly, down to the grooves and grains on the bat!

But, unlike the real bat, it's made from plastic. It's safe to use and has thin walls, which means there's no possibility of someone getting hurt from it.
It's quite long, so your child may have trouble handling it and playing with it. For children up to five years old, I would recommend looking for a smaller bat.
However, if you're confident that your child can handle the bat, it'll make for great backyard fun!
The bat and ball combo is manufactured in the USA; however, some customers report that it's only sturdy enough to handle Wiffle balls. Playing with the bat using tennis balls or other heavier balls is a no-no; the bat will break.
Pros
Excellent aesthetic
Great pricing
Safe to use
Cons
Long 34" bat, smaller children may not be able to handle it
If you're hunting for something you could gift your children, nieces, or nephews, or just want a full set of Wiffle ball stuff so you can truly immerse yourself in the game, this is the set to buy.
The gift pack set comes with two 32" original Wiffle bats, six white Wiffle baseballs, three base plates, one pitcher plate, and one home plate.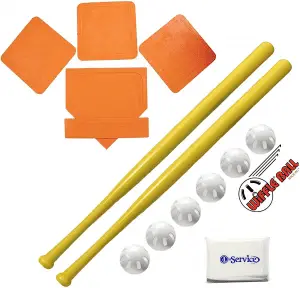 For something that costs less than a fancy meal would, it's excellent value.
In addition to the several pieces of Wiffle ball gear you get, the company throws in a pack of NOIS tissues for free!
The set is ideal for outdoor and indoor use (as long as there aren't any TVs in the room).
Getting one of these will ensure that the whole family has fun on a holiday. The impressive quality of the bats and balls is the main reason behind my recommendation – the set will last for years!
The bases are washable and are made from flexible rubber, which means you don't have to worry about the life of these, either.
Additionally, the bright orange color of the bases makes them easy to spot. The bases are large, measuring approximately one square foot, and the pitching plate is about a foot wide.
Larger players will be able to work with the plates with ease.
The bats are lightweight and small enough to be handled well by the youngest of players. Additionally, the balls are designed for slow and limited flight – I can safely recommend it for children aged three and up.
But here's the best part:
The entire set weighs less than four pounds, making it easy to pack and carry around!
Pros
● Super affordable
● Excellent quality
● Well-designed plates
● Lightweight and easy to carry around
Cons
● Games will be too slow-paced for adults
Although the market is saturated with options, it's still challenging to find a value-for-money Wiffle ball set.
But for a little more than what the average lunch costs, you get a set of Wiffle bats and balls that will last for ages.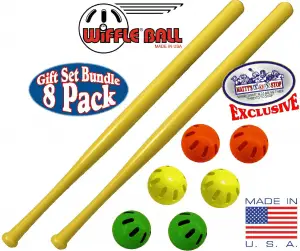 The Matty's Toy Shop exclusive gift set comes with two 32" Wiffle bats and a total of six balls – two in green, two in orange, and two in yellow.
The high-quality plastic makes it a great gift that'll last very long, and since the walls of the bat are thin, safety is guaranteed.
The Wiffle balls are designed to reduce the risk of high flight and cushion hard hits, which is an excellent feature.
Couple its looks and benefits with the low price, and you have a Wiffle ball set that I can recommend to anybody.
Pros
Low price
Safe to use bats
Excellently designed balls
Cons
Verdict
The EASTON PRO STIX looks and feels superior to all other bats on the list – including the original WIFFLE bat.
You won't even be able to tell that it's a Wiffle bat until you look closely!
That being said, it's entirely safe for use and has a fantastic pop – making for a fun game of Wiffle ball, whether it's the kids playing or the adults.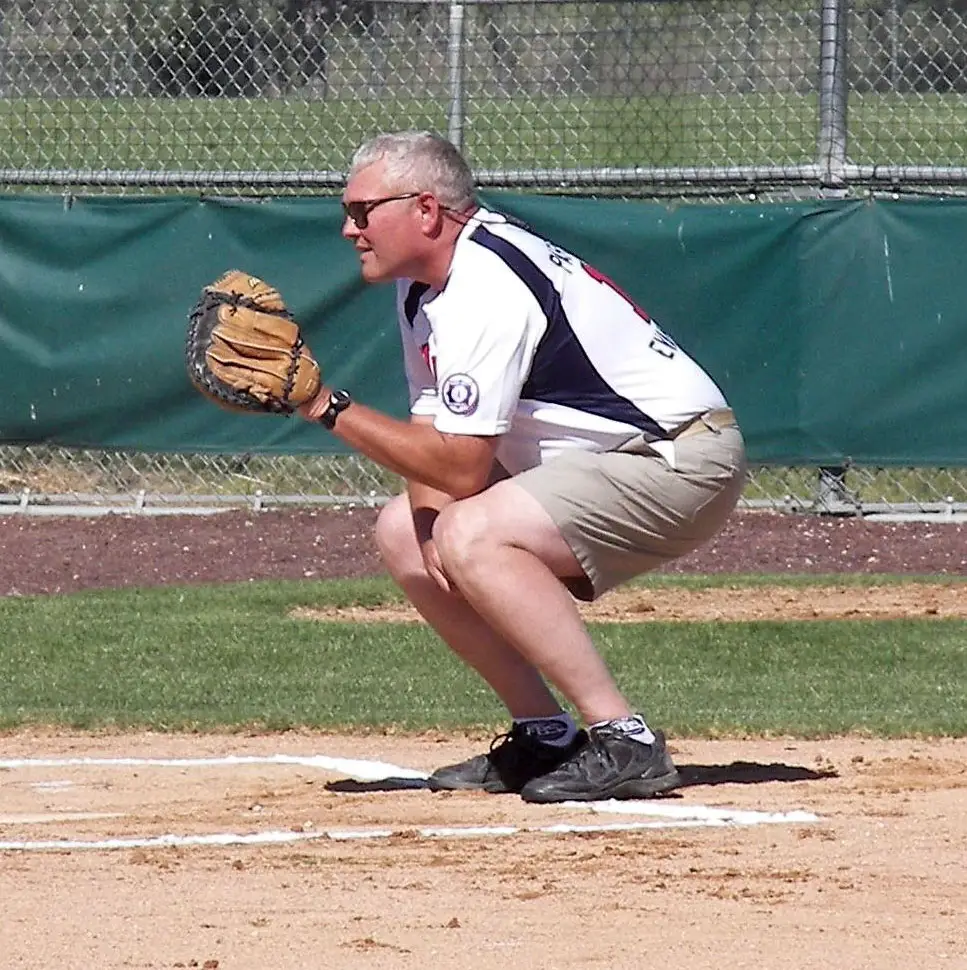 My name is David Farnum and I've been a Little League Coach in my community for the past 7 years. With 2 boys playing baseball and 1 girl playing softball, most weekends I can be found near a baseball diamond.