Pitching in baseball is all about the right timing and speed. There are several types of pitching in baseball, like curveball, forkball, knuckle-curve, and so many more. It is absolutely critical to maintain the right posture, timing, and precise speed before a throw.
A lot of people still aren't aware the overhand throwing was not allowed until 1884. Until then, baseball used to be a more difficult game to play, given that players were only allowed underhand pitching which was almost similar to pitching horseshoes.
| IMAGE | PRODUCT | Description | Foldable | |
| --- | --- | --- | --- | --- |
| Editors Pick | Easton Pro Style Baseball Pitching L-Screen | Portable but robust, this is the best pitching screen overall | Yes | Check Price |
| Best Seller | Fortress Pop-Up L-Screen | Foldable, durable, and safe, the affordable price makes this a best seller | Yes | Check Price |
| | Net World Sport Fortress | Perfect as a professional L screen for your team | No | Check Price |
| | Champro Pitcher Safety L-Screen | Not foldable but very durable, this net excels at protectingpitchers everywhere | no | Check Price |
| | Trigon Sports Pro Cage Black | Big enough to protect everybody from kids to adults | No | Check Price |
Protective screens are a major part of baseball practice sessions, and they have evolved a lot from their inception in the 1870s. The modern-day L-screen protective equipment uses advanced construction techniques to provide maximum protection to the player.
Basically, the L-screen allows pitchers to throw over the cut-out frame, and then take protection in the frame when the ball is hit back.
Why Do You Need An L-Screen?
A major potential issue anywhere in baseball is getting hit by the ball. Nobody is more at risk than the person at bat or the pitcher. If the pitcher's throw is slightly off, the baseball can hit the player and severely hurt him.
However, often the pitcher is even more at risk. If the batter hits a line drive straight at the pitcher, the baseball could be traveling more than 90 mph directly at the pitcher. Without quick reflexes, this poses serious potential for injury.
Having an L-screen majorly helps in such cases.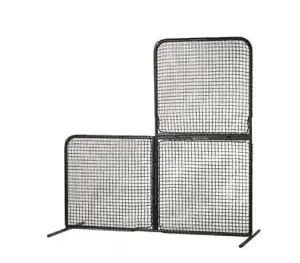 It keeps the pitchers safe during practice sessions, letting them test with new techniques and pitching styles.
To find you the best L-screen for baseball pitching, we have come up with five best L-screens that you can use during your practice sessions.
As a sportsman, portability and collapsibility matter the most. It might be pretty challenging to carry a massive baseball pitching screen around the baseball field repeatedly if it is not foldable.
Easton Pro Style is the L shaped baseball screen that is not only portable but robust enough to protect you from the driving hits while batting practice.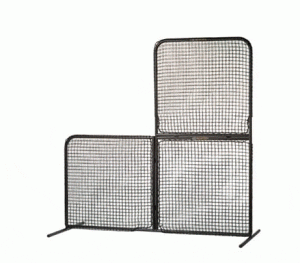 To provide full coverage to your baseball star, it is 7m long and 7m wide. Also, it has a very lightweight to provide it easy movement.
But its lightweight doesn't mean you are compromising on quality. Not just that, it is sturdy enough to face even the most powerful hit, but I won't be wrong calling it a heavy-duty L-screen.
It has three durable panels that will provide all-round protection to your kid. The panels are organized in a way that it gives complete coverage to the player while also giving him room to pitch well.
It has a unique design with which both the left-hander or the right-hander can use this L-screen with a similar comfort level.
The sidebars of this L-screen are made up of durable stainless steel that doesn't rust easily. Simultaneously, it has a polyester net on both sides of the grill that can resist powerful shots and throws gracefully.
Being foldable, this L-screen is 42-inches long, 41-inches wide, and 4-inches high after folding it completely. After folding, anyone can easily carry this L-screen along because of its negligible weight.
Its foldability also makes it very easy to load it into a car. You just need to fold into the minimum possible dimensions, and then you are good to go.
Pros:
Provides all-round protection to the batsmen, whether he is a left-handed or a right-handed pitcher.
Its strong polyester nets are capable of resisting even the most powerful throw.
The Foldability of this L-screen makes it very easy to carry it along.
It is both sturdy and lightweight.
Cons:
It corrodes quickly if left out in the rainy season.
If you want a foldable L-screen for your champ that is not only durable but guarantees complete safety, then the Fortress popup L-screen is what you need.
Being very easy to move and install, you can bring this L-screen to the pitch daily without hassle.
Setting up this L-screen is also a child's play. It requires just a few minutes to figure out its complete assembly.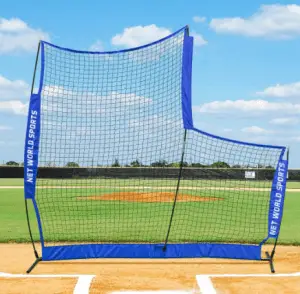 So, whether your champ is a left or a righty pitcher, he can use this L-screen as his safeguard. It even becomes easy for coaches to provide the right direction of bowling to the players with complete safety from hit drives.
This L-screen is 7 ft long and 7 ft wide attached with a sturdy heavy-duty stainless-steel pole. The steel poles are corrosion-free and are UV treated to protect it against the harsh sunlight.
For assembly of this L-screen, you need to attach the 1.8-inch-thick polyester net with the pole from all the five corners tightly. You can tie the net depending on whether the player is right or left-handed. It offers both options.
It also has four U-pegs that ensure the stability of this L-screen on the ground. As it is a heavy-duty premium quality L-screen, it is going to serve you for years.
For storage, it comes with a handy bag so that you can take it along comfortably without too much hassle.
Pros:
It is a lightweight and foldable L-screen that can be easily set-up whenever needed.
A carry bag also comes with this L-screen to cleanly fold it and carry it along.
The heavy-duty frame is extremely sturdy and lasts years.
It has a pretty simple assembly.
Cons:
It can't survive long if kept out in harsh weather.
Net World Sport fortress is a very durable L-screen that is suitable for both baseball and softball. If you want a professional L-screen for your organization, Net World Sports fitness can perfectly serve you.
It is made of premium material, which makes it both lightweight and sturdy. It is very lightweight as well, so one can easily pull this L-screen up and place it wherever required.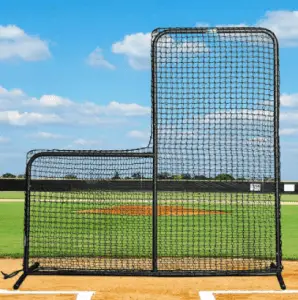 It has a 42-grade polyester net that is capable of resisting a very speedy ball. The net is corrosion free as well. Moreover, being treated for UV, it can easily stand firm for years in the harsh sunlight.
The frame of this L-screen is made up of stainless steel. It also has 2 U-pegs that supports the L-screen to stay still even in harsh weather.
It has smooth edges because of the internal overlocking, giving an overall pillowcase style to its net. Its steel frame has an internal button locking to ensure this net's stability to resist severe hits. It also has an outer black coating to protect it from rust.
Although it lacks foldability and it is not as portable as other options available, it has all the safety measures and high-quality material to make it last longer even after tolerating the harsh weather.
Anyone can use this L-screen, whether left or right-handed, because of its shape. You just need to rotate the L-screen as per your requirement.
Your kid can play baseball with a roundabout safety from hard hits with this stable L-screen. You can place it in your backyard, field, or batting cage quickly.
Pros:
Made up of premium quality material that makes it last longer.
Very stable because of the 2 U-pegs it has.
Its net is corrosion free, and UV treated.
Rust-free steel frame.
Cons:
As it is not foldable, it isn't easy to carry it along.
Another great choice in our list is the Champro Pitcher Safety L-screen. It is all you need at your baseball field. Not only is it very durable, but it also saves pitchers from fast coming line drives, straight drives, and other hits.
It stands firm on the ground even after pretty hard hits while ensuring that your kid practices more on gaining knowledge and learning tactics, instead of saving himself from speedy baseballs.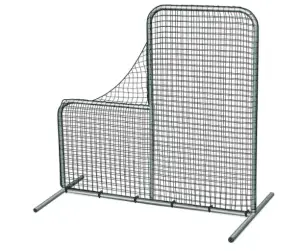 It has a sturdy frame made up of 45-ply polyethylene that can resist potent shots almost effortlessly. Its structure contributes a lot in making it last longer as it can easily tolerate harsh weather conditions. The net is not only waterproof but also stands still amongst the scorching sunlight.
The net is tied at a rust-free steel tube, which stands strong amongst harsh weather conditions. Weighing only 37 pounds, you can effortlessly move it places.
Although this L-screen is suitable for practice purposes in the backyard or ground, it is not convenient for the batting cage. One should avoid taking it to the batting cage. The best factor that you can look for in this L-screen is its affordable price.
If you want your kid to focus more on learning the pitching tactics and remove the fear of getting hit by a fast-moving ball, then this L-screen is perfect for them.
Pros:
It has a durable L-screen perfect for beginners.
It lets your kid focus more on learning by safeguarding him against quick hits.
It is ideal for all pitchers, whether left or right-handed.
Cons:
It lacks foldability, and it is challenging to transport it easily.
It is not sturdy enough to be used in a batting cage.
Its outer frame is more prone to damage.
If you are looking for an L-screen that is both budget-friendly and provides robust safeguarding, the Trigon Sports Pro Cage is the perfect pick for you.
This is a very lightweight and portable L-screen with a durable frame. Also, it assembles within a few minutes and stays intact for a very long period.
It is a 7 ft long and 7 ft wide L-screen, ideal for both kids and adult pitchers. It has a 1.5 inch 18-gauge steel frame coated with powder to protect it against rust. The steel frame is black.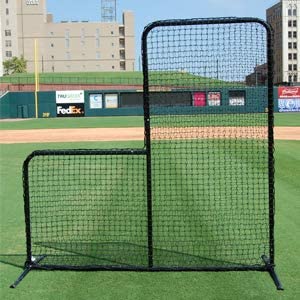 Also, it has a 42-polyethylene net that is UV tested to last strong even in harsh summers and is waterproof. The net is overloaded with a pillowcase doubled coating to give added strength to the net for speedy baseballs.
Being pretty lightweight, it is very portable as well. It is ideal for professional users as well, although one can use it for personal training.
With no fear of getting hit by a fast-moving ball, it helps pitches to focus more on learning new techniques and skills. Although it is very in weight, yet, it can be used for professional purposes as well.
Pros:
It is a lightweight L-screen due to which it is effortless to transport this L-screen.
Its pillowcase net ensures the complete safety of its users.
Perfect for both personal as well as professional purposes.
It is a pocket-friendly L-screen made up of high-quality material.
Cons:
You might face difficulty while attaching the net to the bottom pad.
It also lacks foldability.
Final Thoughts
Not everyone has a sportsman's lifeforce in them. If your kid has it, you should always be by the side in every way possible, taking extra care for their protection, which they may often miss on.
Although baseball is an exhilarating sport, it can be pretty dangerous too. A perfect throw, a timely hit, an ideal catch, and quick cover are the skills that a baseball player requires.
If your champ is a newbie in baseball, then it is especially important to ensure his overall safety from fast baseballs. In such a case, an L-screen is perfect for them to let them focus on technique and skill – not protecting themselves.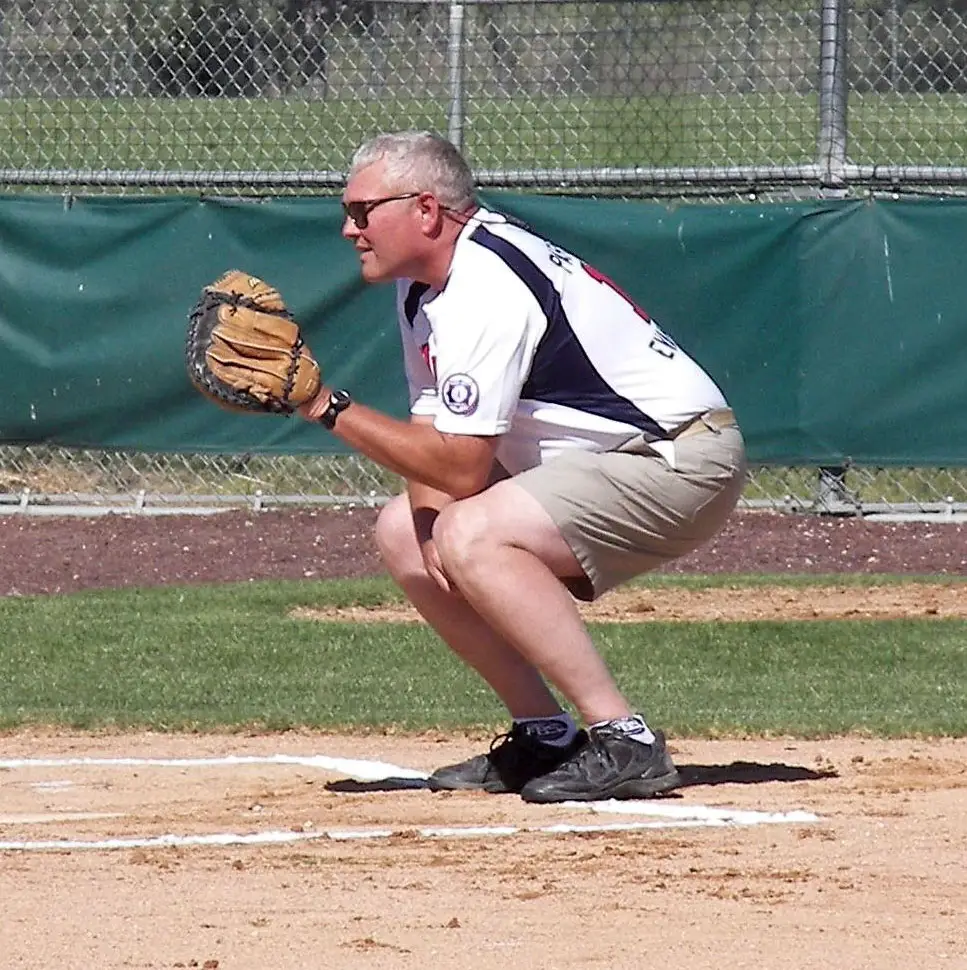 My name is David Farnum and I've been a Little League Coach in my community for the past 7 years. With 2 boys playing baseball and 1 girl playing softball, most weekends I can be found near a baseball diamond.