Want to know what the best sunflower seeds are to chew during a baseball game?
After some intense research of both players' and parents' opinions, I've narrowed the options down to seven!
The best part?
Every sunflower seed on my list has a different flavor – you can pick whatever you find inviting!
Chewing sunflower seeds is not a new thing. In fact, it's been a part of the game for decades. But when it comes to the "why" of it, there are several possible reasons:
| IMAGE | PRODUCT | Description | Price | |
| --- | --- | --- | --- | --- |
| Editors Pick | David Seed Nacho Cheese Sunflower Seeds | Best Tasting (by far) | $ | Check Price |
| Popular | Spitz Cracked Pepper Flavored Sunflower Seeds | Perfectly Balanced flavor | $ | Check Price |
| | BIGS Sizzlin' Bacon Sunflower Seeds | Great bacon flavor | $ | Check Price |
| | Chinook Seedery Parmesan & Pepper Flavor Roasted Sunflower Seeds | A combo of cheese + pepper that's hard to beat! | $$ | Check Price |
| | BIGS Vlasic Dill Pickle Sunflower Seeds | If you prefer zesty over spicy and salty flavors, you will love these | $ | Check Price |
| | GIANTS Kettle Roast Salty Sweet Sunflower Seeds | Most popular overall | $$ | Check Price |
| | BIGS Taco Bell Taco Supreme Sunflower Seeds | Choose the taco flavor – it's da bomb | $$ | Check Price |
| | BIGS Chile Limon Sunflower Seeds | Chile Lemon flavor is sweet and savory | $ | Check Price |
Why Do Baseball Players Eat Sunflower Seeds?
Chewing on sunflower seeds when practicing or during a game could be connected to the urban myth that chewing on something calms you down.
But it seems reasonable – pitching and hitting require you to conquer your nerves and win the mental game.
It makes sense that players would release their nervous energy in a controlled way.
However, baseball players say that the real reasons behind the chewing are boredom and hunger, plain and simple.
It helps keep your energy levels intact, and it also becomes an integral part of the routine, which can undoubtedly help you perform well on the field.
Best Sunflower Seeds For Baseball
David Seed is the only brand that offers the Nacho Cheese flavor, but even if other brands did, these would undoubtedly taste better.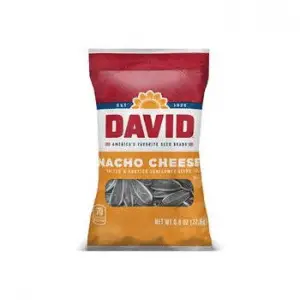 The cheesy flavor packs quite a punch and will help kill boredom and hunger on the pitch.
If you've never tried these before, you HAVE to try them – former players keep coming back for more of these seeds for good reason!
Pros
Excellent flavor
High ratings
Cons
Availability is sometimes an issue
There's nothing like a strong hit of cracked pepper during a game!
One of the best things about these seeds is that the flavor is perfectly balanced – you will taste the cracked pepper, but it won't overpower your mouth and distract you.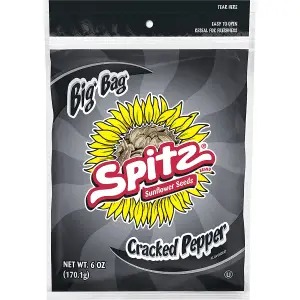 Spitz only uses high-quality seeds, and the difference in quality is apparent when you pop one in your mouth.
The company boasts that they supply some of the largest kernel-to-shell ratios in the industry, so you get more seed in every shell!
Pros
Large kernel-to-seed ratio
Fire-roasted seeds
Strong pepper flavor
Cons
Pepper flavors have been around for a while, but the sizzling bacon flavor is just next level.
Bacon can be hard to resist even when you're full, and you can now savor the delicious flavor of bacon on the field!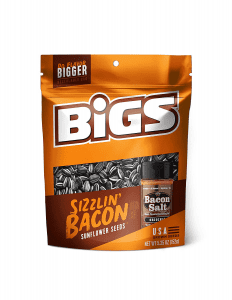 One of the best things about the seeds is that no preservatives or artificial colors are used – you're not compromising health for good taste!
Pros
World's first bacon-flavored sunflower seeds
Excellent anytime snack – great for when you're craving comfort food
Cons
Some don't like their mouth tasting like bacon for long periods
Chinook Seedery brings you the best of both worlds in terms of flavor. You get the comfort of parmesan cheese and the potency of pepper!
The company goes the extra mile to ensure that their seeds are just as healthy as they are flavorful.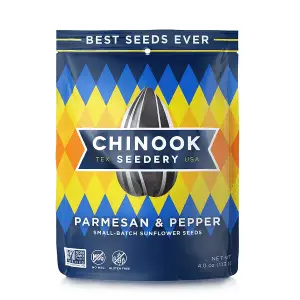 They promise that there's nothing artificial in their seeds – no MSG, GMO, or gluten.
Additionally, their seeds are never mass-produced and are handled in small batches.
The high quality of seeds ensures that you never feel the salty burn that comes with chewing sunflower seeds.
Pros
Non-GMO
No MSG and gluten
Solid combination of flavors
Cons
If you prefer zesty over spicy and salty flavors, you will love BIGS dill pickle flavored sunflower seeds.
Popping one in your mouth on the field will make you feel refreshed instantly!
The seeds are large, which is typical of BIGS, but they're also kosher certified, so anyone can eat them.
However, the company warns that the seeds may contain milk or soy, so if you are sensitive to them, it's best to avoid getting the seeds.
Pros
Bold, zesty flavor
Kosher certified
Cons
The original GIANTS kettle roast is still one of the most popular sunflower seeds bought by baseball players.
It has an enlivening salty-sweet taste, and it's super healthy since it doesn't have any GMO or MSG.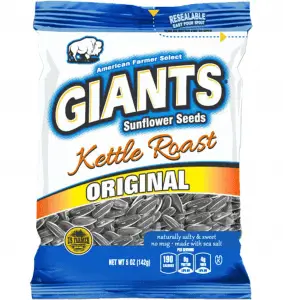 The company reports that their improved formula packs 35% less sodium, which, coupled with the net 3g of carbs per serving, makes it perfect for the health-conscious.
Pros
Cons
May contain tree nuts or milk
The Taco flavor is one of the newer sunflower seed flavors – but it's every bit as good as any other.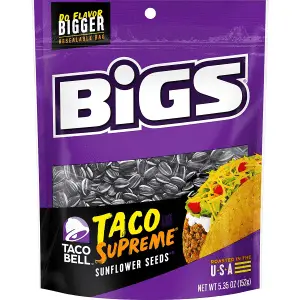 There's nothing like a taco or two to satisfy your cravings, and these sunflower seeds will allow you to do that without filling yourself up on the field.
The flavor is heavenly – it's creamy and spicy, and a definite must-try for every baseball player.
Pros
Excellent flavor
3 grams net carbs
No artificial flavors or preservatives
Cons
The chile lemon flavor is a welcome change of pace to the flavoring of sunflower seeds.
It brings you the best of two worlds – you get the relish of lime and then a kick of spice.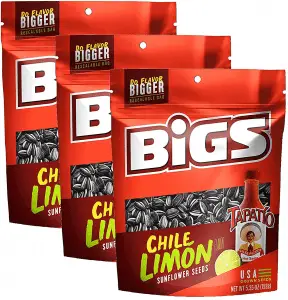 The flavor replicates Tapatio salsa Picante hot sauce really well!
It's more potent than other flavors on this list, so if you don't like spicy foods or don't handle intense flavors well, it's best you avoid these seeds.
You only have to worry about the taste, since these come with no artificial flavors or GMO.
Pros
No GMO
No artificial flavors
Cons
Flavor too strong for some
And with that, you're acquainted with some of the best-flavored sunflower seeds in the market.
Even if you pick randomly from my list, you're bound to love the flavor!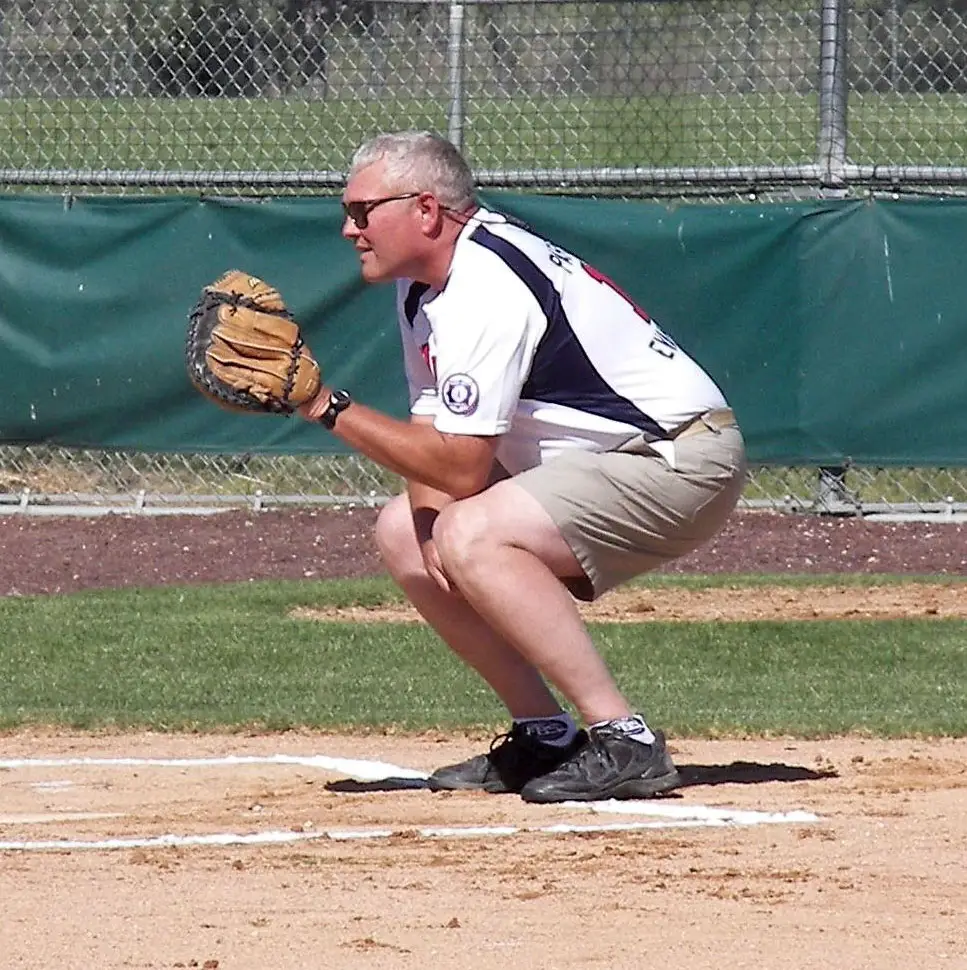 My name is David Farnum and I've been a Little League Coach in my community for the past 7 years. With 2 boys playing baseball and 1 girl playing softball, most weekends I can be found near a baseball diamond.