Wearing the proper clothes when playing baseball isn't just about stylishness, but more importantly, functionality. It helps players feel more comfortable, which often leads to better performance on the field. As a result, we can say that investing in these threads is essential to achieve long-term success.
Today, we are here to help every aspiring athlete choose the best baseball pants. Join us as we identify all the top brands, styles, materials, and fits. Doing so will help you select a model that best fits your needs.
| IMAGE | PRODUCT | Size | Price | |
| --- | --- | --- | --- | --- |
| Editors Pick | Under Armour Men's Clean Up Cuffed Baseball Pants | Relaxed Fit | $$ | Check Price |
| Best Seller | Rawlings Men's Semi-Relaxed Pants | Size up and use a belt | $$ | Check Price |
| | Easton Deluxe Baseball Pants | Fitted | $$ | Check Price |
| | Easton Men's Mako II Piped Pants | Fitted/Slim | $$ | Check Price |
| | Wilson Men's Classic-Fit Baseball Pants | Size up | $$ | Check Price |
| | Wilson Men's Classic Relaxed Fit Piped Baseball Pants | Relaxed Fit | $$ | Check Price |
| | CHAMPRO Triple Crown Knicker | Relaxed Fit | $$ | Check Price |
| | Easton Rival 2 Piped Baseball Pants | True to Size | $$ | Check Price |
| | Franklin Sports Youth Baseball Pants | True to Size | $$ | Check Price |
Let's spend the next ten minutes going over some information for a lifetime of amazing games.
How to Choose the Correct Baseball Pants
1. Price – Based on our research, the average price of baseball pants ranges from $16 to $30. There are even a handful of high-end variants that sell for as much as $50. Of course, each one will vary in terms of feel, quality, and material. That's why to lessen the risk of overspending, it's essential to set a budget first. This way, you can eliminate options that cost too much or are unrealistically cheap.
2. Fit and Comfort – When choosing the perfect pair of baseball pants, make sure it's comfortable. Wear them and walk around the store to test out their fit. Try simulating actual on-field movements, even, by stretching or sprinting. By doing this, you can experience first-hand how they feel, which often leads to better in-game performance.
3. Material – Cotton, polyester, and synthetic material each possess different properties. And choosing one really just boils down to preference. But whichever material you choose, you want a pair of baseball pants that won't easily rip, stain, or succumb to wear-and-tear. Flexibility, too, is another aspect that leads to better mobility when running, jumping, or sliding.
4. Reinforced Knees – Playing baseball often includes a ton of slipping and sliding. That's why many uniforms nowadays have extra stitching near the knee. So if you're the type of person who enjoys diving for loose balls, this feature is a must-have. Just make sure to check whether or not the added layer is thick enough and sewn on properly.
5. Leg Openings – Much like jeans and chinos, leg openings can affect one's comfort and style considerably. You can choose whether these are loose or closed-off. Ultimately, though, it should all depend on what you like. Just choose the design that helps you move more naturally out there on the field.
6. Belt Loops – Your chosen pair of baseball pants need to hug your waist seamlessly without being too tight. We always recommend wearing a larger size but also making sure it has strengthened belt loops. This way, you can adjust the fit easily, regardless if you lose or gain weight during training. It's also a nice way to use the same pair of baseball pants for multiple seasons.
7. Length – Baseball uniforms usually come in two lengths: long and short. And there are key benefits to each one. For starters, full pants provide better protection from weather and rugged terrains. Shorts, on the other hand, are much easier to clean and offer greater mobility. Once again, choosing will depend mostly on your playing circumstances. So think about that before making a decision.
Top 9 Options for Best Baseball Pants
Coming in six sizes, Under Armour's Clean Up Cuffed Baseball Pants for men is the preferred choice of many. It's made from 100% imported polyester, keeping you cool and dry even on the most intense tournaments.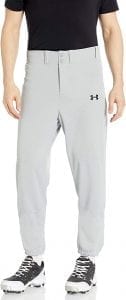 One may say this has everything you could ever ask for in a pair of bottoms. Under Armour Men's Clean Up Cuffed Baseball Pants are soft, lightweight, and incredibly stretchy. They cup your body nicely, offering maximum maneuverability when moving around out on the field.
Not only that, but the elastic waistband comes with seven belt loops around it. This helps you adjust the tightness and get that perfect fit every single time. Dual-layer knees likewise provide added reinforcement when slipping and sliding around the bases.
Needless to say, the Under Armour Clean Up Cuffed Baseball Pants offer a relaxed fit to athletes of different sizes. Each pair is comfortable to play in, while the no-nonsense style proves it's something you won't mind getting dirt on. After all, you can always just chuck it inside the washing machine, and it will be ready for the next game.
Key Features:
Fabric creates a moisture barrier keeping your legs cool
Easy to clean dirt off after every game
Durable enough not to succumb to wear-and-tear
Loose fit is more comfortable for most players
Comes in two basic colors
Rawlings has been around for over one hundred years. And to say they are a household name in baseball is a gross understatement. From gloves to uniforms, their merchandise can be found worn by serious players all across the globe.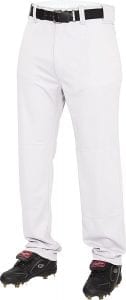 Much like other contemporary brands, their semi-relaxed baseball pants are loose, lightweight, and offer supreme comfort when playing. This is ideal for competitors who tend to move around a lot.
The thin fabric, though, might not be suitable for games played out in winter. Thankfully, you'll always have the option to wear compression bottoms because of their bagginess.
In terms of snugness, several users have voiced their concerns about tightness around the crotch or thigh area. And this is definitely a cause for concern.
As such, we would always recommend getting one size bigger than what you're used to. Then just use a belt to adjust the overall fit.
Key Features:
The thin material is easy to move around in
Includes two back pockets and a zipper fly
Pro-Dri moisture management keeps your legs cool
Perfect for individuals who prefer looseness to tightness
Have you ever had that nightmare of sliding to home plate, only to rip your pants right before scoring the point? Well, that risk is significantly decreased when wearing Easton's Deluxe Baseball Pants.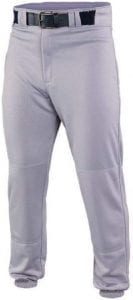 Each pair is made from imported polyester fabric, which heightens their durability. Double reinforced knees also present an added layer of protection when diving for loose balls, keeping your legs free from scratches.
Its stitching is impeccable, too, making it less likely to yield to in-game wear-and-tear.
Easton's Deluxe Baseball Pants, however, are a bit fitted when compared with other options. This makes their brand better suited for players with skinny legs.
The inclusion of several belt loops and an elastic bottom hem both provide enough freedom for personal fit preferences.
Feel free to use them on any playing condition. The Bio-Dri performance technology should ensure that your limbs remain fresh, while also simultaneously shielding your skin from harmful UV rays.
Key Features:
Ideal for individuals with skinny legs
Provides an added layer of protection when playing
Designed to prevent cramping and other similar injuries
Comes with two batting glove back pockets
Very good value for money
Another worthwhile offering from Easton is their Mako II Piped Pants. And stylishly speaking, this is easily one of the best options you could find on the open market. The red, blue, or black piping – depending on the design – adds a touch of elegance not found in other brands.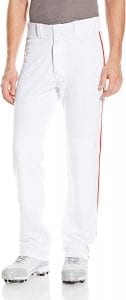 Of course, the Easton Mako II is far more than just a pretty face. It's made with Scotchgard Stain Release technology to lessen stains, dirt, and creases. Being manufactured from 100% polyester material also ensures that it offers a delicate balance of durability and comfort.
Individuals with waistlines ranging from 28 to 42-inches are its primary target market. A double-metal snap closure coupled with a five-belt loop system ensures a snug fit always. Plus, reinforced 9-inch knees keep your legs safe from scratches or other injuries.
All in all, we would recommend Easton's Mako II Piped Pants to earnest players only. Being quite pricey, it may be out of budget for most consumers. Nevertheless, at least one thing remains certain – its functionality can hardly be put into question.
Key Features:
One of the most durable choices around
Dirt and residue easily slides off the fabric
Stylish design adds an extra dose of flair
Comes in five distinct sizes
You can never go wrong with a timeless design.
That's perhaps the most prominent feature of the Wilson Men's Classic-Fit Baseball Pants. Its clean-cut style is incredibly appealing not only because it matches any uniform, but also due to a functional layout. Several parts play a pivotal role in why it is so effective.
For starters, these pants are long enough to offer protection without being too restricting. It reaches just slightly above the ankles and comes with a gartered hem. This prevents the fabric from flopping all over the place.
Its rigidness, though, might suit lankier individuals more rather than heftier ones. This is but a small compromise to an otherwise reliable piece of apparel.
And based on our experience, wearing one size larger should remedy the problem. The numerous belt loops should ensure a snug fit if, in fact, the pants are too loose.
Best of all, these Wilson Men's Classic-Fit Baseball Pants are affordably priced for any and all consumers. They offer tremendous value without going through any short cuts.
Key Features:
Offers a careful balance of functionality and style
Made from fabric that can easily be painted on
Great value for money
Added protection around the knees and shins
Those seeking a touch of flamboyance should check out the Wilson Men's Classic Relaxed Fit Piped Baseball Pants. These are very similar to our previous product, but offer a slightly longer length and feature a striped design across its side.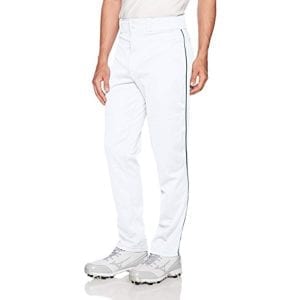 These garments are manufactured from 100% polyester material, which is proof of its high level of durability. This means you can very openly skate around the field without fear of getting your uniform damaged.
The seams and stitchings are long-lasting, too, and will even complement your natural motions.
The absence of additional knee supports is unfortunate. As is the presence of a straight-edged design. However, those who are used to wearing tight jeans will hardly feel a difference. If not, then buying a larger size should solve the problem.
Having a pair of back pockets and several belt loops help round out the Wilson Men's Classic Relaxed Fit Piped Baseball Pants. These innovations have helped solidify its place as one of the best options money can buy.
Key Features:
Stylish design adds a great deal of class
Comes complete with all the necessary features
Easily affordable by most buyers
Several color options to choose from
Not everyone is comfortable playing in long pants, and that's completely normal. Several players prefer wearing knee-high bottoms, otherwise known as knicker-style garments. These types of baseball pants provide maximum maneuverability when running from base to base.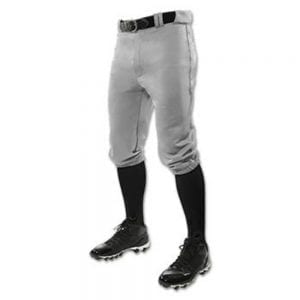 Out of the countless options around arguably the most patronized is CHAMPRO's Triple Crown Knicker. Composed of polyester material and non-abrasive stretch fabric, this all-black marvel can quickly adapt to your movements, no matter how sudden. This also guarantees a secure yet relaxed fit all times.
Durability is another property the CHAMPRO Triple Crown Knicker excels in. Almost every part is bolstered by double-ply lining, creating an extra layer of security when sliding or diving out on the field. Not only is your body protected, but also the pants itself from potential abrasion.
Virtually everything about these pair of pants screams professional. Without a doubt, the CHAMPRO Triple Crown Knicker is built for competitive games and tournaments. That's why even though it's slightly more expensive, we'd still recommend every serious athlete to consider buying one for themselves.
Key Features:
Enhances – and not only allows – a wide range of motion
Machine washable; very easy to clean after every game
Designed with seven belt loops for easier adjustment of tightness
Comes in five different colors and sizes
Built for all types of playing conditions
Our third entry from Easton is another quality product earnest ball players may want to take note of. The Rival 2 Piped Pants offer a healthy dose of swag with all the functionality. Its many features are designed to keep up with the growing demands of this sport.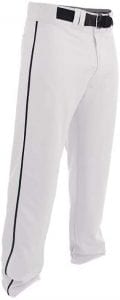 It is designed with an elastic waistband for greater flexibility and comfort. This way, the pants stay on without being too tight. Having several belt loops is advantageous as well, leaving you with enough freedom to adjust the fit.
Another benefit is that Easton's Rival 2 Piped Baseball Pants are manufactured purely from imported materials. Each one's incorporated with Bio-Dri technology to keep your legs fresh.
It absorbs sweat considerably, helping reduce heat and lessening the chance of cramping. You'll be able to play longer with less chance of getting injured.
The Easton Rival 2 Piped Baseball Pants are ideal for those who prefer a looser cut with open bottom hem. This also includes players with broader hips and more muscular legs.
Key Features:
Equipped with double reinforced knees for added protection
Offers a looser fit that's very liberating
The piping serves as a nice accent color
Elastic waistband is easy to adjust
Open bottom hem is less likely to snag when running
If your son or daughter is planning on getting into baseball, the Franklin Sports Youth Pants will be a marvelous investment. They are made from dual-knit polyester and come with an elastic waistband. This not only provides incredible durability but also added allowance in case your child has a sudden growth spurt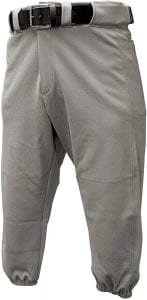 Aside from that, the Franklin Sports Youth Baseball Pants are also outfitted with double-knee construction. Like other brands, this offers an extra layer of protection. And since kid's reflexes aren't all that polished yet, the added padding should significantly reduce the risk of injuries.
We would recommend users who prefer playing in short pants to really consider this option. The Franklin Sports Youth Baseball Pants enhance a full range of motion in the user's legs.
It's also better suited for individuals with stockier limbs since they won't feel so restrained. The only downside is that there is hardly any knee construction. Instead, you'll need to invest in additional pads or high-socks.
Still, parents won't be complaining too much because the Franklin Sports Youth Baseball Pants are one of the most affordable alternatives around. In a way, they offer very risk with all the upside in the world.
Key Features:
An elastic waistband adds extra allowance when worn
Knee-high length is great for people who prefer shorts
The stitching is very durable; less likely to rip
Non-rusting snap button is easy to wear
A classic design is extremely popular among professionals and amateurs
Conclusion
Choosing the perfect pair of baseball pants may seem daunting at first, but it's hardly a head-scratching decision. All you have to do, really, is focus on certain key elements. This includes price, length, fit, comfort, and material – just to name a few. Once you have these nailed down, the resolution should become so much simpler.
As for us, our choice will have to be the Wilson Men's Classic-Fit Baseball Pants. Its overall design, look, and functionality is just too good to pass up. Plus, the fit is impeccable for users with skinny legs. Whichever the case, it's sure to provide value in more ways than one.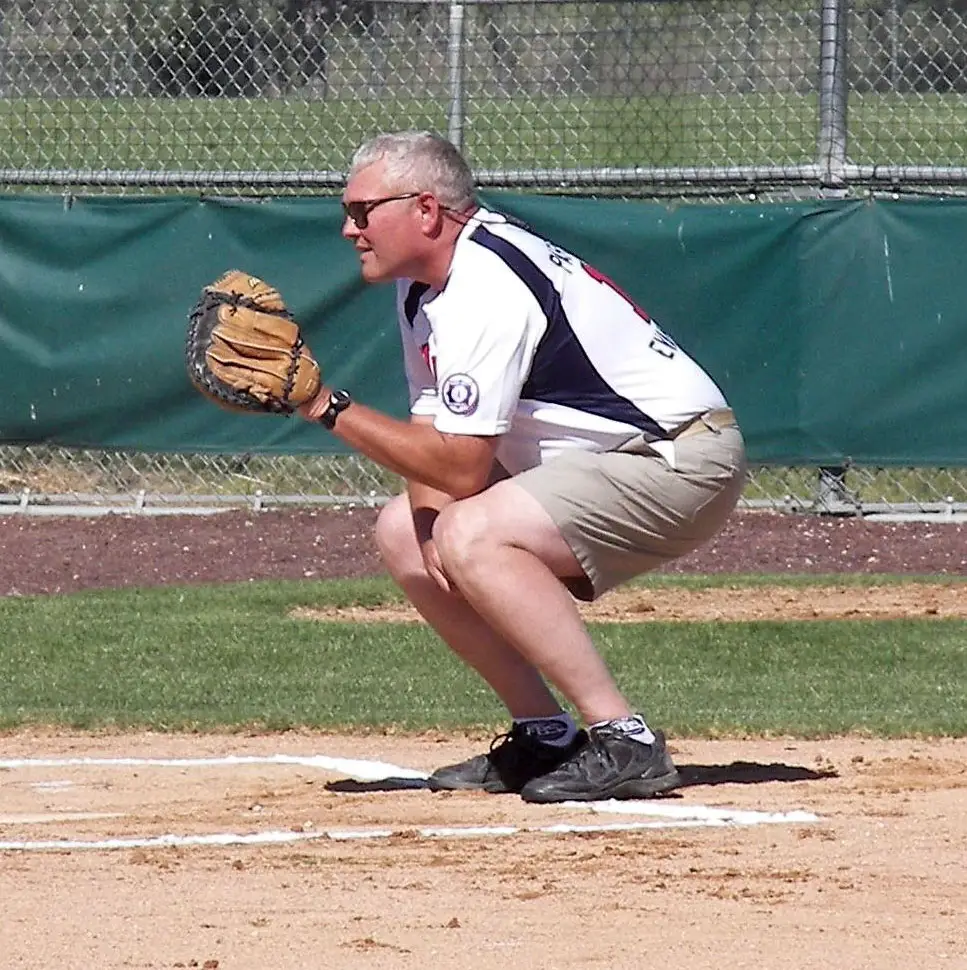 My name is David Farnum and I've been a Little League Coach in my community for the past 7 years. With 2 boys playing baseball and 1 girl playing softball, most weekends I can be found near a baseball diamond.