When you find a good baseball glove from a respected brand that you love, you stick with it. After breaking it in and using it for a season, it's your partner and companion out on the baseball diamond. Everytime you put it on, it perfectly fits your hand and the pocket is well worn from catching the ball thousands of times. This is a guide on how to break in a baseball glove
.
Why do you need to break in a baseball glove?
Baseball gloves are commonly made of leather that is processed to offer durability and shock-resistant. However, the various chemicals that are used to process the leather make the glove hard and stiff initially. Off the rack, typically baseball gloves are hard, stiff, and don't even fit that well.
Stiff baseball gloves can make it difficult for you to hold the ball and execute perfect catches. Therefore it is necessary to break in a baseball glove and make it suitable for games and practices.
Find out the best way to break in a glove mentioned below:
How to break in a baseball glove:
The realization that a glove needs breaking into starts soon after the purchase. If it needs to be broken in, it will feel stiff and lack the deep and well-worn pocket required to easily catch fly balls and ground balls.
The primary process for breaking in a baseball glove involves developing the pocket for the glove.
There are various methods that can be used to create this pocket and it is the player's decision to choose which method works best for him to properly break in his baseball glove.
One method? Microwave your baseball glove! This is NOT recommended.
Microwaving baseball gloves is not only unsafe but can permanently affect the quality and longevity of your baseball gloves. You don't want to spend hundreds of dollars on a high quality baseball glove only to have it ruined by doing this.
Extensive play:
The simplest and proven method of breaking into a glove is wearing it for practice. Get your friends together and play catch with the new glove for as long as you can.
The more times you use your new baseball glove and bend it the faster it will get into the shape you desire.
Every time you bend your baseball glove, it starts forming a crease where the glove naturally bends. As you continue to use it, this crease deepens and helps form a deep pocket in the glove.
This pocket helps you catch the baseball and helps secure the ball as you pivot to throw it away.
This may seem like a time-consuming alternative, but it is really the best and the most recommended option.  It is one of the best ways to not only reshape your gloves but also protecting them from unnecessary harm.
Steam Your Baseball Glove
Stiff leather can be molded for a better fit by steaming it in the right manner. A similar approach can be taken when breaking into a glove. The logic behind this approach is to ease the stiff baseball leather with steam which will make it soft and easy to bend.
The glove steaming process can be done typically in the following steps:
1. Apply  glove conditioner:
A glove conditioner is a mix of chemicals and vitamins that softens, cleans, and restores the quality of the leather. It also enhances the color and restores the natural leather scent. These qualities of a glove conditioner make it essential for this process.
2. Steam the baseball glove
Once you are done with applying the conditioner on the glove, you can toss it into the steamer. It is very important to set the steamer at the right temperature i.e. 150 degrees. Keeping the temperature higher or lower than 150 degrees can increase the risk of damaging the leather.
Breaking the glove using a glove mallet:
This is the final part of the procedure which sets the glove in the proper shape. You have to take a glove mallet and hit the glove to break it down. You can hit it keeping it opened, folded, and turned inwards.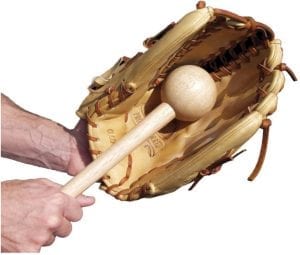 Here is how you can break in a glove using a mallet.
Wear the glove-like you would normally and try bending it with your hands and fingers for some time. This will create creases that will further help you in softening the glove.
Wear the glove in your throwing hand and keep striking at the center and the pocket area with the mallet. This will break and loosen the leather in the pocket area making it easier for the gloves to bend for catching.
To break the glove more, you can lay it on the table with the palm facing down and strike the glove with the mallet from behind. This will help free the glove from the palm all the way to the fingers.
For best results, I'd recommend switching up who's doing the hitting with some friends or family. And personally? I think this method is kind of dumb. But I have done it before and it does work! And it works pretty quickly.
Applying glove oil:
This is one of the common and widely used techniques to break in a glove. It is mostly practiced by players when they have a match the next day and need the gloves ready for it. In this process, you need to apply oil on the various parts of the glove and let it soak overnight.
This process works because oil softens the leather which can be further bent or broken into much easier for the game. However, when using this method, you need to be careful of the amount of oil you apply for the process.
If you use too little oil the process might not work at all, but if you use too much oil the glove may become heavy and greasy. You also need to be careful while applying oil near the laces and strings.
To learn how to break in a baseball glove, you can watch this video:
How to Break In A Baseball Glove Overnight
This is one of the most common questions I get asked about how to break in a baseball glove and it's one of the most important. You've just picked up a new baseball glove, one that you absolutely love, and yet tomorrow you've got your first baseball game. What should you do?
First, you absolutely NEED to break in your baseball glove. Trying to play with a brand new glove with completely exhaust your fingers trying to open and close stiff leather.
If it's urgent, I would highly recommend using either baseball glove oil or the steaming method. You simply don't have time to play with it for hours – it has to be ready by tomorrow.
If you're worried about damaging your brand new glove, I would use baseball glove oil. It's not as fast as steaming your baseball glove but it is the safest and it will still work overnight.
Why should you use baseball glove oil?
However, it is important to understand that using the right way for breaking the gloves can be beneficial not only for the gloves but also for the player.
Baseball glove oil is beneficial for the gloves as it can soften the baseball glove both from the inside and the outside. When applied in the correct manner, the baseball oil opens the pores of the leathers, allowing the oil to seep in.
Baseball Glove Oil
·         Softens the baseball glove

·         Prevents the baseball glove from turning brittle (and breaking)

·         Increases the lifetime of your gloves
Baseball oil has leather enhancers thatsoften, restore, and protect the glove from turning brittle.
While there are numerous ways mentioned above that can be used to break in the gloves, it is recommended that you use baseball glove oil to ensure the safety of the gloves. It also requires less efforts than the other methods we've mentioned so far.
It also helps you to increase the life of your gloves while making reviving the leather and making it practice-ready.
To learn how to oil a baseball glove, you can watch this video here:
Buying the right oil:
There are numerous glove oil brands in the market and it is very important to choose the right one. Quality baseball glove oil will help you make your glove better and durable for the coming matches but a bad one has the potential to completely ruin your baseball glove.
Using oil carefully:
When applying oil to the glove, it is not necessary that you pour the entire bottle on it. The trick here is to put small amounts and spread it all over the glove. Using too much oil can damage the glove and make it heavier for usage.
Apply to the right spots:
To make sure you get the optimal results while oiling the gloves. You need to apply a sufficient amount of oil to key spots. This will help in adding softness to the areas where you want it the most.
The key areas include the pocket area that will reduce the impact of the ball while trying to catch it. You can also add oil to the streaks of the fingers that will make them softer and enable free movements.
Apart from these spots, you can apply a single coat of oil to the entire glove which will make the entire baseball glove softer over time.
Best oil to break in Baseball glove:
The type of oil you use can have a different effect on the glove. You also need to beware of the oil you choose for the process, as choosing cheap and low-quality oil can ruin your equipment. We have compiled a list of the best baseball glove oils that can be used to break in baseball gloves and get optimal results.
Leather Therapy Restorer comprises a unique blend of oils that can repair dry and hard gloves. It is the most effective product in the market that accelerates the break-in process. This baseball glove oil can be used straight away with no prep required.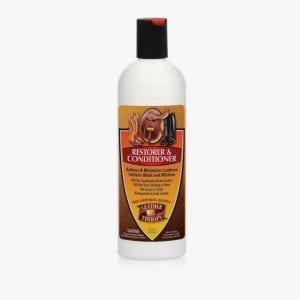 With Leather Therapy Restorer, you don't have to struggle to break in the gloves, the oil softens the gloves and does everything all by itself.
This leather restorer repels moisture and keeps the product lightweight. It is easy to apply and doesn't require any special skills to do so. A leather restorer can be used to breaking in, maintaining, preserving and restoring the products.
Leather restorer ensures that your products stay in the best condition throughout their life. You can combine it with the conditioner to prevent discoloration.
Pros:
Contains natural ingredients
Speeds up breaking in
Ideal for both new and old models
Hydrates leather well
Cons:
Requires several treatments
[su_button url="https://www.amazon.com/Leather-Therapy-Restorer-Conditioner-16/dp/B017LZ226Q?tag=ibatreviewsge-20″ target="blank" style="soft" background="#00A8E8″ size="10″ wide="yes" center="yes" radius="0″ icon="icon: hand-o-right" rel="nofollow" title="Check Price on Amazon.com"]Check Price Now[/su_button]
Franklin is one of the top manufacturers of baseball equipment and the Dr. Glove conditioning oil wipes are a great way to easily break in your baseball glove.
The wipes are ideally designed for 12inch leather gloves.These incredible wipes are known to soften and clean the leather gloves effectively while enhancing its life at the same time. Moreover, these wipes are disposable and can be discarded after every use.
Dr. Glove is uniquely formulated to be used on the leather gloves without hampering the quality and durability of the gloves. They are lightweight,can be carried anywhere easily, and  can be used on different glove materials such as leather or suede.
These baseball glove conditioning wipes are best bought by a baseball coach who wants to make sure his entire team has baseball gloves that are properly broken in before a game.
Pros:
Enhances breaking in
Conditions gloves to remain in the best conditions
Easy to use and apply
Can be used on both leather and suede
Lightweight/Easy to take with you and apply
Cons:
Can degrade leather when used excessively
[su_button url="https://www.amazon.com/dp/B00JLT2OG4?tag=ibatreviewsge-20″ target="blank" style="soft" background="#00A8E8″ size="10″ wide="yes" center="yes" radius="0″ icon="icon: hand-o-right" rel="nofollow" title="Check Price on Amazon.com"]Check Price Now[/su_button]
One of the most renowned brands in the sports world, they have developed their own unique conditioner to help break in baseball gloves. It's called Wilson Premium Glove Oil.
The oil preserves and enhances the softness and durability of the glove. It can also restore dry and stiff gloves easily. The bottle comes with a convenient spray which makes it easy to apply. All you have to is spray it one glove, rub a little to spread the oil, and let it do the magic.
The bottle comes in a small size and can easily fit in the kit bag.
Pros:
Based on the traditional glove oil formula.
It comes with a spray top so you don't have to pour it on a rag and can just spray your glove and wipe it down.
Cons:
Not as heavy as other oils have low absorption
[su_button url="https://www.amazon.com/dp/B003WWV5KW?tag=ibatreviewsge-20″ target="blank" style="soft" background="#00A8E8″ size="10″ wide="yes" center="yes" radius="0″ icon="icon: hand-o-right" rel="nofollow" title="Check Price on Amazon.com"]Check Price Now[/su_button]
Conclusion:
Gloves are an integral part of a baseball player's kit. Therefore, it needs to be chosen according to the right size and treated with care. Using the wrong method to break in the glove can damage it or ruin it beyond repair. Hence, it is advisable that you use the methods mentioned above and enhance the life of your gloves.
Have any questions? What's your favorite method to break in a baseball glove? Any home remedies that you swear by and we should try out? Leave a comment below!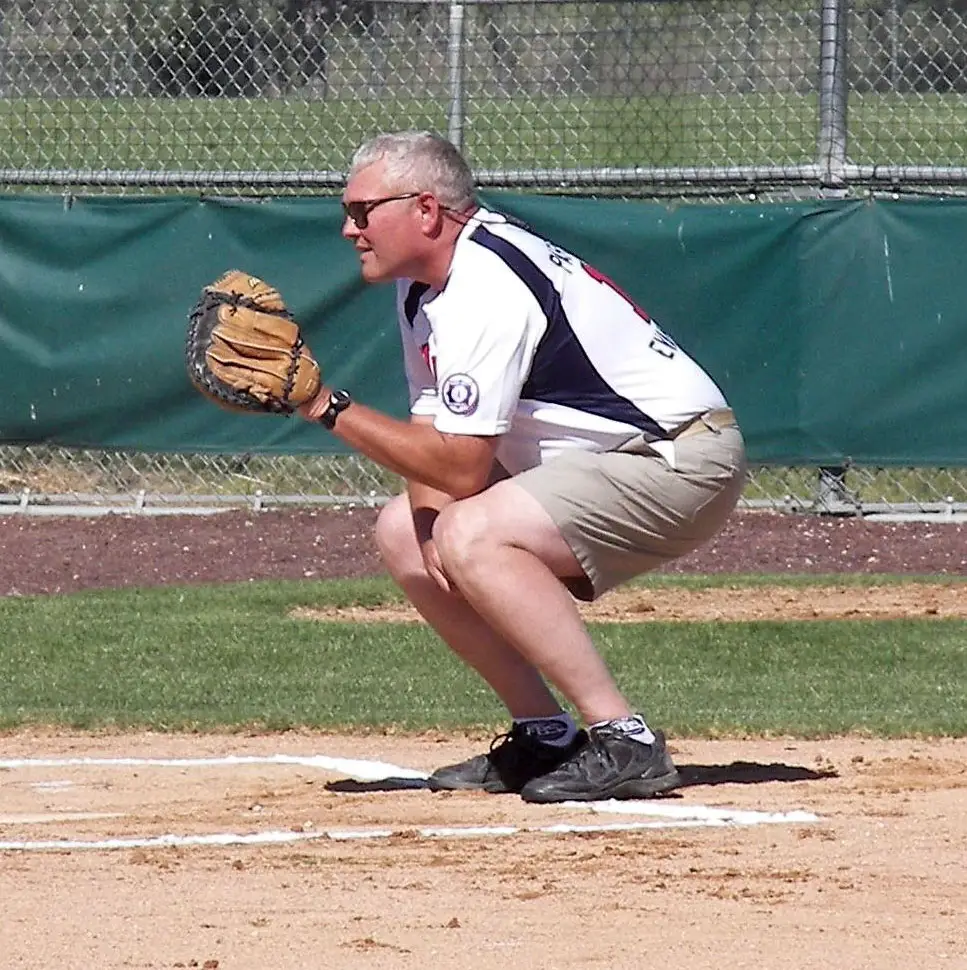 My name is David Farnum and I've been a Little League Coach in my community for the past 7 years. With 2 boys playing baseball and 1 girl playing softball, most weekends I can be found near a baseball diamond.