There are numerous positions in baseball and each of them is as important as the other. While infielders have to be quick on their feet and potentially dive to catch a line drive, most of the audience's attention is normally drawn to the outfield. Each player in the outfield has to cover a vast area – often sprinting to get there in time. That's why, if you're in the outfield, you need a baseball glove specifically for outfielders.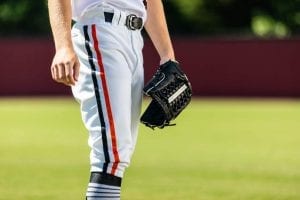 Outfielders have serious responsibility as each person has to cover a large area with sudden bursts of explosive energy. They have to carefully follow the direction of the ball while it is still in mid-air and catch it before it hits the ground or goes over the fence.
Because of this, outfielders need a special kind of baseball glove – one designed specifically for their needs. In this article we'll go through our top picks and what to look for in the best outfielder baseball gloves.
Don't want to read the entire article? Our Top pick for the best baseball glove for outfielders is the Rawlings Heart of the Hide R2G Outfield Glove. Made out of the highest quality leather, this glove has a snug fit on your wrist giving you the confidence to reach for the toughest catches as you're running to make a play. See our full review of it below.
Choosing an outfield baseball glove:
There are several companies that sell outfield gloves that are known for offering exceptional performance. They come with special features and quality construction that enable the players to deliver their best while practicing or playing.
You don't need to look for a glove that has all the latest features and comes with a heavy price tag. Rather, look for a glove that matches your skillset and fulfills your requirements. Not sure what to look for? Here are some important factors you need to look for when choosing the best baseball gloves for outfielders.
Webbing:
The webbing of an outfielder's glove is very different from all the other positions in the game. The webbing in these gloves helps the player to catch the ball without hurting his/her hand. There are different kinds of webbings that are incorporated in an outfielder's glove.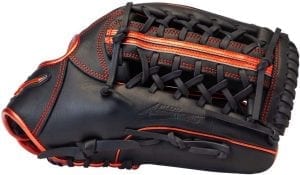 Image Credits: Amazon.com
Trapeze, T-webs, larger H-webs, and single post webs are some of the common webbings found in outfielder's gloves. The Trapeze and T-webs have a similar construction that comprises a single piece of leather stitched between the thumb and forefinger.
T-web gloves tend to weigh less and have loose stitching. Single-post webs and H-webs are used by players who prefer large holes in the pocket and are much lighter.
Pocket Depth:
A good baseball glove is defined by the kind of pocket it creates. All types of baseball gloves are designed to form a pocket when closed. A pocket ensures that the ball sits and lands perfectly in the middle of the glove.
Image Credits: Amazon.com
A glove with a deep and flexible pocket can prevent the players from getting or experiencing the excruciating sting when catching the ball. You can form a good and deep in any glove by following a good break in process for any baseball glove.
Size
Among the many factors of a glove size can have a massive impact on your performance. Having the right sized glove is very important. If you wear a loose glove it might keep moving during the movements and can make it hard for you to catch the ball.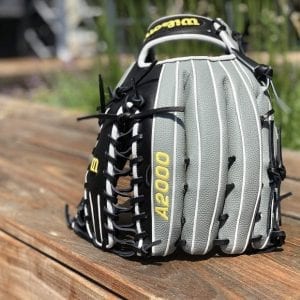 Image Credits: Amazon.com
On the other hand, a baseball glove that's too small can make you uncomfortable during the games and even affect your performance.
The right glove size depends on factors like the size and age of the player. It is recommended that you test the gloves by wearing them if you are buying them from a store.
If you are buying them from a shopping website, you need to look for sizing charts or dimensions to make sure you're getting the right size.
Top 5 Baseball Gloves for Outfielders:
To help you avoid getting confused and make the wrong decision, we have compiled some popular outfielder glove options that will help improve your performance on the baseball diamond.
Mizuno is one of the top brands that is known for its high-quality and durable baseball accessories. The company's MVP Prime SE glove is regarded as one of the best in the baseball industry and is used by numerous players worldwide.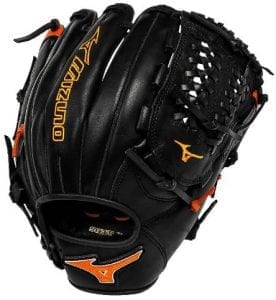 MVP Prime SE gloves including qualities like innovative design, sturdy construction, and increased flexibility. It comes with the Heel Flex technology in the glove's center pocket design which complements the construction of the glove making it flexible and easy to close.
For a premium appeal, the gloves are made from high-quality leather. It helps make the glove softer from the outside giving a unique feel and provides exceptional comfort.
The best thing about the Mizuno MVP Prime SE glove is the firm and strong edge which is combined with a professional style. The palm liner of the glove is soft and durable, making it last longer than the other gloves while offering the best performance.
It comes with two-tone laces that fasten securely onto your hands and keep them in place. The leather in the glove is firmly stitched making it more reliable.
Pros:
Features a smooth professional style
Firm & strong edges
Soft and durable palm liner
Nicely stitched leather
Cons:
Can take time to break-in
[su_button url="https://www.amazon.com/gp/product/B00DIZSI08?tag=ibatreviewsge-20″ target="blank" style="soft" background="#00A8E8″ size="10″ wide="yes" center="yes" radius="0″ icon="icon: hand-o-right" rel="nofollow" title="Check Price on Amazon.com"]Check Price Now[/su_button]
Rawlings is preferred by players of every kind from amateur to pro. The company's products are designed with comprehensive research and are tailored to meet the expectations of the players.
The Heart-of-the-Hide series is one of the widely popular glove series as it used by many pro players.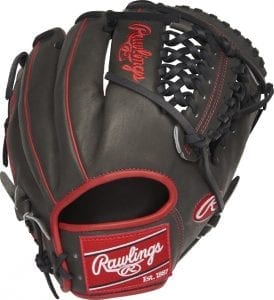 The Heart-of-the-Hide series is made using a fine-quality leather. It has a very low break-in time which makes it perfect for pro and beginners. Even though it might seem a little stiff at first, it becomes very comfortable and gentle to wear after a few uses.
It is designed to withstand the most powerful throws or hits without putting any strain on the hands. The unique construction of the glove allows the players to catch balls that go up to 60-80 mph without a sting. The glove can last for many seasons with very little maintenance.
Heart-of-the-Hide offers great performance, functionality, and reliability. The glove can last for as long as you can use it. There is no extra care required for the glove except keeping it in a safe place. It has an excellent mitt along with a very thick rubber which reinforced with soft padding. These unique components help the ball to absorb shock and vibrations when catching.
It has the ability to fit the hand of any player and feels like custom-made.
Pros:
Fine quality leather
Best for beginners and pro players
Lesser break-in time
Soft padding to absorb shocks and vibrations
[su_button url="https://www.amazon.com/Rawlings-PROR207-6BC-Heart-Hide-Black/dp/B07DQTLH5G/ref=as_li_ss_tl?dchild=1&keywords=Rawlings+12.75"+Mike+Trout+Pro+Preferred+Series+Glove&qid=1598234195&s=sporting-goods&sr=1-5&linkCode=ll1&tag=ibatreviewsge-20&linkId=64616a0d51bdd899298dba9bfca3df50&language=en_US" target="blank" style="soft" background="#00A8E8″ size="10″ wide="yes" center="yes" radius="0″ icon="icon: hand-o-right" rel="nofollow" title="Check Price on Amazon.com"]Check Price Now[/su_button]
Nokona may sound strange to the people who are buying baseball kits for the first time. The company's Walnut Series Glove has been seen in a lot of tournaments being used by numerous players. These gloves come with numerous features that make it the top pick of the players.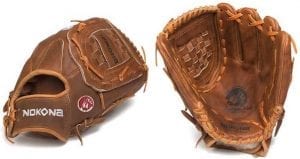 The most important feature of this glove is that it is handmade which can give you unmatched durability. Moreover, the Walnut 1200 is made using the finest stitching and high-grade leather that makes the gloves sturdier and adds incredible stability.
These gloves can take a longer time to break in than the other gloves on the list but after breaking-in, they are known to offer unparalleled performance.
Owing to its premium-grade leather, Nokona Walnut 1200 Glove has a longer life and offers exceptional performance. The glove can withstand field wear and tear easily without having an impact on your game.
When talking about innovation, the company has come up with an unconventional solution to make their gloves even more comfortable. Nokona has incorporated a softball mitt inside the glove which makes it more comfortable than the regular baseball glove.
The glove is durable enough to take on hits both practice matches and competitive games.
Pros:
High-grade leather and fine stitching
Flexible
Can be used for both training and competitive playing
Extra durable
Cons:
[su_button url="https://www.amazon.com/dp/B0149K4SVI?tag=ibatreviewsge-20″ target="blank" style="soft" background="#00A8E8″ size="10″ wide="yes" center="yes" radius="0″ icon="icon: hand-o-right" rel="nofollow" title="Check Price on Amazon.com"]Check Price Now[/su_button]
While newly purchased gloves are usually stiff and have to undergo a break-in process, there are some gloves with no or very minimal break in times. One such glove is the Shoeless Joe Modified Trap Glove.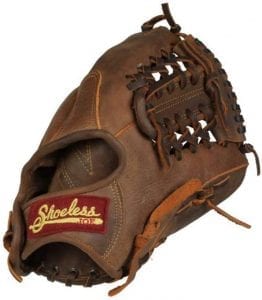 The company has earned its reputation among the best outfielder baseball gloves, but this is not the only feature you get from the glove. Shoeless Joe stands a tough competitor to some of the well-known brands in the market.
It is made from 100% genuine leather. To make it soft and get the leather-like luster the glove is rubbed with unique ingredients. It has an unconventional design which makes it suitable for both baseball and softball.
Shoeless Joe Gloves has a deep pocket that allows a better grip and lets you catch the toughest ball with ease. The glove comes with a mitt that is incorporated inside and makes the glove more comfortable to wear during the matches.
It has a big sweet spot that enables you to catch even the most powerful hits, making the glove an excellent option for outfielders. The comfortable feel offered by the high-quality leather and the cushioned center which makes catching less hurting can boost your confidence.
Pros:
Made from genuine leather
High quality and great feel
Big sweet spot
Deep pocket for better catching
Cons:
If you don't use a baseball glove oil, the glove is prone to water damage.
[su_button url="https://www.amazon.com/dp/B0062NB04E?tag=ibatreviewsge-20″ target="blank" style="soft" background="#00A8E8″ size="10″ wide="yes" center="yes" radius="0″ icon="icon: hand-o-right" rel="nofollow" title="Check Price on Amazon.com"]Check Price Now[/su_button]
Wilson is the most popular sports equipment manufacturing brand for baseball. The company's line up comprises some of the best equipment that is used by pros. Wilson has gloves for all the different positions of the game and most of them appear in the top 5 list of every MLB player.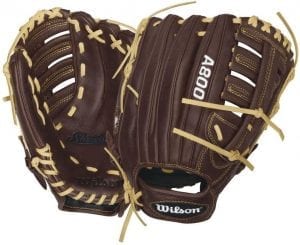 For outfielders, Wilson has introduced the 'Showtime Series WTA08RB16 Baseball Gloves', that designed to offer unrivaled performance and reliability. It has some of the best features that enable the glove to offer maximum comfort to the wearer while enhancing his/her performance.
To begin with, the glove has a full leather body. From the fingers to the wrists, every component of the glove is made out of leather. Even the laces that are used for fastening the glove are made of leather. This gives the glove premium look and a soft feel.
Another notable feature of the glove is, it takes the shape of the wearer's hand offering a more customized fit.
The glove comes with a low-profile heel which allows you to catch the ball with ease and competence. Its unique constructions and high-quality leather ensure that the glove maintains its shape and softness in all kinds of weather conditions.
Pros:
Sturdy and solid construction
Durable Leather Material
Low profile
Double Palm Construction
Cons:
[su_button url="https://www.amazon.com/dp/B01290QE5I?tag=ibatreviewsge-20″ target="blank" style="soft" background="#00A8E8″ size="10″ wide="yes" center="yes" radius="0″ icon="icon: hand-o-right" rel="nofollow" title="Check Price on Amazon.com"]Check Price Now[/su_button]
Which gloves do MLB outfielders use?
MLB players exhibit excellent performance in the league games. The majority of the credit of such performance goes to their skills and abilities but some part of it also goes to the gear they wear. In terms of gloves, top MLB players wear the best ones that are ever to be created by a company.
Some MLB players even get their gloves customized from the top companies. Here is a sneak peek into the kit bags of the top MLB players, let's find out which baseball gloves do MLB outfielders wear.
Ronald Acuña Jr.:
Ronald Acuña Jr. has made it to the top of the leaderboard as the best outfielder. The young player made his debut in the year 2018 and has many accolades to his name. He was known for wearing his customized SSK outfielder gloves, particularly the SSK H-Web glove in black and grey.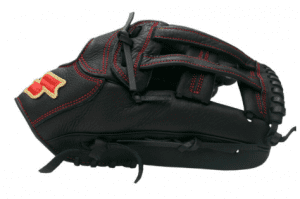 Image Credits: SSK
Due to a tragic drop in a game that could have won his team the game, the player has stopped wearing those gloves and has now switched to Rawlings PRO303 glove. These gloves are from the Heart-Of-The-Hide series are they are also known as 'Hyper Shell'.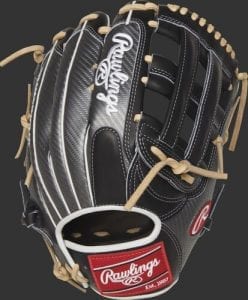 Image Credits: Rawlings
These MLB outfielder baseball gloves have superior quality leather that is ultra-durable and forms the perfect pocket. Each glove is handmade by the best craftsman of the company and is 15% lighter than a normal glove. The glove has other features like Palm Lining, Thermoformed Wrist Lining, and a Padded Thumb Sleeve.
Mike Trout:
Mike Trout is one of the greatest players in the MLB leagues with several records and accolades to his name. The most interesting thing about Trout is, he has been associated with numerous brands and helped them to create phenomenal kits and equipment. He has also customized his gloves from none other than Rawlings named 'Pro Preferred Mike Trout'.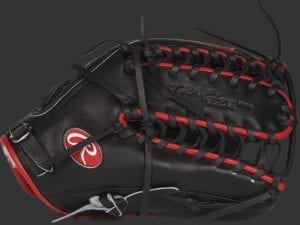 Image Credits: Rawlings
Pro Preferred comes with supple Kip leather that reshapes itself during the break-in process to match the player's preference. The gloves are handcrafted and numbered individually. To ensure perfect pocket formation the gloves have been given 100% wool padding. Other features of the glove includesPittards® Sheepskin Lining, Wool Wrist Strap, and a Padded Thumb Sleeve.
Watch Mike Trout in action with his customized Rawlings glove.
Cody Bellinger:
Cody Bellinger has made it among the top 5 this year with his amazing performance throughout the different seasons. He is also one of the most decorated players in the world of baseball with numerous awards to his name.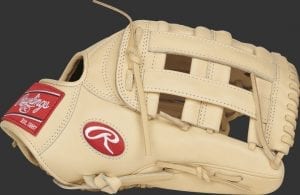 Image Credits: Rawlings
His brilliant performance both as the first baseman and an outfielder has been remarkable with some unbelievable moments. He prefers using the customized Rawlings PRO PREFERRED series that is customized to offer optimal performance to the players.
The glove comes with features like Kip leather which is used by the top players in the game. It also comes with pro patterns that make the glove perfect for every occasion. Each pair of the series has been crafted by skilled craftsmen ensuring top-notch quality and flawless precision.
Conclusion:
Though every glove may seem similar and most of the players do wear the same gloves for multiple positions, it can be important to wear position specific gloves while playing baseball. Position-specific gloves not only enable you to play well but also help you in avoiding mistakes and securing your win.
I hope the above information helps you in purchasing the perfect glove for you. If you have any questions or suggestions, let us know!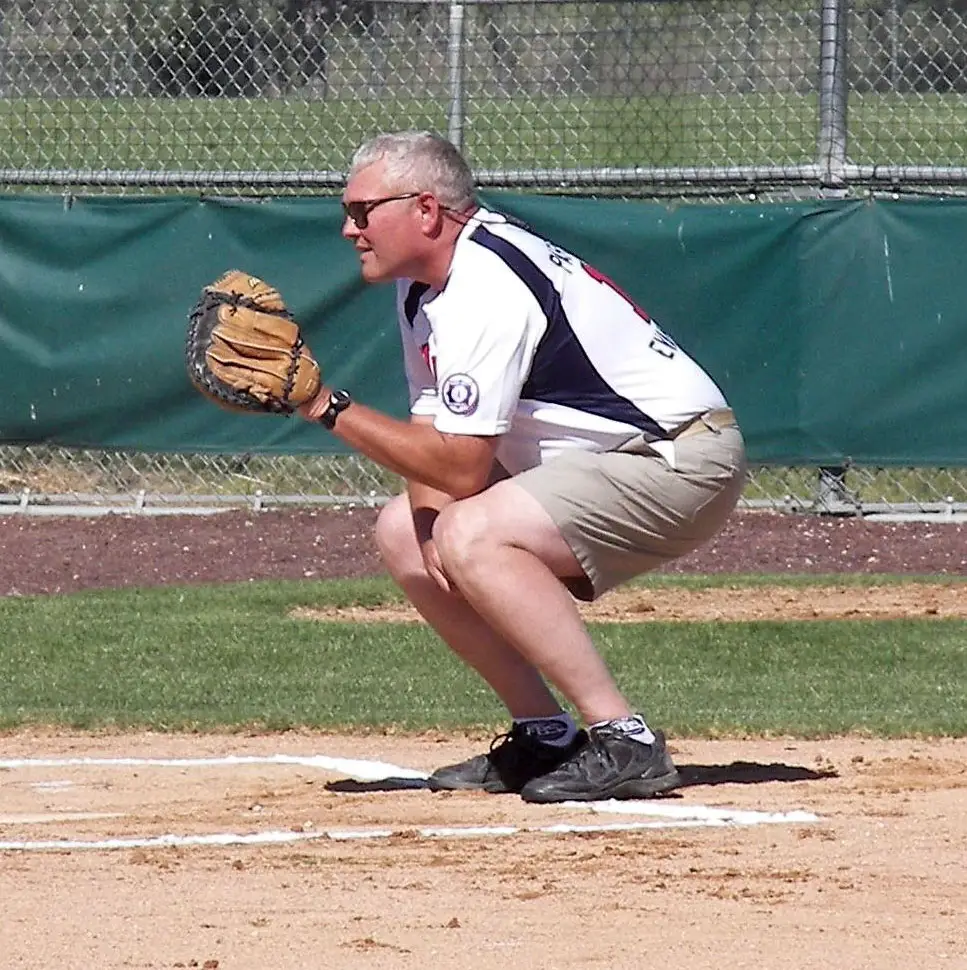 My name is David Farnum and I've been a Little League Coach in my community for the past 7 years. With 2 boys playing baseball and 1 girl playing softball, most weekends I can be found near a baseball diamond.